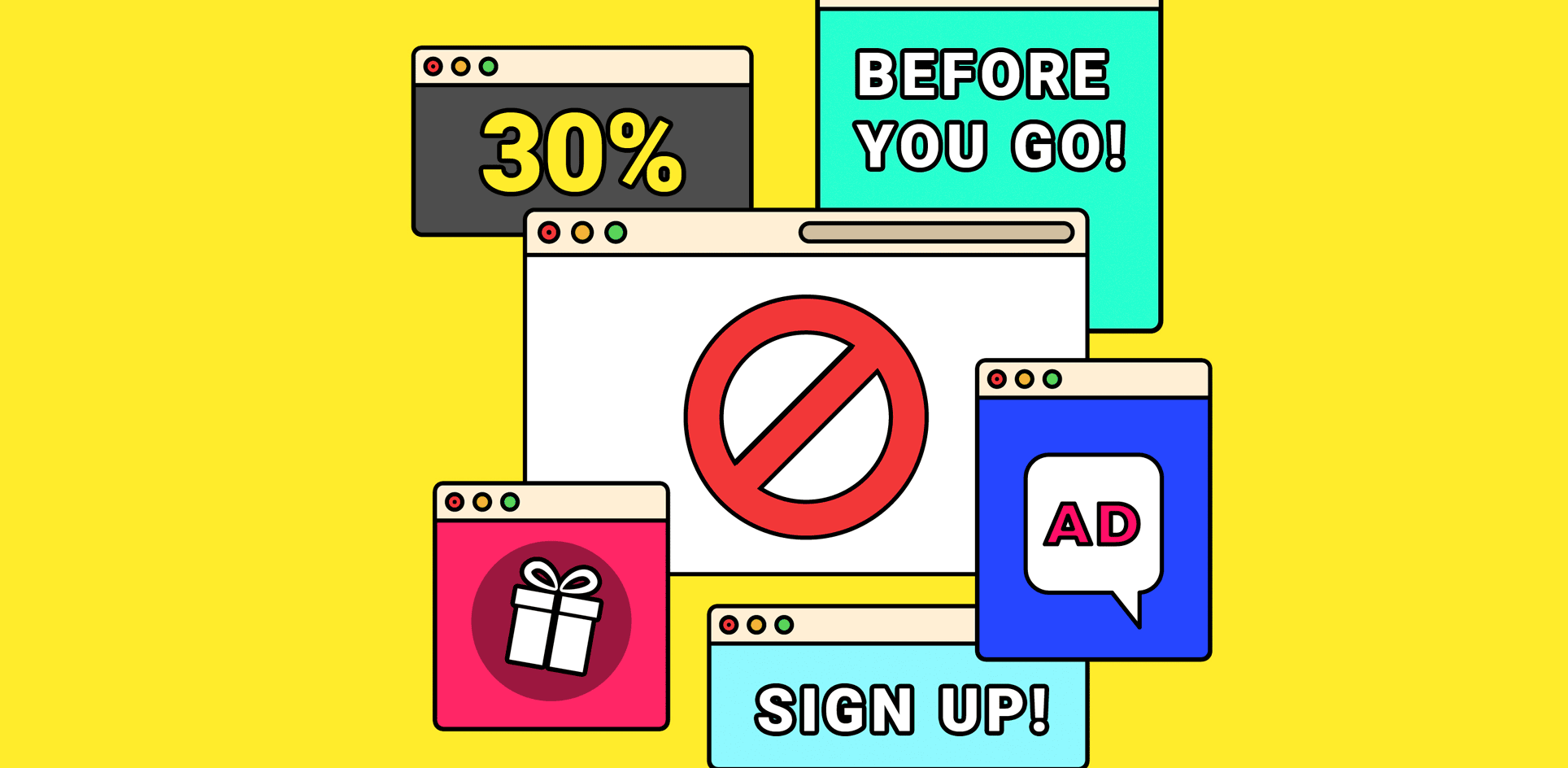 What is an ideal exit popup for online stores?
Did you know that you can increase your sign-ups by more than 600% with a simple exit-intent popup? Yes, you heard me right. Using this method, you will shoot your one last shot before the visitors leave to convince them to perform the action you want, such as entering their email address or using the coupon code you offer.
In this article, you will learn everything about exit-intent popups for online stores and how to create the most converting popups for your website.
Popups, annoying or effective?
Some marketers believe that popups are one of the most effective ways to increase sales on a website, and others believe that they disrupt the user experience. Which one is it? It depends!
Popups are effective if you know where and how to use them properly. If you show popups randomly to visitors, and continually show the same popups, you might negatively impact user  experience. But a personalized popup that shows up at the proper time will produce a better experience and increase engagement and conversion rates. For example, who doesn't like to see a popup offering a great discount for the product they want to buy?
What is an exit-intent popup?
An exit-intent popup is a popup that appears when the visitor is about to exit your site. In some niches, the bounce rate is usually more than 47%! There might be many reasons why visitors are leaving the site too soon. They may not like the content, they may have found better content on another site, or, if you run an ecommerce site, they feel the prices are too high. It takes a lot of time, money and effort to get visitors to your website in the first place.
Once they're there, you want to seize every opportunity you have to turn them into subscribers or paying customers. To do this, you'll need to analyze visitor behavior. When are customers most likely to make purchases? Which pages get the most views? Which page do most customers click away from?
This is where an exit popup may have a significant impact by offering something tempting.
How does the exit-intent popup work?
An exit popup event tracks mouse cursor movement on your website and detects when a visitor is about to leave your site. For example, when the visitor attempts to open a new tab, close the tab, or clicks on the address bar, the exit-intent technology triggers a popup in the visitors' browser with a personalized message.
What is the role of an exit popup for online stores?
Of course, there isn't a single solution for all cases and sites. The ideal exit-intent popup may differ from one website to the other based on the product or service they offer. But, in general, an exit-intent popup for online stores should work towards these goals:
Get people to subscribe to your newsletter
Promote on-sale products to leaving visitors
Get visitors' feedback and reviews of your products
Increase your social media subscribers
Promote upsells and cross-sells
Combat cart abandonment
How to make your exit-intent popups more effective?
The efficacy of your exit popup depends on two important questions:
When should you show the popup?
What should you include in the popup window?
Tools like Growmatik offer highly personalized content and a wide range of conditions to trigger popups. Below are the best practices to follow to make the most effective exit-intent popups.
Proper segmentation and targeting
A generic popup rarely gets a high conversion rate. If you want to get better results, create more offers. Consider different segments of visitors and serve them relevant content via the exit-intent popup. Avoid showing the same popup to the different segments of the visitors.
Personalize content with dynamic keywords
A good strategy to increase engagement is to personalize content with dynamic keywords. This is an excellent technique that will ensure that your marketing content is tailored to fit each user's individual needs, habits and preferences.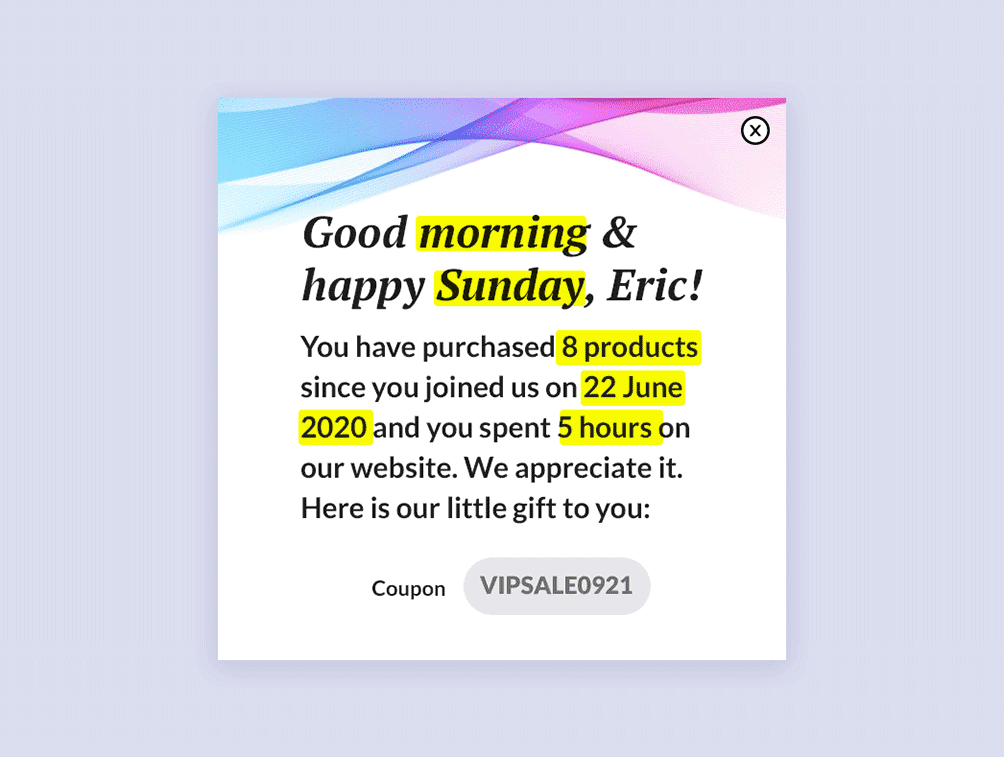 Use FOMO marketing technique
FOMO (Fear Of Missing Out) is the natural human urge to stay in the loop. We humans hate to be left out. Showing how many people have done the action you want the visitor to do, displaying a count-down timer on your popup and showing the stock number for your products are some good examples of using FOMO marketing. w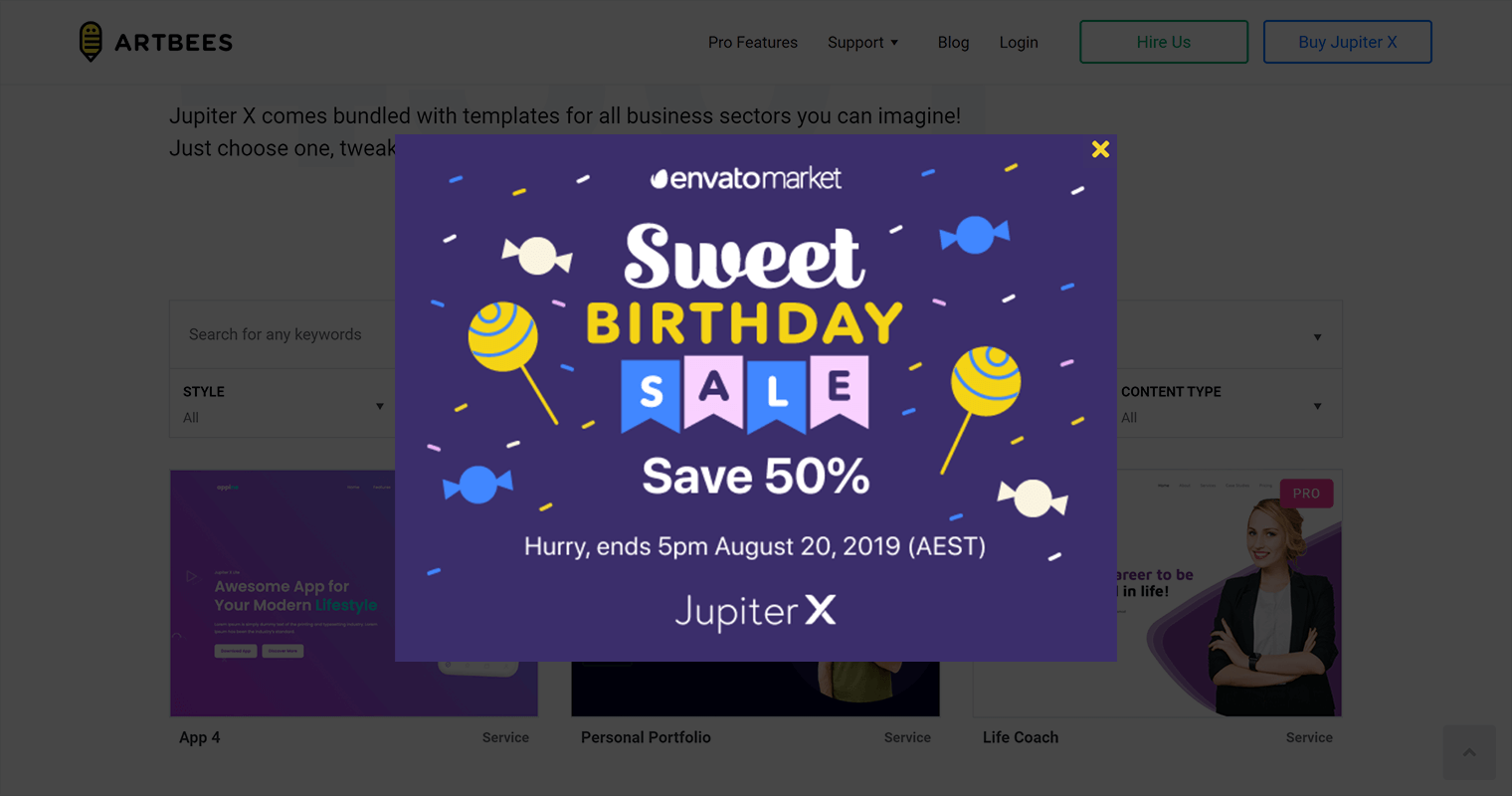 Insert beautifully designed popups
Design plays a fundamental role in the decision-making process and effectively influences consumers' choices. At least once in their life, everyone has closed a website because the design made it unattractive.
It is therefore essential to insert exit-intent popups that are consistent with the design of your website.
It is also essential to use a bold font, buttons with strong color contrast and visual elements such as photographs. The user should understand what you are offering at first glance.
You can select one of Growmatik's readymade popup templates and customize it within a few minutes. Growmatik's tools will make it consistent with the design of your website, allowing you to enjoy the most personalized popup for WordPress.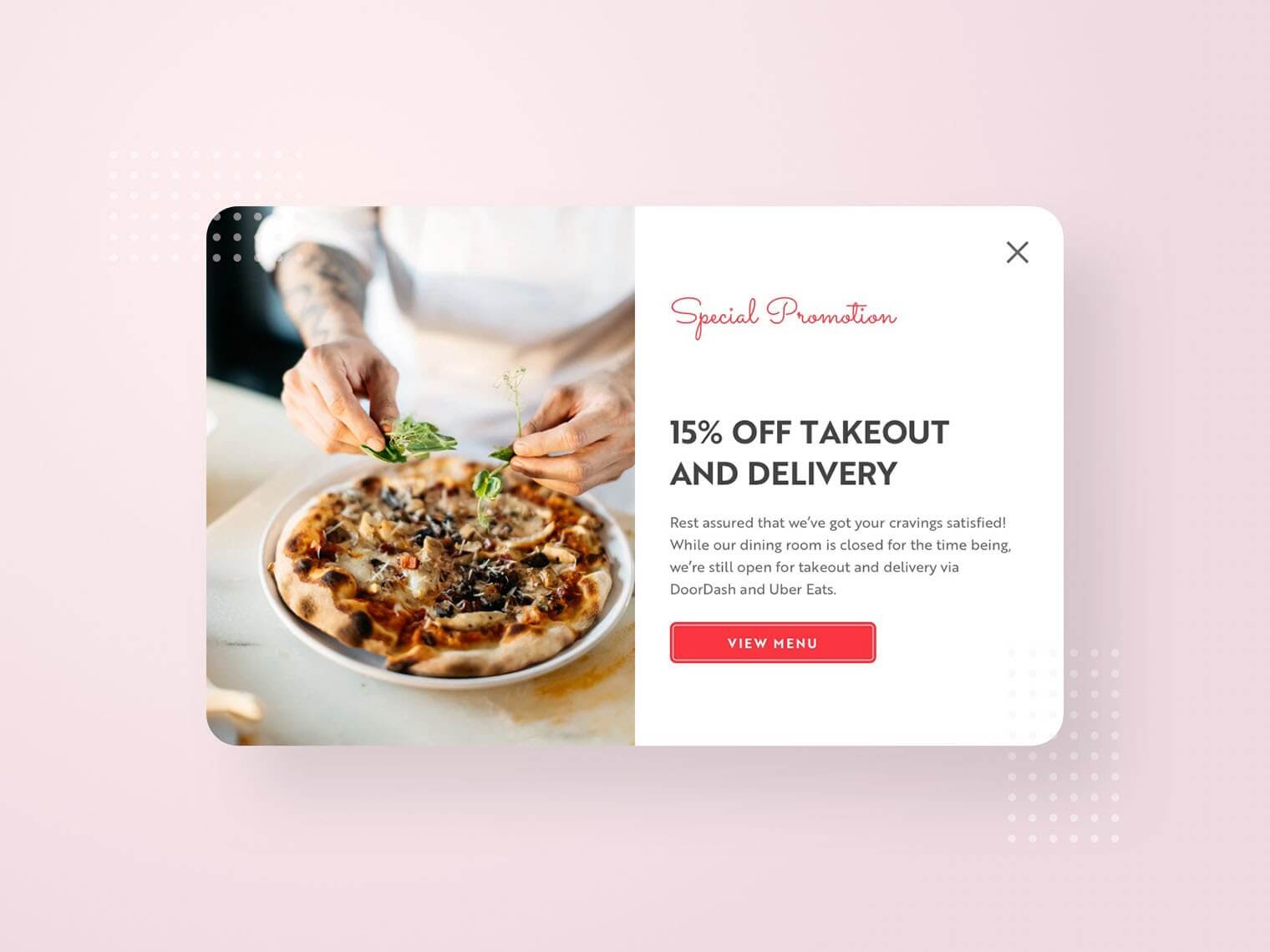 Compelling copy
Good copy gives the user the feeling of ​​having forgotten something or not having gotten the most out of their session. One example is: "Wait! Don't go.." In just the first few words, you should grab your visitors' attention.
Convincing Call to Action
It's not enough to drop subtle hints to get your audience to take action. You'll need to shout it out, loud and clear. The best CTA clearly explains exactly what you want your users to do. Make it brief, but make sure your reader understands the next step…and feels motivated enough to take it!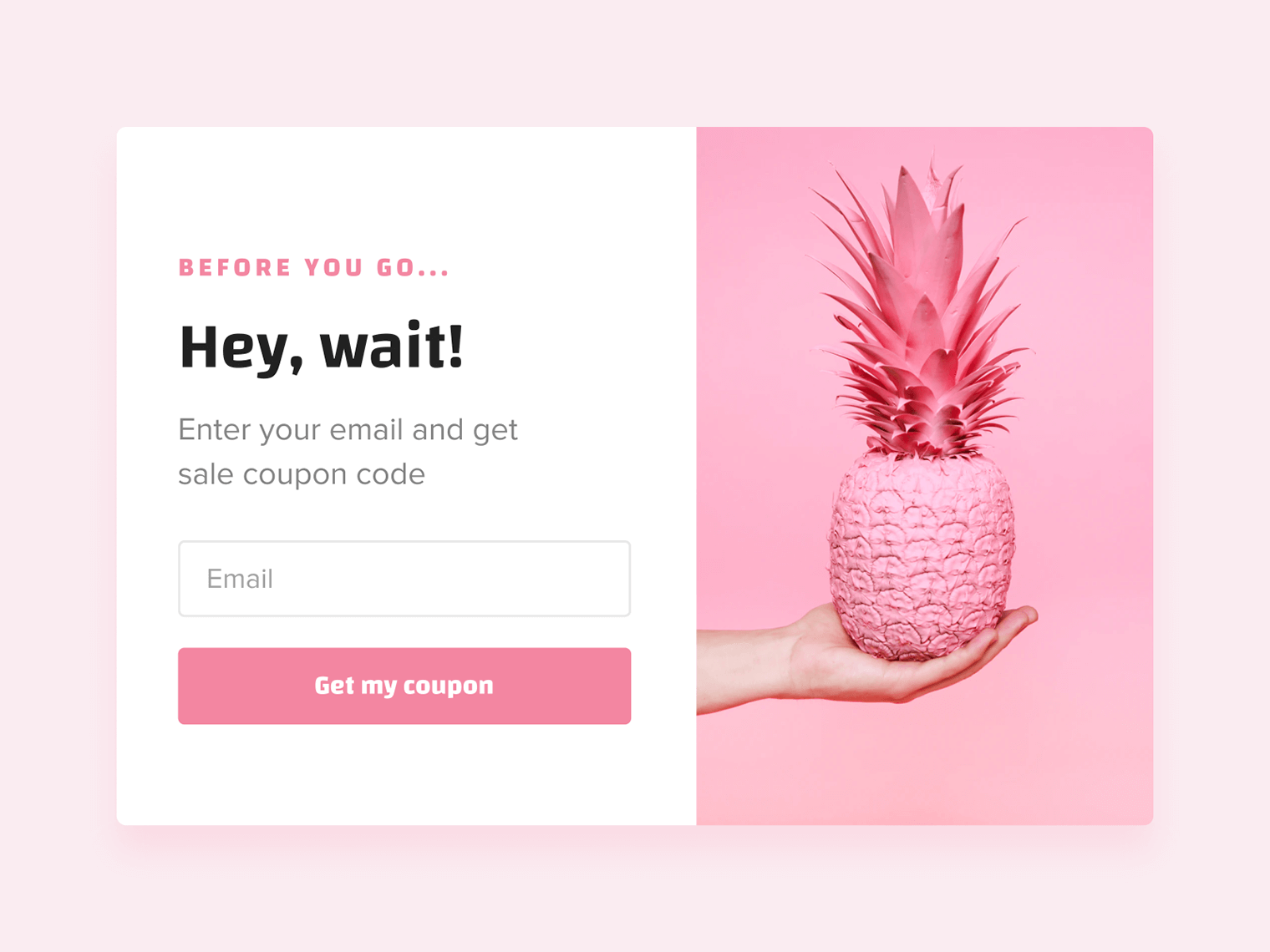 Easy to deal with content
Asking your visitor for too much information makes your popup boring. Of course, collecting information like gender and age from the visitor will allow you to serve better content. But you should never ask too much. Also, don't forget to deliver your message succinctly. Keep your copy short and targeted.
How to create exit-intent popups with Growmatik?
With Growmatik's popup builder you can easily create highly converting exit-intent popups and track analytics for every single popup you create. If you are not a Growmatik member, you'll need to create an account for free and connect it to your website.
Now it's time to create an automation rule and set up when the popup will trigger. In the automations page, you can create rules for Guests, Leads and Customers by manually creating a new rule or using premade automation recipes.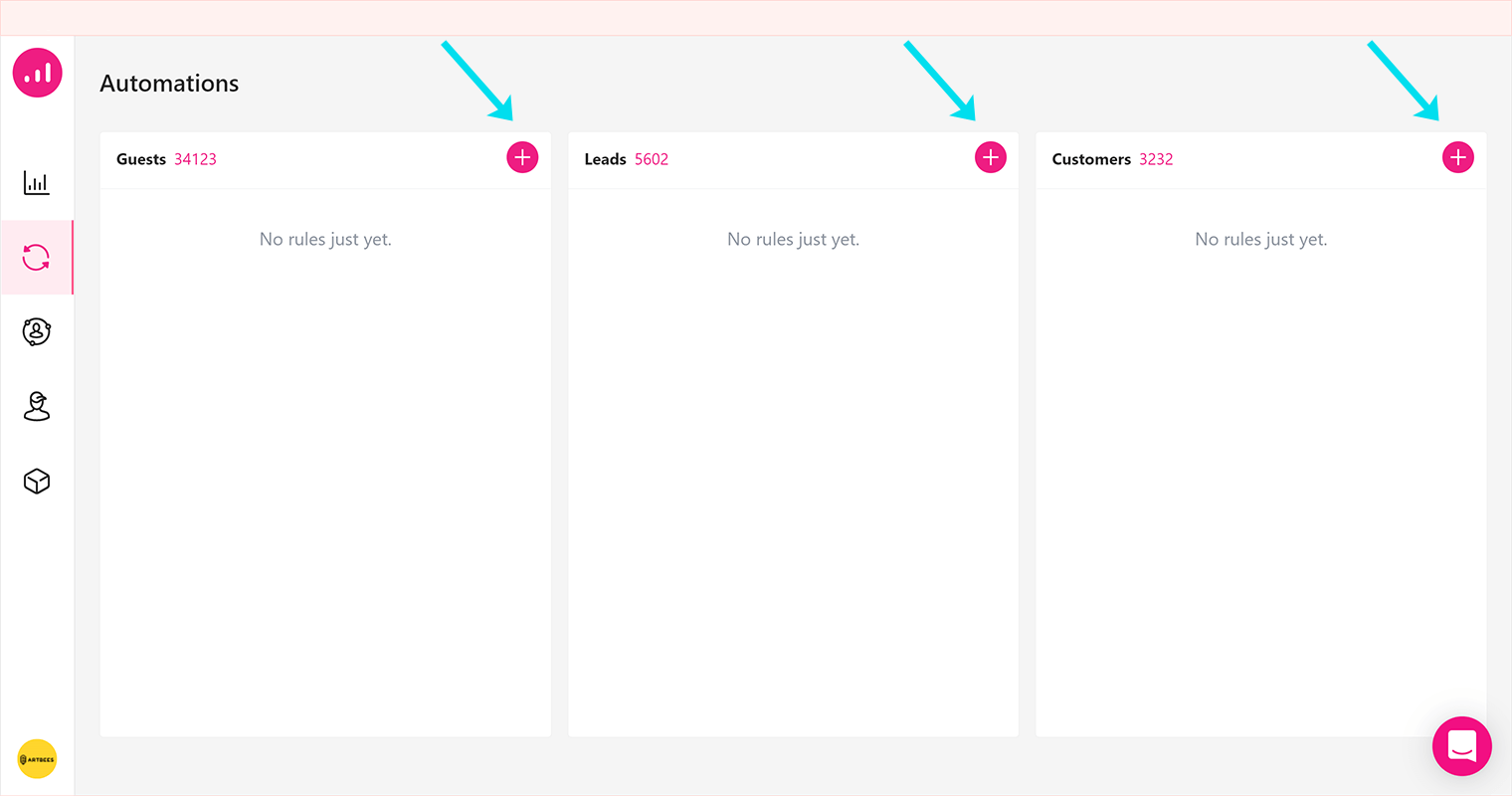 Rules in Growmatik work with if-then logic. You can set conditions for source, location, device type, date, page visit, user behavior, segment and All users.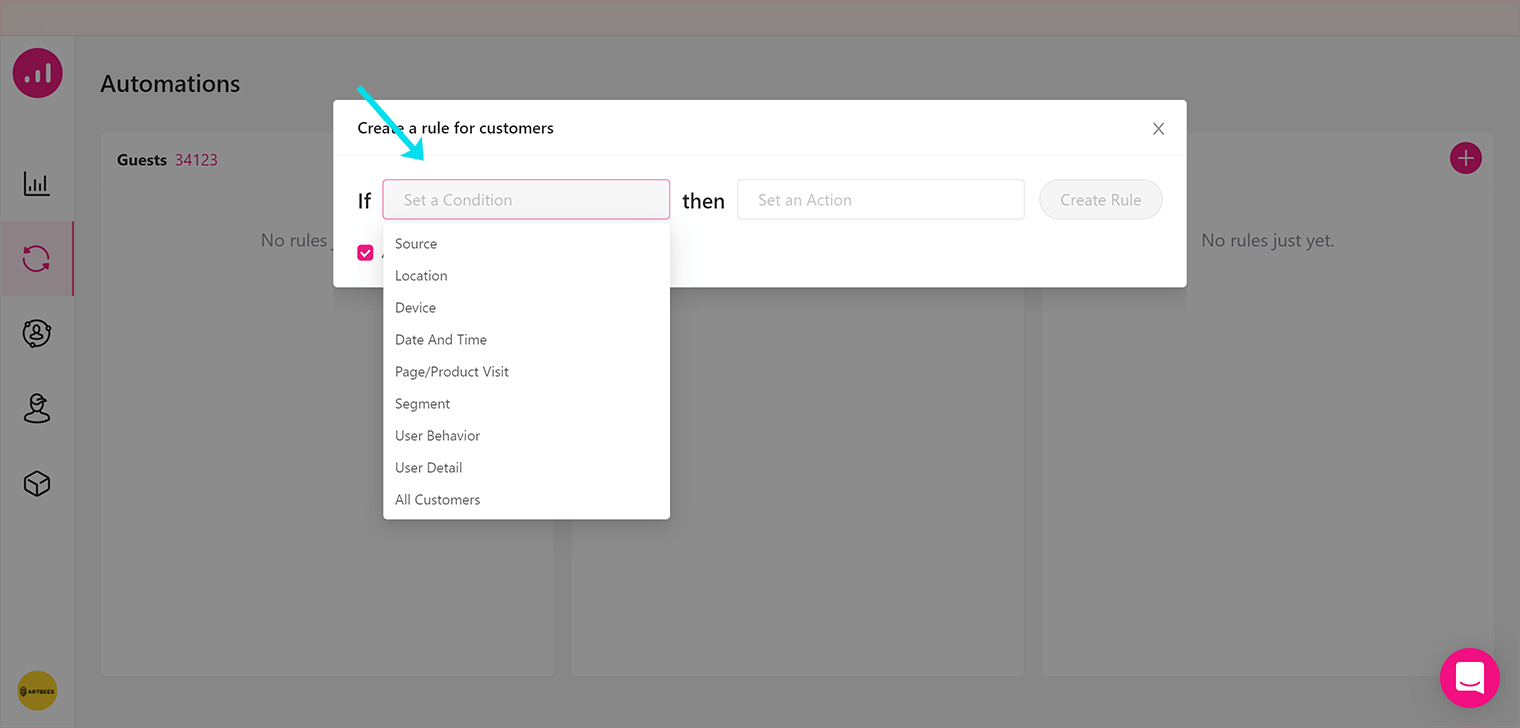 Now, you should set an action for your automation (Show Popup in this case) and create the popup.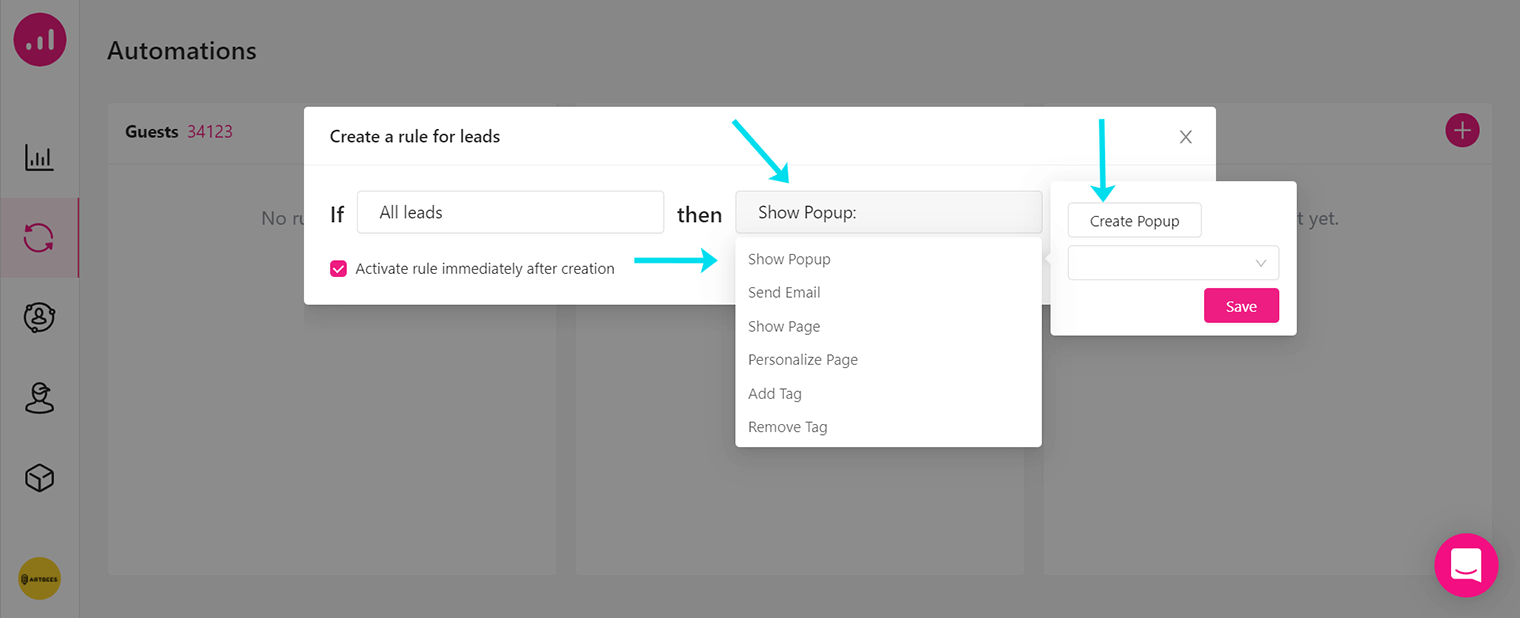 With Growmatik's drag & drop popup builder, you can create stunning popups in just a few minutes. Based on your needs, you can even use its premade templates. You can use dynamic keywords in your popup to personalize it.
Watch this video to learn how to use Growmatik's popup builder:
In this step, select the popup to be displayed on exit.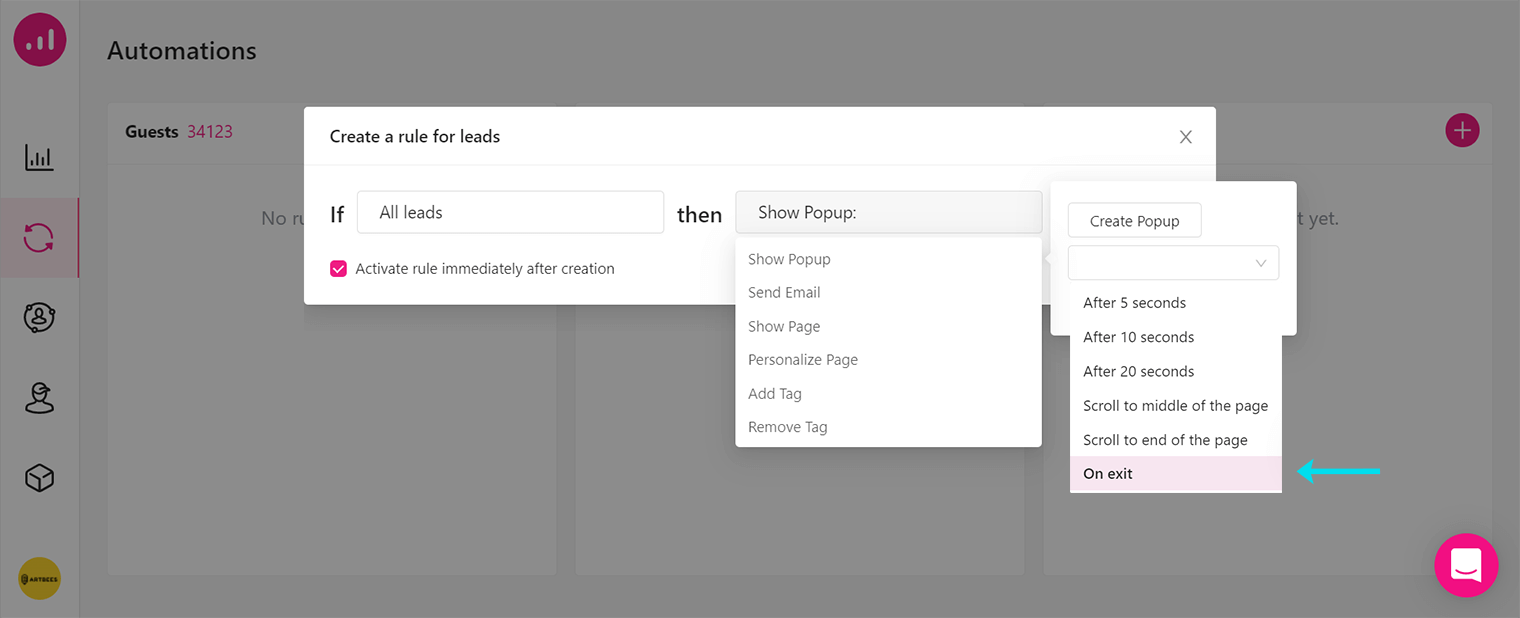 That's it. Now your popup will be displayed when a user tries to exit your page.
Sample exit popups with smart targeting
Below I've included some sample exit intent popups targeting visitors based on their behavior, personal details, purchase history, and more.
Show exit popup when a page/product is visited
This condition lets you make a guess about visitor behavior via page/product visit activity and show a relevant popup. To give an example we show this "100% off for 3 months" offer to guests that visit our pricing page and attempt to exit the site. We inferred that, if a user visited our pricing page and then decided to leave our website, he might not be sure if our product was worth buying. To help him decide, we offer a free trial period to let him try Growmatik. Surprisingly, this simple popup doubled our sign-up rate!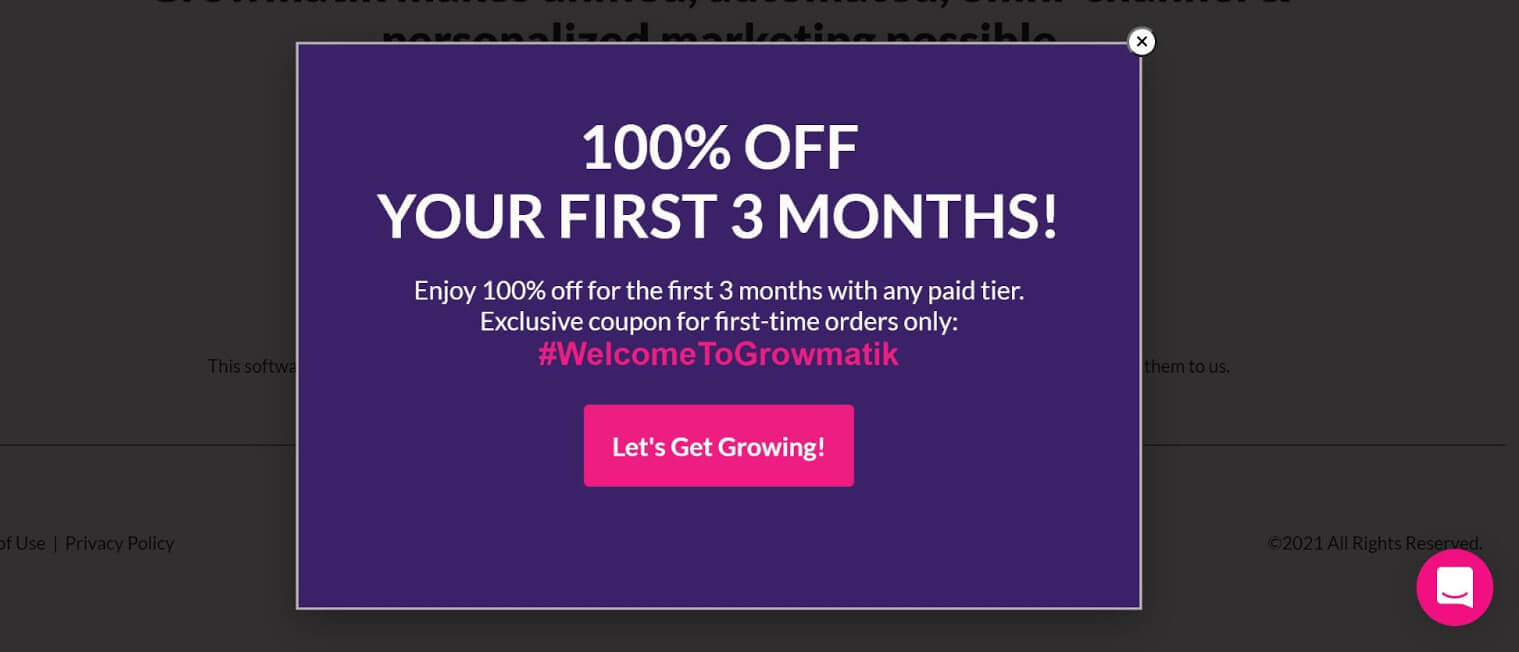 Here is another example of product visit condition. Let's say a user visited a sneaker product page on your ecommerce site and didn't buy it. Isn't it tempting to offer a good discount on this product at the last moment?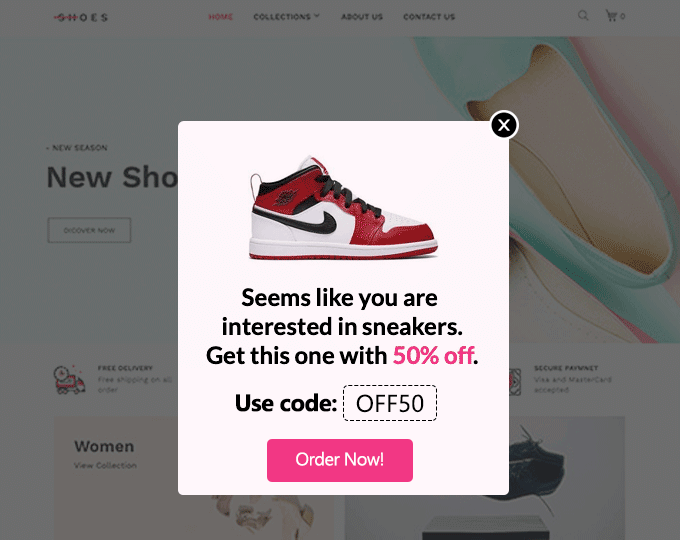 Show exit popup to a specific geolocation
Show special popup content to visitors based on their location. For example, you can create a popup in their own language. It's much more engaging for visitors to see popups in the language they speak. Another possible example is to have special offers on specific occasions in a country, like offering discounts on Chinese New Year! You can also simply show a personalized image and mention the location.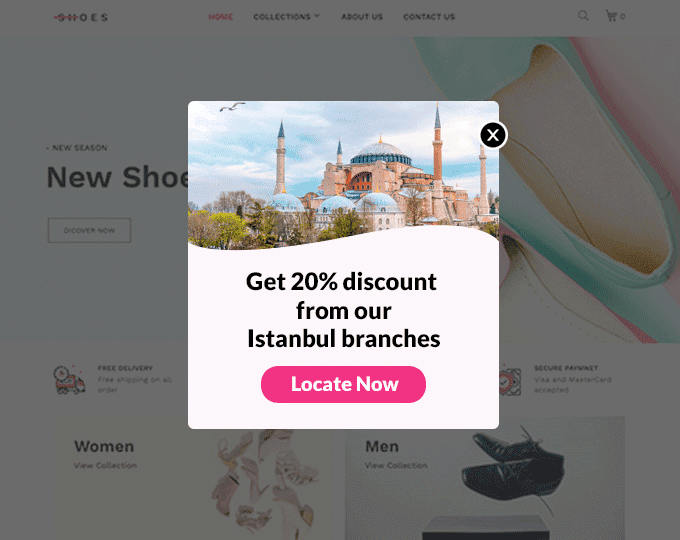 Show guests an exit popup collecting their email in return for a freebie
This is a great strategy to collect leads. Make something valuable, like a PDF or a video, about something you think your visitor will like and offer it in return for the visitor's email. For example, if you have a website about marketing, you can offer a small PDF entitled "Top 5 marketing mistakes every marketer should know".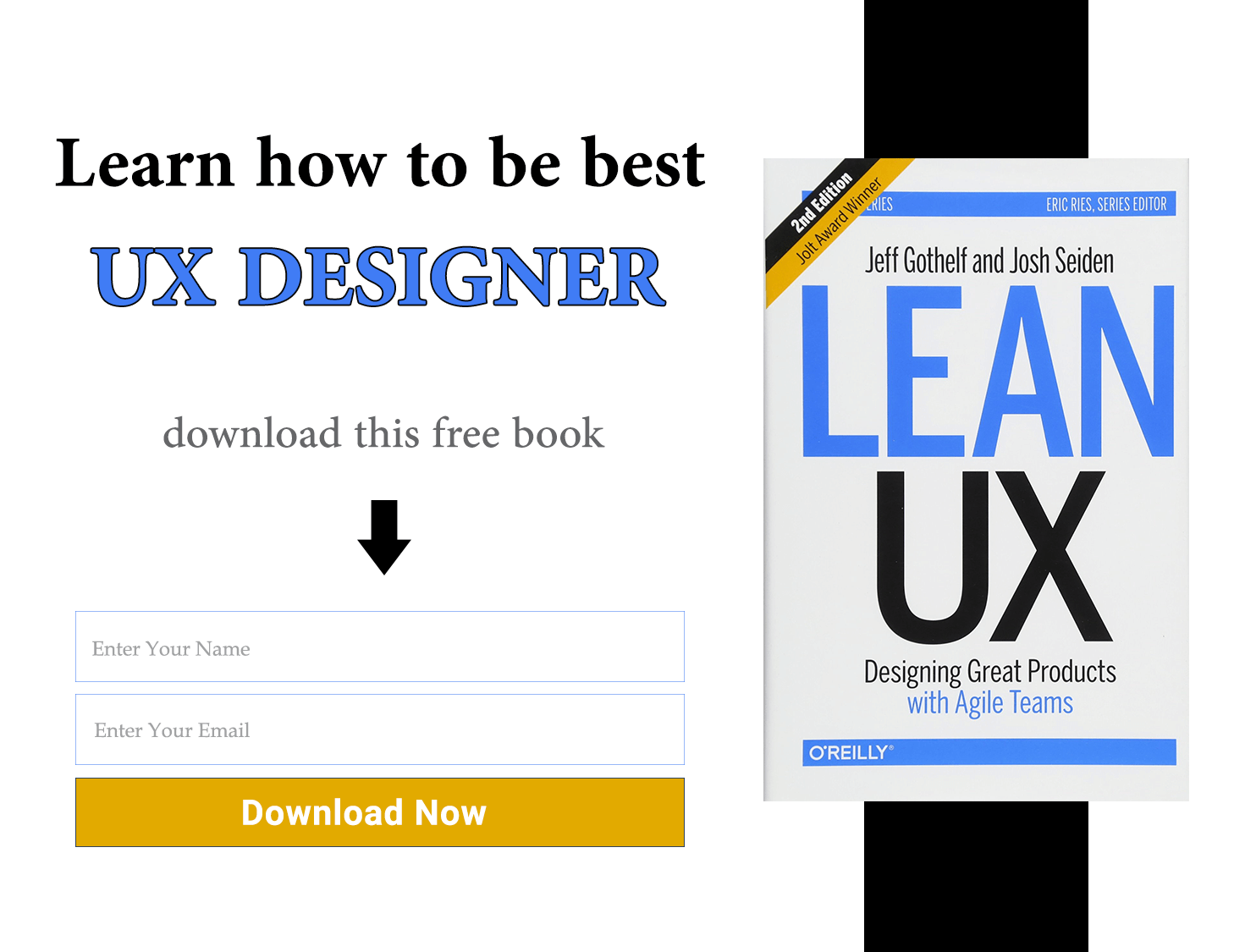 Show a lead an exit popup with a coupon for their first purchase
First order discounts are a great marketing strategy that easily motivates your leads to place their first order and become a customer.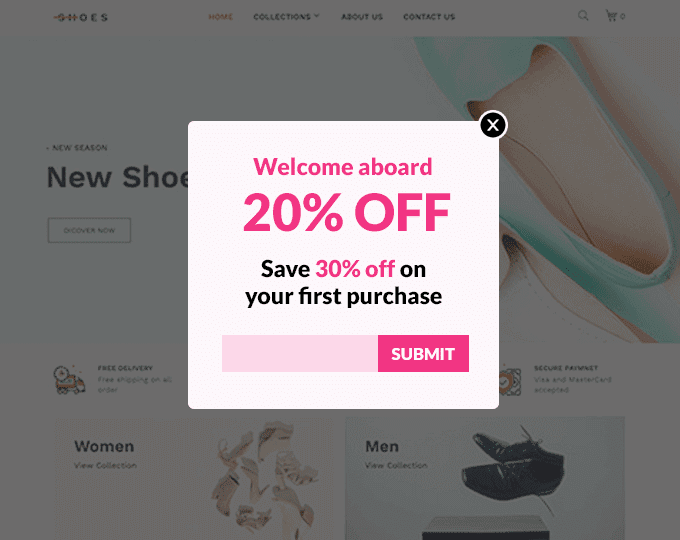 Show cart abandoners an exit popup with a coupon to restore them
According to Baymard, the average cart abandonment rate across all industries is 69.80%. This means that offering a coupon code to cart abandoners will have a huge impact on your conversion rate.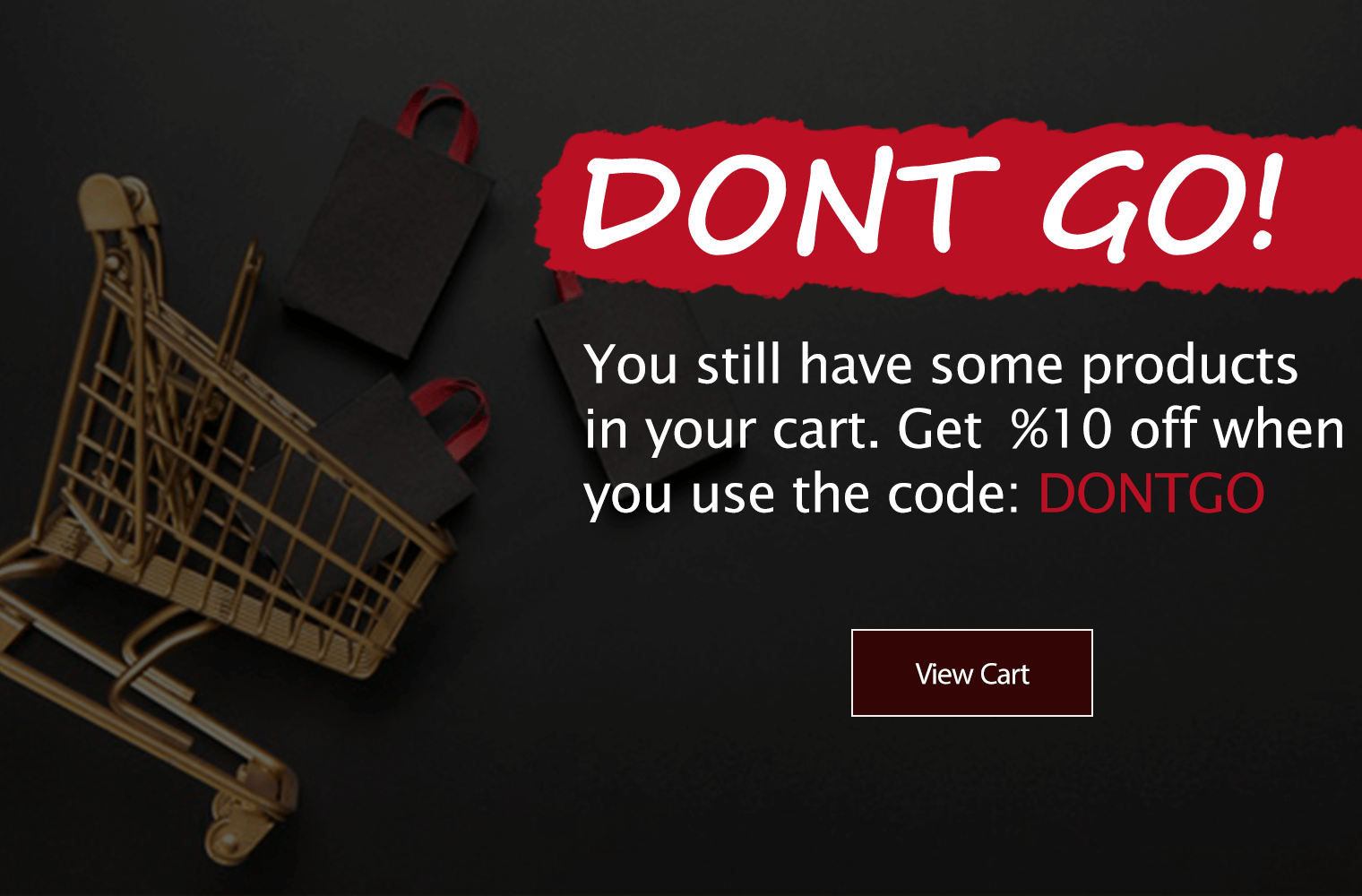 Show slipping customers an exit popup with a coupon to reactivate them
Offer some discounts in your exit-intent popups for the customers if they haven't ordered anything for a while. It's a good strategy to encourage slipping customers and reactivate them.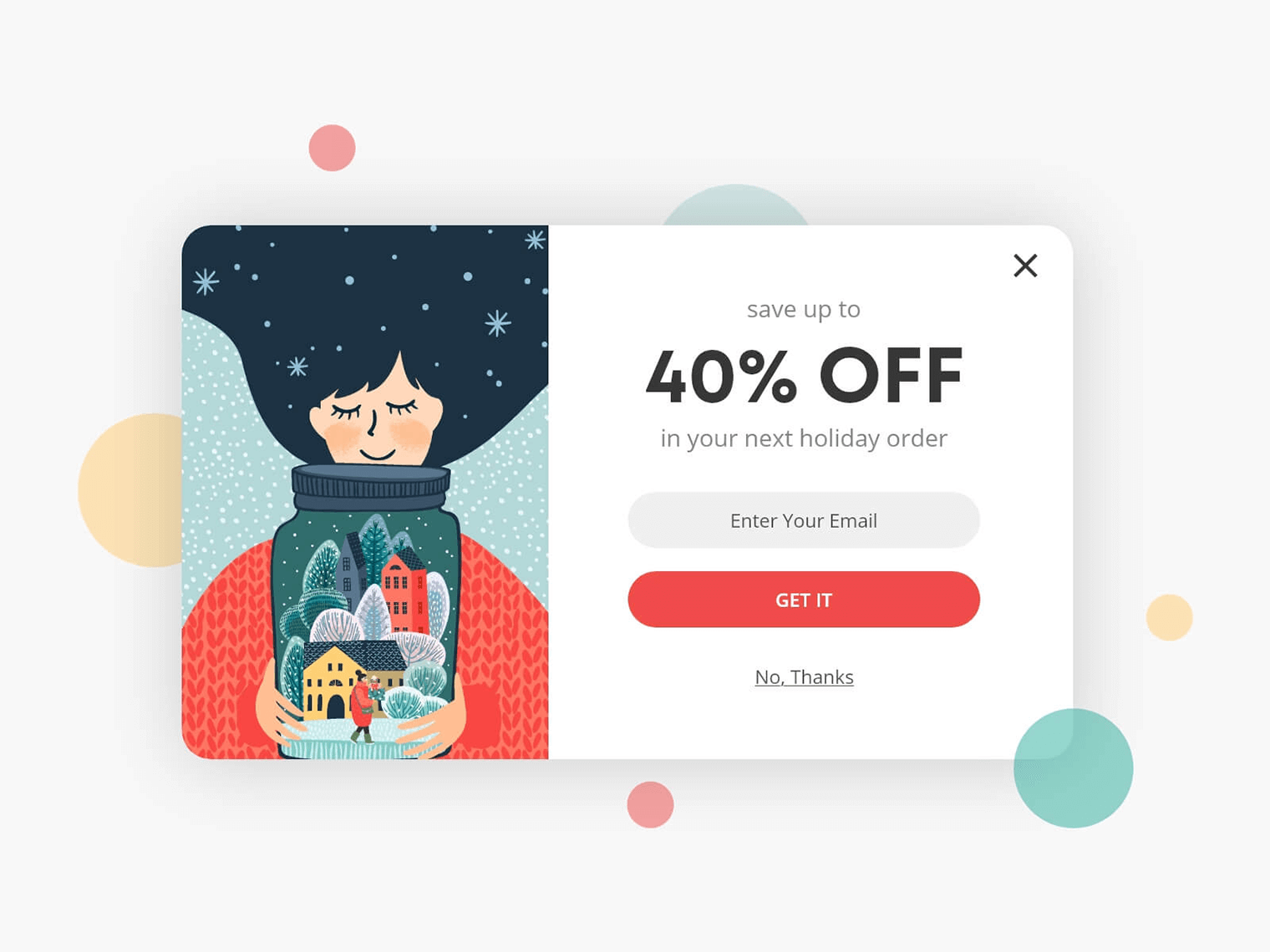 Wrapping up
Showing all visitors the same content is no longer an effective marketing strategy. You have to create popups for different purposes and show it to related segments of users at the proper time. Don't forget to measure the performance of your popups and try to improve them over time. A/B testing is also a very helpful way to measure the effectiveness of popups.
I hope this content gave you some ideas about exit-intent popups and how to make them more effective.
Share your experiences with exit-intent popups with us in the comments section below.
Turn reluctant leads
into paying customers
with well-designed
exit popups