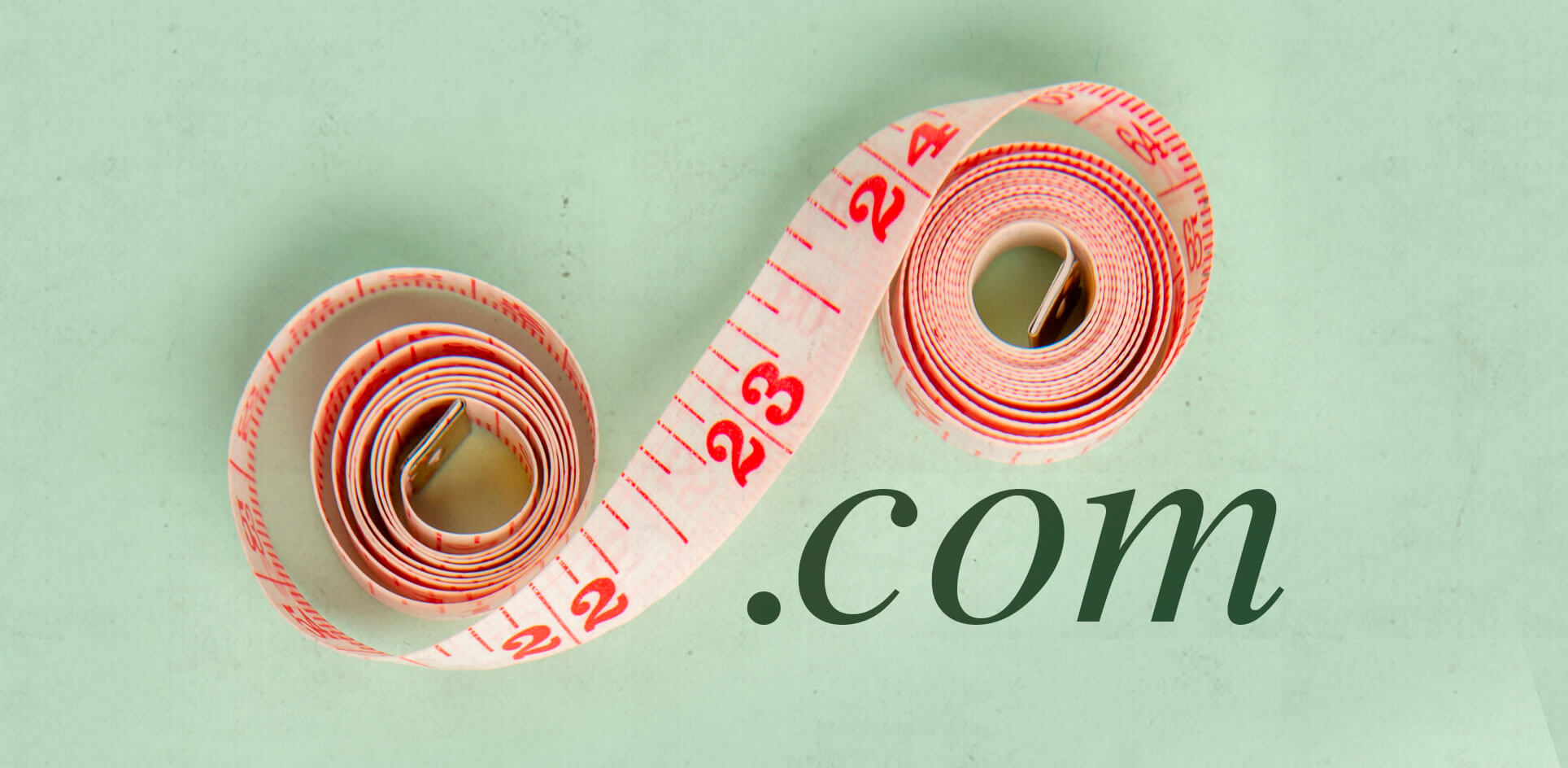 Growth hacker's guide on how to track website traffic
The number of effective visitors to your website is equal to the chances you have to increase your number of leads and best customers and, as a result, drive sales. Having an understanding of website traffic sources helps you seize such opportunities and strengthen your marketing strategy. In this article, we will discuss some juicy details on how to track website traffic with the pinch of growth hacking. The final purpose of growth hacking is to guide you alongside a low cost approach to testing, tracking and scaling your marketing efforts to bring your website to the next level. Let's dig in to find out more about the following topics:
Why is it essential to track website traffic sources?
Right after you begin to track the traffic sources of your website, you'll be able to fix and upgrade shortcomings, recognize new growth channels, discover probable trends and unveil new marketing scopes or types of marketing campaigns. Without this key bit of data you might fail to win the big game of search engine marketing.
One important note here is that tracking traffic by itself does not automatically benefit your business. You should always keep in mind that, when we talk about audience tracking, we refer to tracking those who are meaningful for our business. Within a growth hacking mindset the goal is to track traffic from the segment that matters to our business and takes the actions we expect. The key to gaining the following benefits is possible just by tracking this type of visitors.
Better perceive your website visitors
One of the things that you access by tracking website traffic is your visitor's geographic location and every touchpoint they use to surf your webpages. This way you achieve a better understanding of your meaningful audience, which allows you to personalize your website based on their location or other attributes and provide relevant content to increase user engagement.
Measure your marketing campaigns
Measurement is one of the core steps in growth hacking methodology. If you have run a marketing campaign for your website, it is essential to track its traffic sources. This will help you to analyze your campaign's effectiveness, learn from your results and productively improve them. In fact, what you find out from the measuring of traffic sources helps you spot the cracks you may have missed, ultimately giving you a boost to your strategies.
Compare traffic sources periodically over time
To obtain better insight into your site pageviews, we advise you to take a look at your traffic sources month-on-month and compare the outcomes. For example, when you've learned about how to track website traffic, you can observe the total traffic that comes from a UTM source and compare the metrics in July versus June to evaluate your performance in a more controlled manner.
Track and improve your SEO
Tracking the traffic that comes to your web pages has two main positive effects on your SEO process. First, you have the chance to determine the number of visitors that are coming directly to your website and find out what percentage of your pageviews are the results of an organic search. Second, you can make changes to your current keywords that aren't performing well from the results gained from website traffic sources, which serves to have a huge impact on how you set your content marketing strategy.
Why should you look into your competitor's website traffic?
Knowing the competitors' strategies can become a game-changing property that helps you get ahead of them. Analyzing your competitor's website traffic is one of the best ways to learn about what kind of content generates the most traffic for your competitors. Moreover, you can search for their top-ranking keywords and target those to create new content. I suggest considering this information to make more substantiated content marketing strategy and SEO decisions.
What are the different types of website traffic sources?
Before getting to know how to track website traffic, let's have an overview of different types of website traffic sources. With this information, you will be able to pinpoint the spots with the most traffic flow on your website and make informed marketing decisions to address any issues or shortcomings.
Marketing campaigns
One of the most important types of traffic you get is traffic generated by a marketing campaign, either free or paid. Ads, affiliate marketing, email marketing, seasonal push and popups are all marketing campaigns that should definitely contain a UTM source to be trackable at any stage.
For example, sending engaging emails to your audiences to notify them about your new blog post or your new products is an email marketing campaign that allows you to measure the traffic produced using UTM parameters added to your CTA buttons. Going after how to track website traffic lets you measure the success of your email marketing strategy easily with tools like Growmatik. I will talk about Growmatik and marketing automation more in later sections.
Organic
The type of traffic that is directed to your website via search engines is known as organic and is not something you can get as a paid service. Actually, it is the result of SEO and content marketing efforts on your website. The content you publish today will bring the organic traffic you need tomorrow; that's how content marketing is a key factor of a successful marketing strategy.
Direct
Direct traffic refers to when someone types a URL directly in the address bar of a browser like Google Chrome to access a website without any other links, channels or referrer. For example, if you type growmatik.ai into your browser search bar and hit the Enter key, it generates direct traffic for us.
Referrals
The traffic sources you'd acquired from external links and through other websites are referrals or backlinks. The value of referrals are much higher than the direct traffic type and will improve your credibility. As long as referrals come from a highly-ranked and authentic website, search engines consider the received traffic as an affirmative point that is ultimately fruitful for your SEO.
Social
Social traffic is about all the visits you receive through social media links or the content you and others have shared via networks like LinkedIn, Twitter, Instagram, Facebook, etc. Although it does play an important role in driving traffic into your website, search engines algorithms like Google won't consider the impact of such kinds of links as an off-page SEO effort. This means that it doesn't affect your organic traffic.
Paid
Paid link inclusion in related websites, paid search via Google AdWords and paid marketing campaigns in social media platforms like YouTube, Facebook and LinkedIn are all part of an advertising campaign that you can use as another source of traffic. Achieving traffic using a paid method can get expensive but it can save you a lot of time on content marketing. In growth hacking it is recommended to personalize your landing page for ads and measure the performance of campaigns to improve your digital marketing strategy behind the paid traffic.
What are the main traffic metrics you can track?
Traffic metrics are measurable parameters that indicate the performance status of your website or its popularity in different dimensions. Each metric can reveal a unique clue to help you modify your site to a higher performing version. In this part of the article I will introduce 4 main metrics that can be divided into some key factors. Let's look at the metrics from the ground up.
Audience metrics
There are different analytical metrics for your target audience that give you a better prescription and let you deliver more personalized content. Here are the parameters you can follow with your audience.
Demographics
Demographic parameters show you detailed information about audience age and gender, which will ultimately help you paint an accurate picture of who your users are and how you can better target them with your marketing materials.
New and returning visitors
Comparing the percentages of new vs returning visitors is a good criteria for stickiness. Checking this metric monthly gives you an idea of how your current content is engaging visitors and perhaps you can notice something about the user experience workflow.
Geolocation
This metric identifies the geographic location of your visitors and also shows the spatial distribution of your audience. You can use this data to change content based on location. This will increase the visitors' reliance on you as they know you're located near them. On the other hand, it reduces the probability of a visitor leaving your website.
Device source
Device source is a metric you can use to find out the percentages of device type (desktop, phone, or tablet) that visitors use to surf your website. This metric helps to make your content more engaging.
Acquisition metrics
This kind of data tells you how visitors came to your website, allowing you to hone in on the most effective marketing channels.
Channels
The channels are actually the main traffic sources that we talked about earlier. This criterion determines how many visitors you get through search engines, referral links or directly to your website. You can also specify the number of people who visited your website through social media, email marketing or paid campaigns.
Sources/medium
This parameter accurately shows where your website's traffic comes from and how they get there. Here, you can easily track and measure any kind of UTM sources or marketing campaign.
Behavioral metrics
In-site users actions like user clicks and the time they spend visiting your pages are vital as they identify how your visitors show interest in your website content. I severely advise you to consider the following metrics when you're trying to find out how to track website traffic.
Pageviews
We can see the total number of web pages a visitor has viewed via a metric known as pageviews. Each time a user reloads or returns to the same page after closing the browser tab, a new pageview is logged. So, it may be best to consider the unique pageviews as well, as that counts the visits to a single page regardless of how many times your visitor reloads or comes back to that page.
Also, do not forget that a high number of pageviews doesn't always mean you are going to get a high number of leads or customers, but the more pageviews you get, the higher chance you have of securing a conversion.
Sessions
A session is a set of activities that is logged when a visitor comes to your website at different times. The number of sessions can specify how many times visitors have returned to your site.
Avg. time on page
Measuring how long visitors spend on your site throughout the course of each session will give you the "average time on site" metric, which in turn indicates how engaging visitors find your site. However, make sure to pay close attention to ensure the duration of each session matches with the content or function of the pages they visited.
Bounce rate
Bounce rate represents the number of visitors who left your site immediately after they landed on your pages. Low bounce rate and high average spent time on a page indicate proper performance.
Conversions metrics
The end goal of tracking website traffic is to find ways to get more conversions. Monitoring the conversion rate value over time will make things more clear and help you design a better marketing strategy. Previously, we talked about what is conversion rate in a separate blog post. Briefly put, this metric is calculated as the number of converted users divided by total users.
There are different conversion goals you can set and follow their rates (including number of subscribers, sign-ups, sales, etc.) to measure the effectiveness of your marketing activities. Thus, conversion rate reveals what part of your marketing strategy is working and what needs to be improved upon.
How to track website traffic with Google Analytics
To check your traffic data by this method, you need first to set up a Google Analytics account using a new or existing Google account. The best source to learn how to configure your account and add your website is Google's tutorial. The tutorial includes updated data, related videos and anything you need to know along your journey. So, don't worry and just follow the steps.
After you finish with the setup, you may need time to see actionable data about your website. Google Analytics prepares for you all the metrics we talked about lately:
Audience
Acquisition
Behavior
Conversions
You need just to set up your goals and manage your data using the time selector. Then compare your data month by month and log them somewhere else to get a bird's eye view of your business.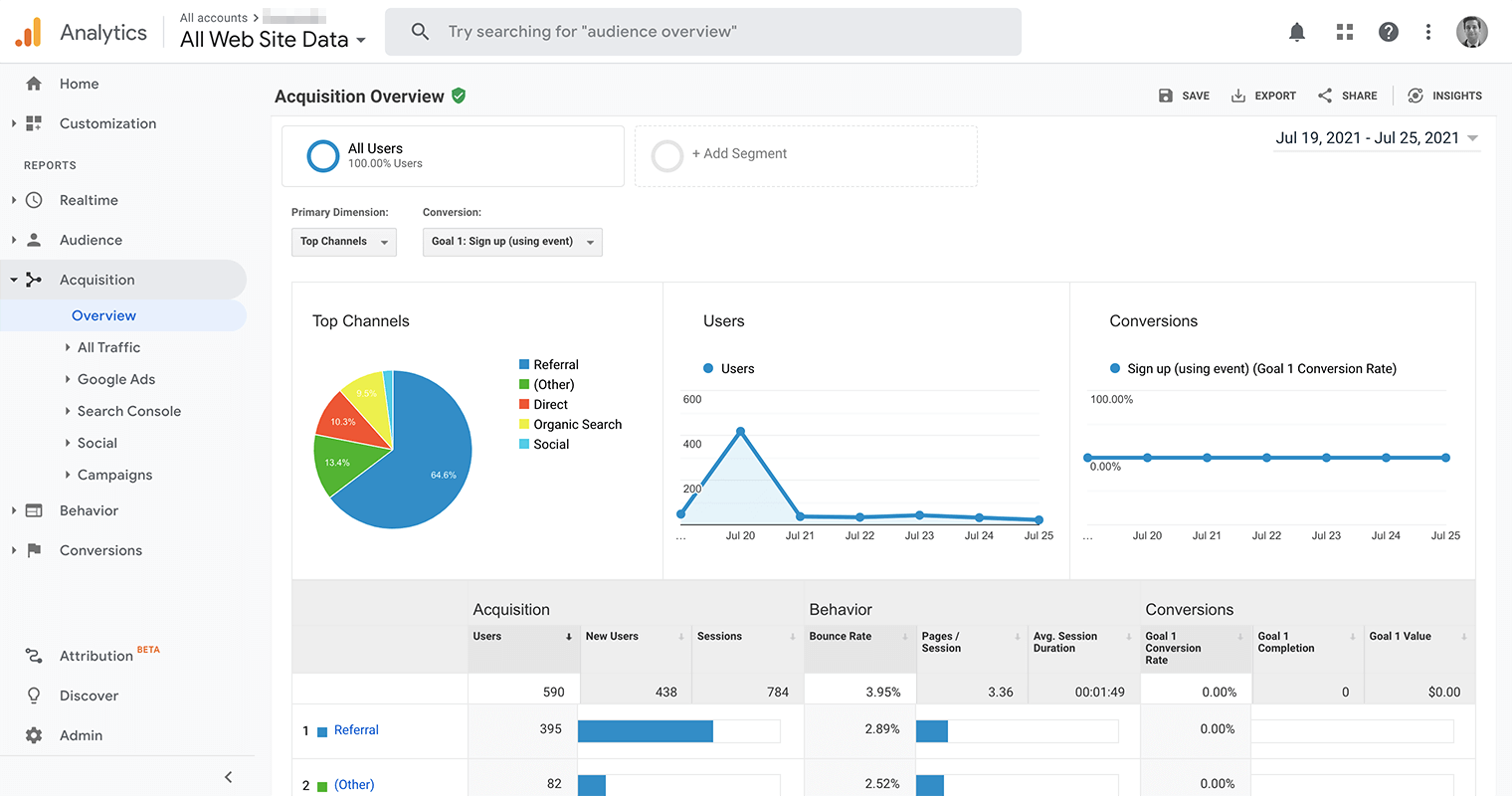 Note: To access each metric you need just to choose your desired one from the left sidebar in the Google analytics workspace.
How to check website traffic with Growmatik
If you're running an eCommerce business, Growmatik can be a very useful tool to track your website with. It provides 3 main tools to help you easily track your traffic, follow your goal achievement, measure your marketing campaigns and reveal your marketing funnels.
Analytics
Growmatik analytics shows a detailed metric of your site engagement, sales, customers and also email campaigns. You can use a date range to compare your data for different time periods. As a growth hacking point, any kind of metric you choose to track should be comparative, leading and actionable. It's important to compare these metrics on a regular basis. This way you can find significant trends and also a solution to attain your goals.The table below shows all the metrics you can track and measure in the Analytics section.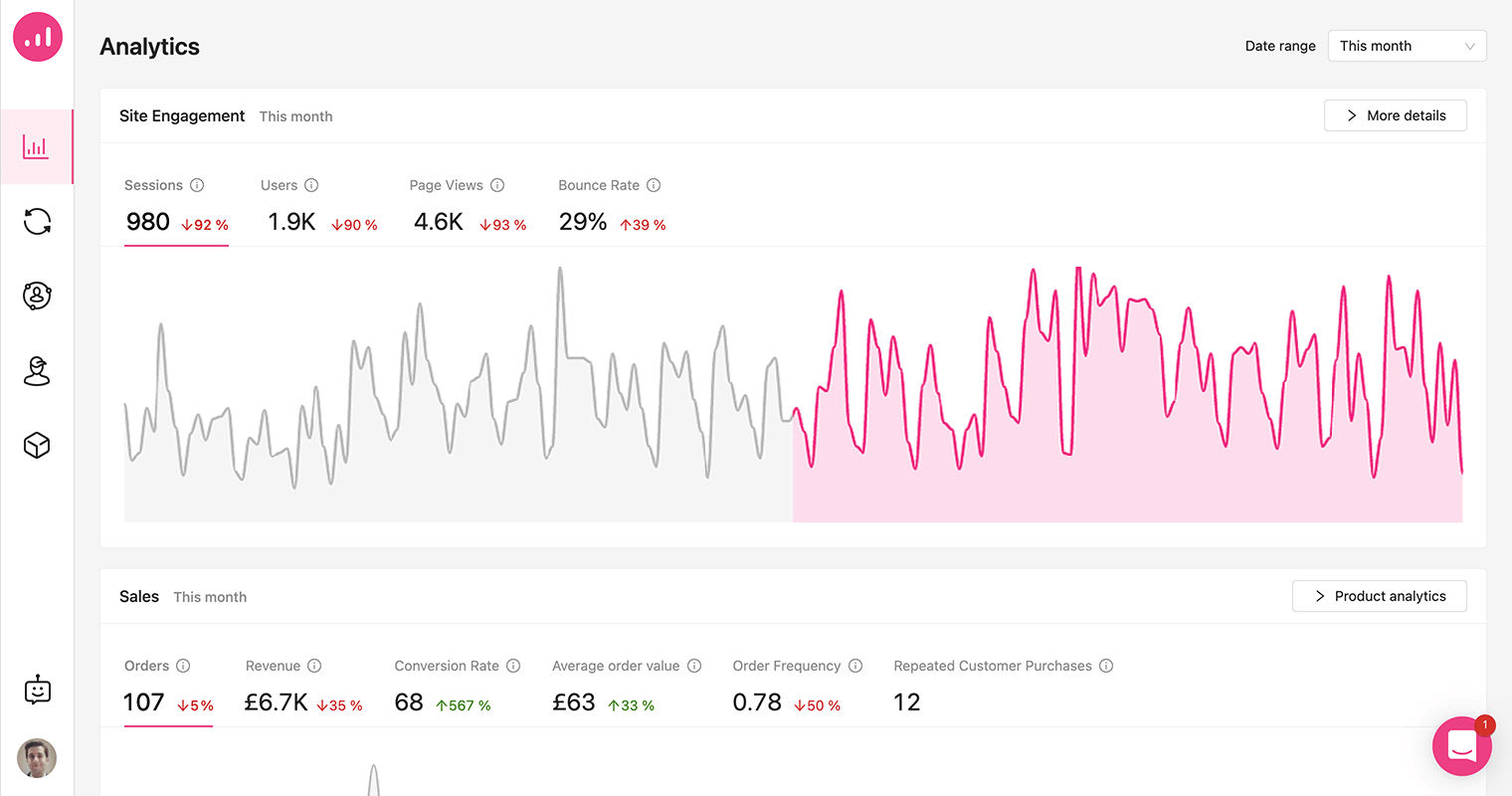 Website
Sale
Customer
Email
Sessions
Users
Page Views
Bounce Rate
Pages Refers
UTMs
Countries
Search Terms
Orders
Revenue
Conversion Rate
Average order value
Order Frequency
Repeated Customer Purchases
Quantity Sold
New Leads
Returning Leads
New Customers
Returning Customers
Click Rate
Open Rate
Bounce Rate
Unsubscribe Rate
Total Sends
Growmatik analytics metrics table
Automation report
As you know, Growmatik is a marketing automation tool that can trigger and send highly personalized emails, popups and web content to your segmented audience through defining multiple automation rules. Each rule has a report with actionable metrics that gives you a hand in completely measuring the performance and also the results of any marketing campaign you set.
After any automation rule has been activated, you needed just to click on the three dotted icon at the right upper side of any automation rule and then select the Edit option.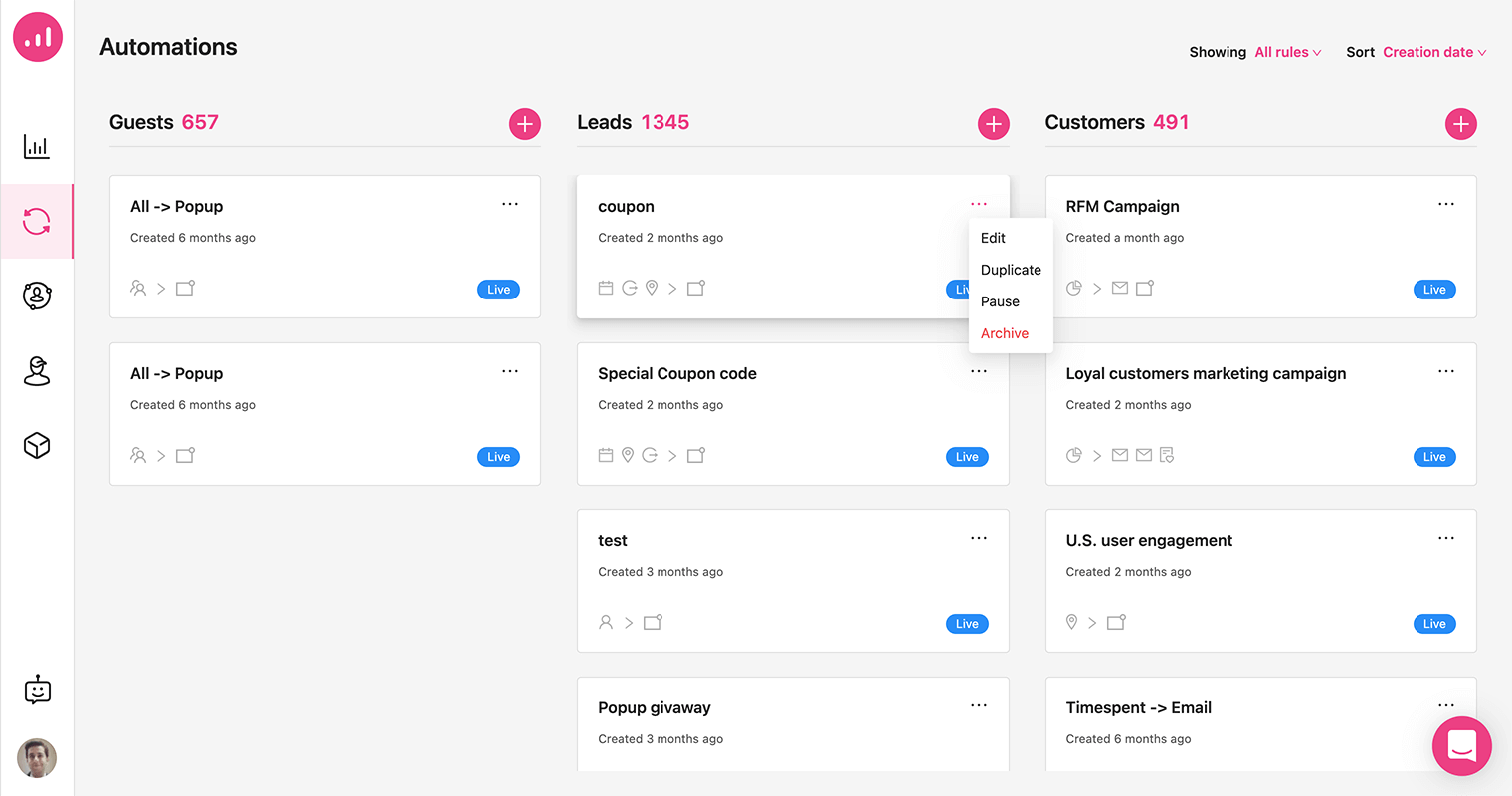 That will open a modal where you can find the full reports with metrics like people, generated revenue, unsubscribes number, impressions, sign-ups and even more.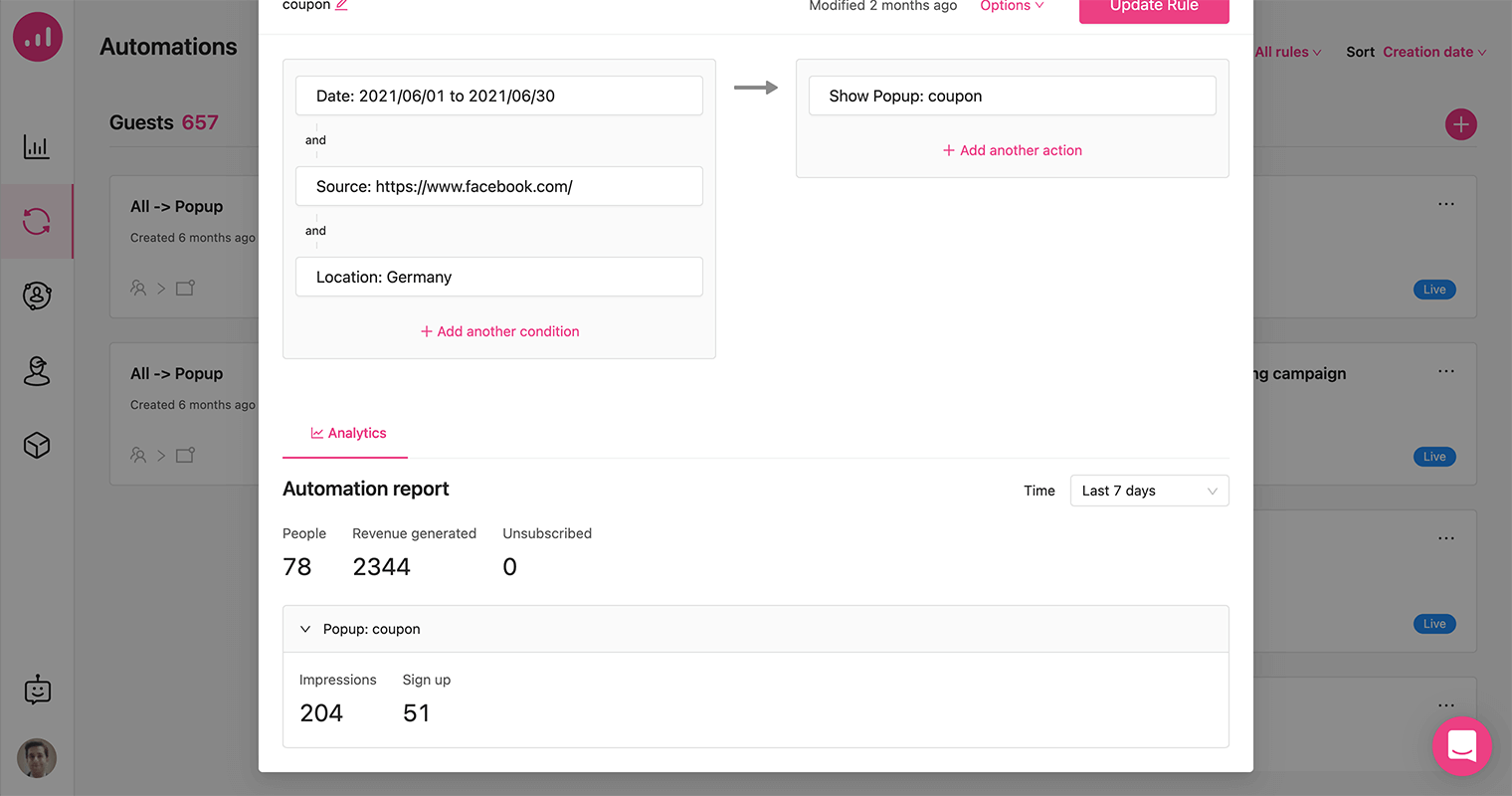 Customer journey
With the customer journey feature you can take a closer look at your user experience and consider your marketing funnels. This is where you can find what parts of your website need improvement, spot the major funnels and tailor a seamless experience across your marketing channels by overviewing different dimensions including location, source, landing page, subscription and completed purchases.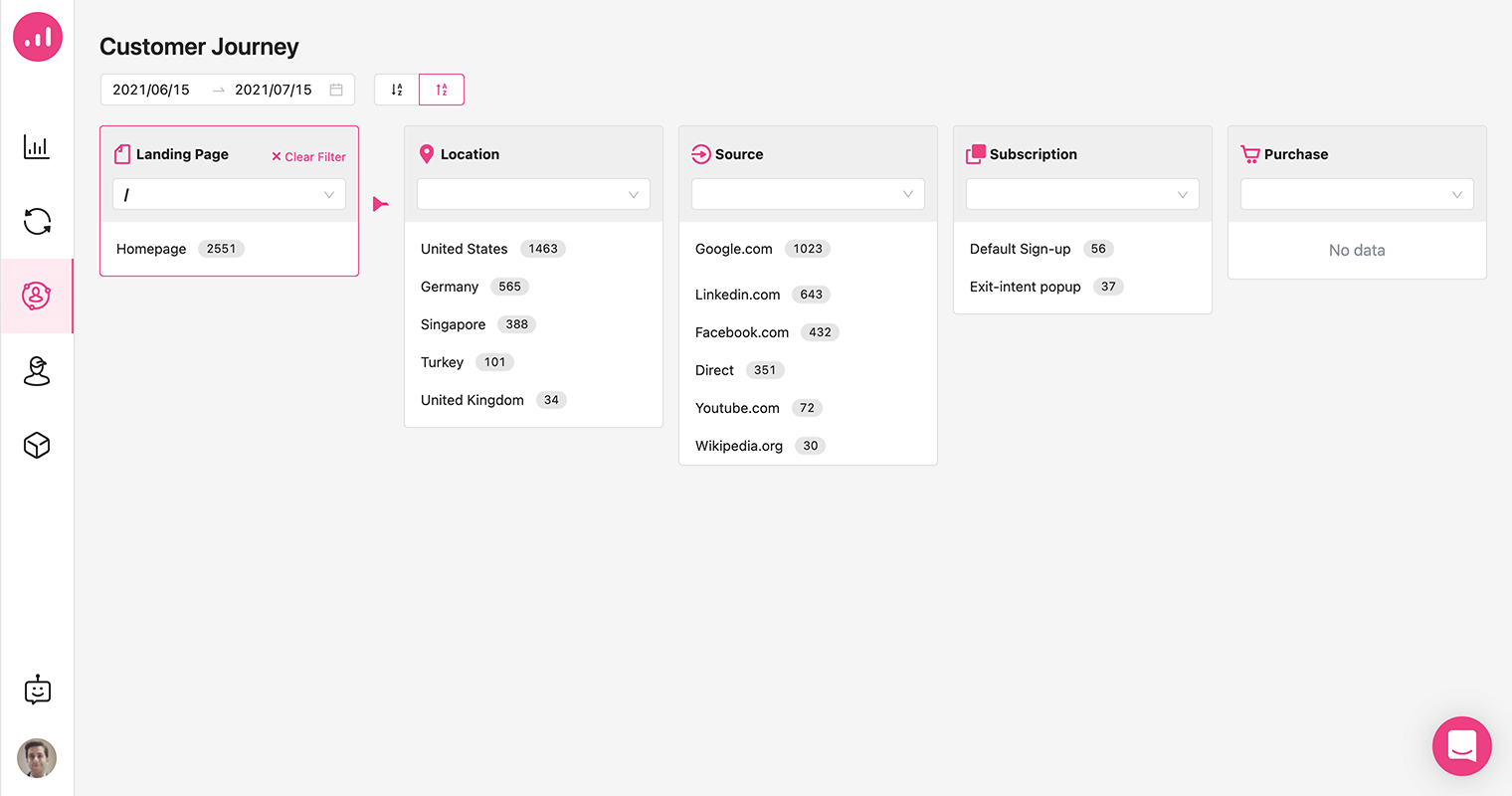 Wrap up
The first step to achieving success is to clearly identify the stage you are in, which is not possible without measuring and analyzing the numbers. Learning how to track website traffic using tools such as Google analytics or Growmatik can be the breakthrough point you need to move on as a growth hacker. So, always try to learn, measure and scale to get what you deserve.
In this article, we talked about all the metrics you may consider when tracking website traffic. But remember that you do not need to check them all without any determined goals, as you may get sick of improving your website very soon. Instead, try to focus on measuring your initial goals and steadily improve your marketing strategy.
Find effective traffic sources to your website and track user behavior