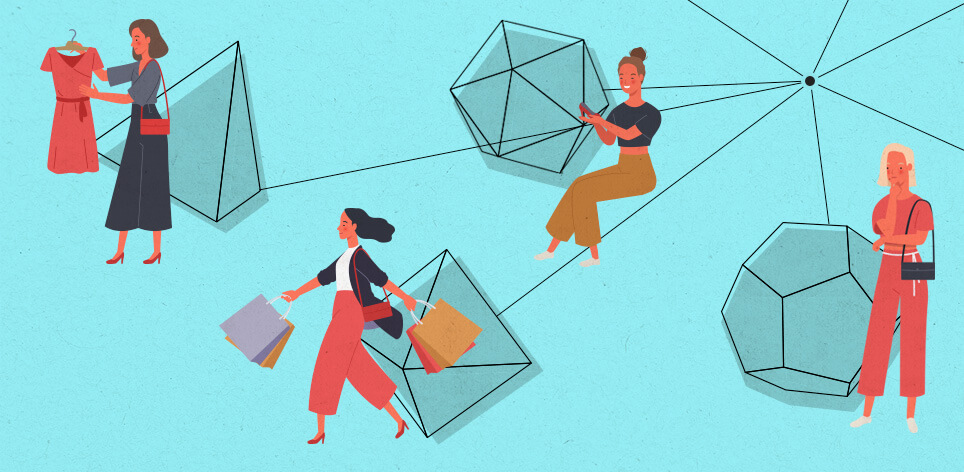 How to personalize website based on audience activity
As personalized marketing is becoming a hot trend these days and different tools are starting to emerge to fulfill a unified and personalized customer experience, no one should underestimate the power of reaching out to users personally. By knowing how to personalize website based on audience activity, you can present what users would actually like to see instead of just casting a wide net in the hopes of catching a fish.  Based on numerous studies, you can increase the conversion rate if you grab people's attention at the right moment with the right content.
In this article, we'll explore some of the best and proven strategies to personalize the customer experience. We'll then discover how to execute each solution with Growmatik.
Scroll-based personalization
You might have seen those marketing popups that trigger at a certain point while you are scrolling. It's called scroll-based popups, and it's been around for years. A good thing about scroll-based popups is that they are not quite disturbing as they only open when the audience is actually showing interest by scrolling down the content. However, there's a big problem with these popups too. The problem is that they are irrelevant. Most of the time, they are just a blind marketing attempt – regardless of who your audience is – to grab as much attention as possible and to hopefully convert a few of them! There's a better approach though. To engage more users, you can create multiple popups with different content and show each to a customer segment of your own. Here are some examples:
Display a popup once the article is fully read
By using an adjustable scroll amount, you can set to display a popup only to those that read the whole page of your website to the end. This can be especially useful in blogs. As your readers reach the end of the page, you can show a popup asking them to subscribe to your mailing list. You can even make it irresistible by offering them a free e-book if they are opt-in.
With Growmatik, you can simply automate this by using the condition User behavior > Scroll, set it to 100% and then assign the Show popup action.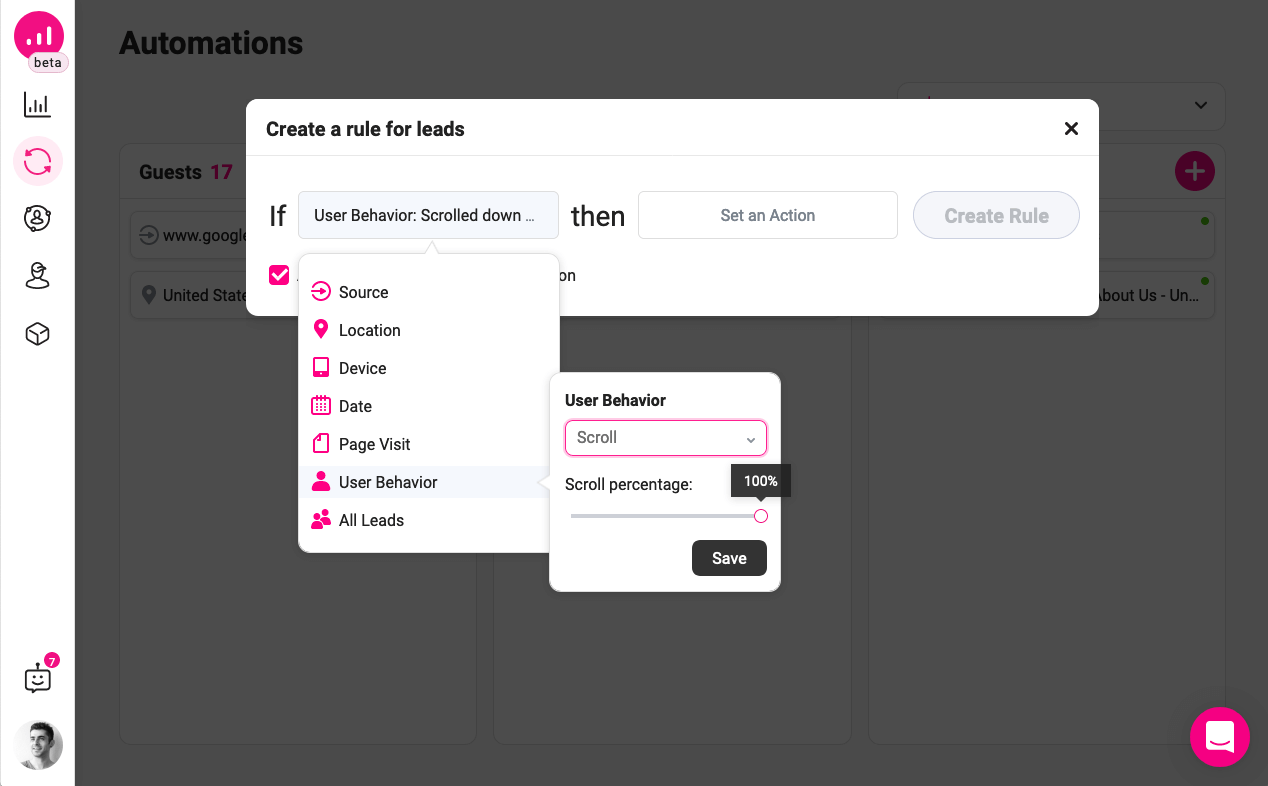 Once you assign the popup as an action, you have the option to customize the popup content as you wish.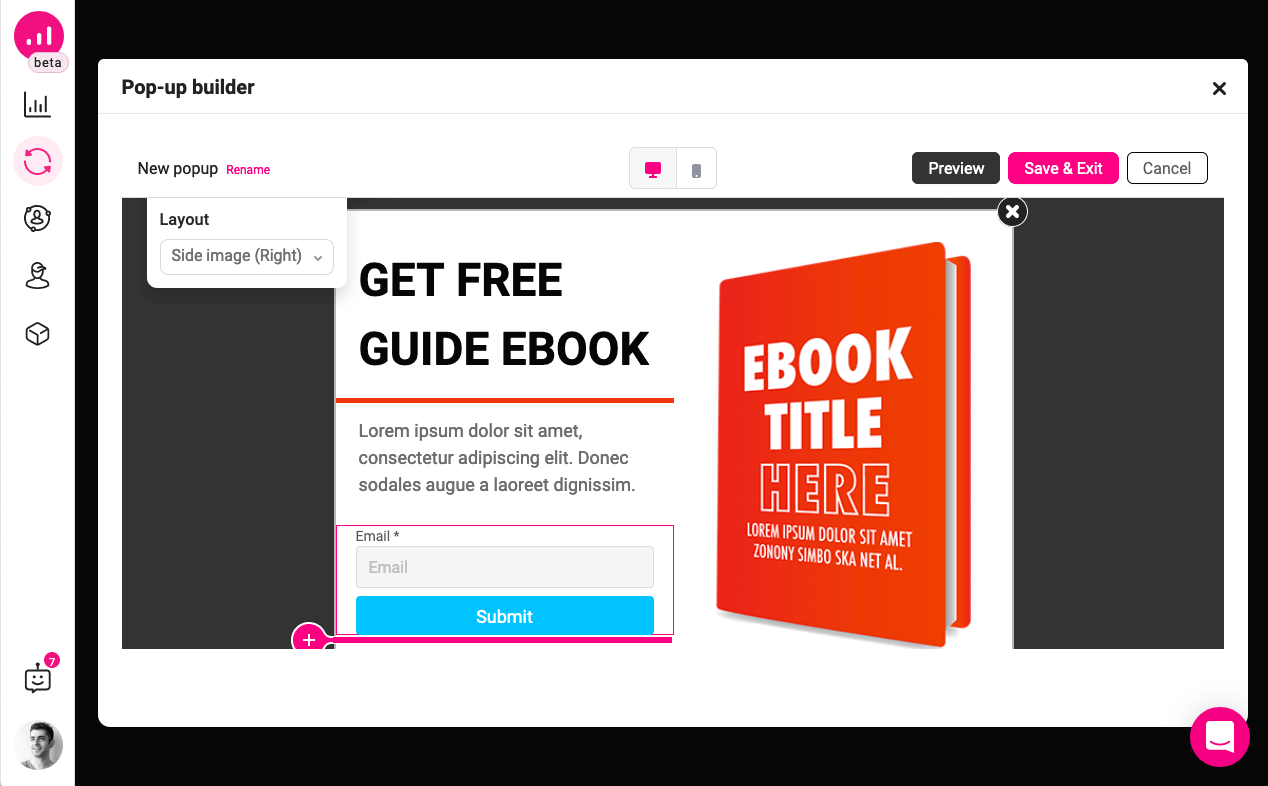 Display popups once a product category page is visited
If you're running an online store and you are selling products of different variations, it will be easier for your customer to find what they are looking for using product categories. This is a great way to personalize your website based on audience activity – here lies an opportunity for you to promote something that is related to that category. For example, if you're running a discount program off some of your products, you can increase the chances of conversion by displaying a popup promoting the sale price when they enter the category(s) in which those products exist.
With Growmatik, you can use the condition Page visit and select the page containing items belonging to a particular category. Then, assign the Show popup action.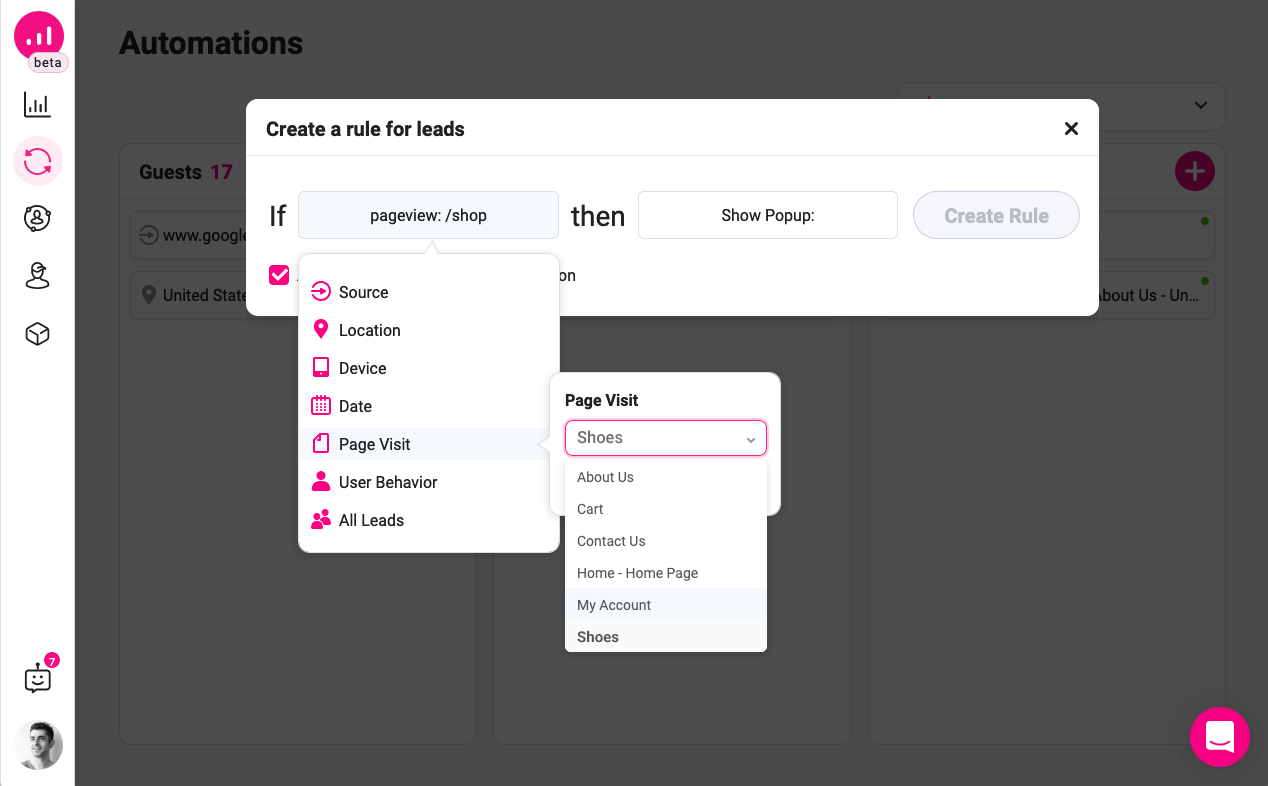 Display popup to your active audience
Every marketer has the task of retaining active customers by treating them with extra care such as displaying highly targeted popups. One way of being able to identify whether or not a customer is active is by calculating the time they spent on your website. This could be a sign of customer loyalty and an indication of their interest in what you have to offer. Once these users are segmented, you can craft a popup with carefully planned content to communicate with those customers. There can be a broad range of topics. The following are the most popular:
Promotional price only for active customers
Special coupons for active customers
Free item as a token of appreciation
Introducing your social media links so they follow you
Ask for user's feedback and incentivize it for maximum interaction
Just be creative about what you want to offer but always make sure to acknowledge them by mentioning why they are being treated in a special manner.
Growmatik offers different ways to segment your active customers or leads – but the easiest and the most straightforward way is to by setting the condition to User behavior > Spent time and set the desired time based on the hour and minute. Here, we'll go ahead and choose 5 hours. The definition of an active user might be different for your particular business.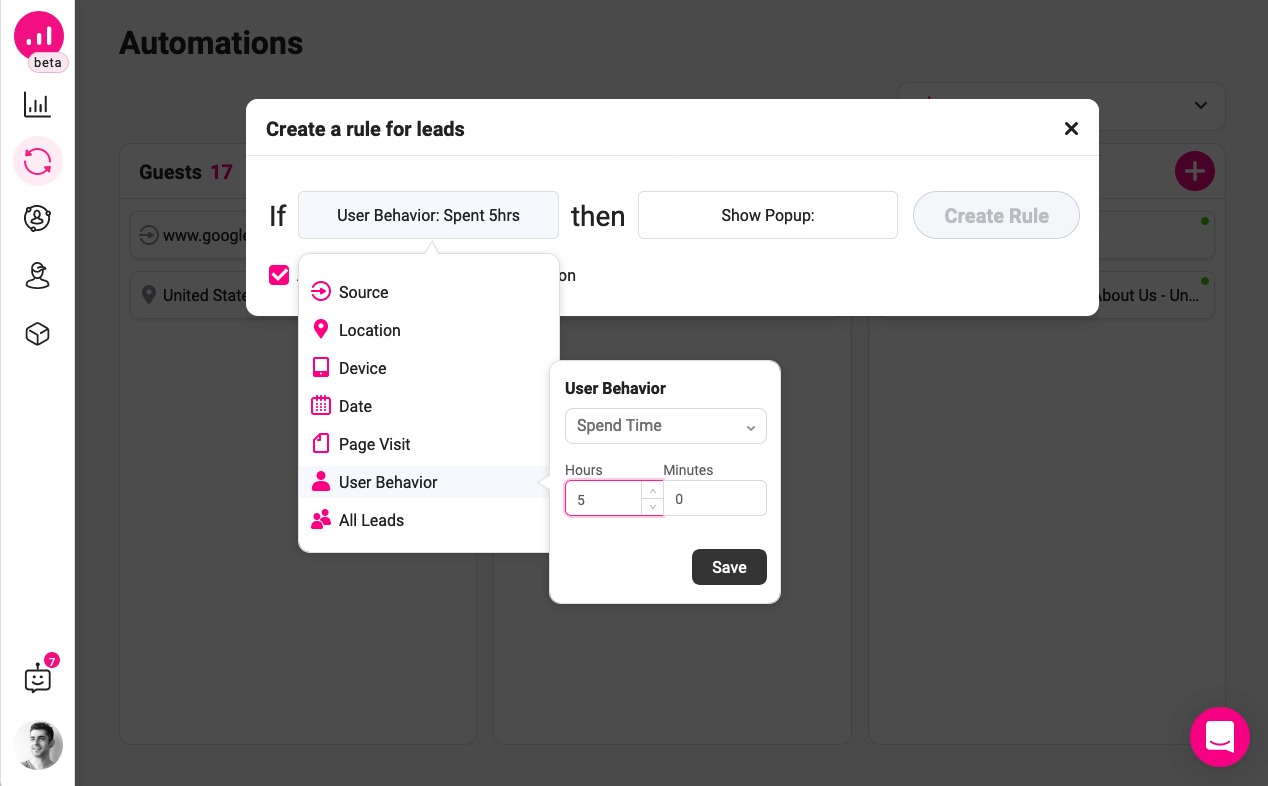 Display a popup to users who signed up
Among all your visitors, there are leads and customers who have signed up for your website. This segment of your audience is the most likely to be transformed into paying customers. You need to design and execute a detailed marketing campaign to effectively nurture and retain these customers. However, there are some steps you can take in the early stages to ensure you personalize your website based on audience activity effectively. Here are some examples:
Introducing social media links for new registrants
You can display a popup containing links to your social media pages and ask new registrants to follow you to get updates about your business. This could potentially grow your follower base as the new registrants already showed interest in your business, and there is a chance that they want to follow you on social media.
Ask them to subscribe to your newsletter
This is where you can grow your mailing list again. Most people are reluctant to opt-in to a newsletter while they are registering for a website. However, if you can manage to display a popup once they register and make it more interesting, they might change their mind. For example, you can set reward points to those who subscribe to your newsletter and use a message and graphic to boost the urgency.
In Growmatik, you can set the condition to User behavior > Sign up and set the action to Show popup. This way, the user who's signed up to your website will see the popup you have customized for them.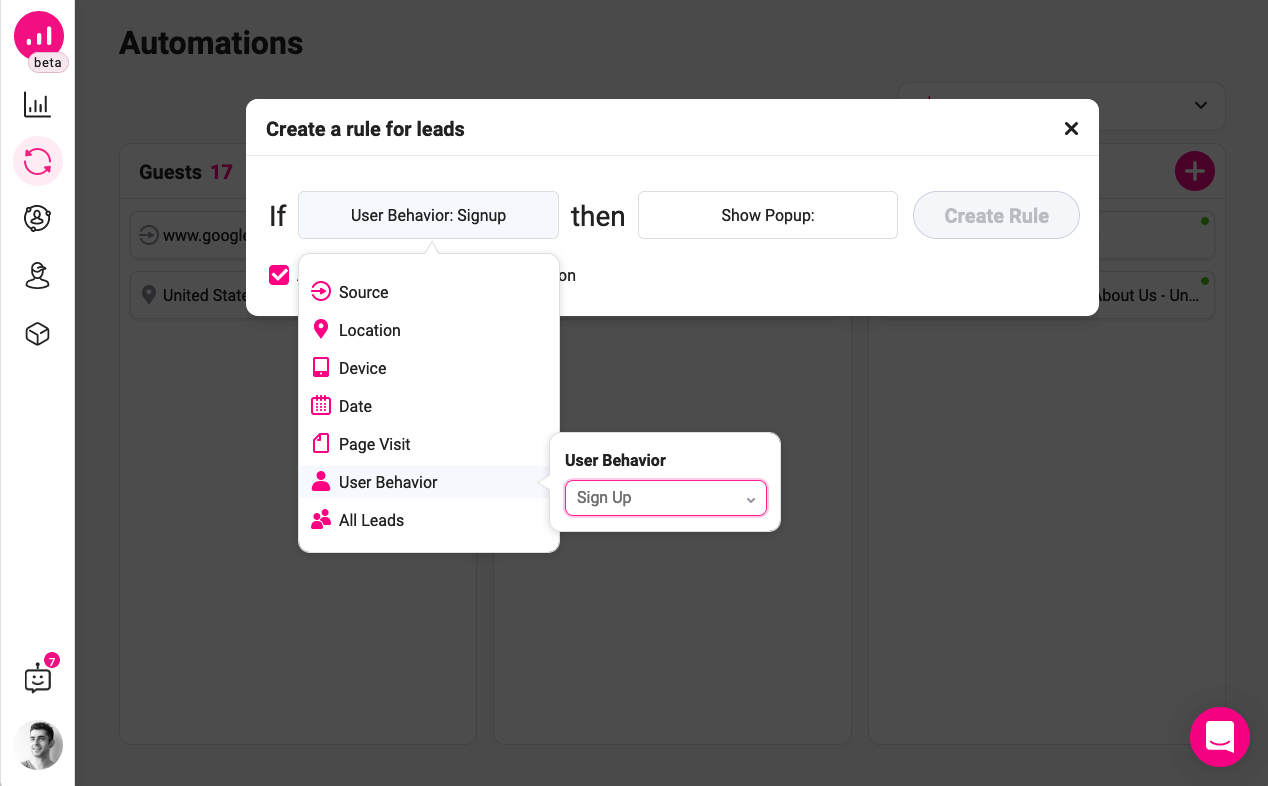 Furthermore, when you're customizing the popup content, you can use the Social element and Form element respectively to introduce your social channels or ask your audience to subscribe to your mailing list.
Display a popup when users want to exit your website
This is a technique used to retain visitors who are about to leave your website. With an exit-intent popup, a visitor's mouse movements are tracked, and when the cursor moves outside the upper page boundary, a popup shows up on the page. The content of popup should be tempting enough to prevent visitors from closing the window and interact with your website once again.
In this article, we have reviewed different ways to incentivize the audience to pursue a particular goal. This could be a giveaway item, free credits or points, coupons, discounts or anything else that you think could be encouraging for your target market.
To achieve this with Growmatik, you can simply set the condition to anything you like (all guests, all leads, etc.) and set the action to Show popup. Once you select popup as your action, in the popup setting, you'll find the option to choose when the popup is triggered. From the menu, choose On exit.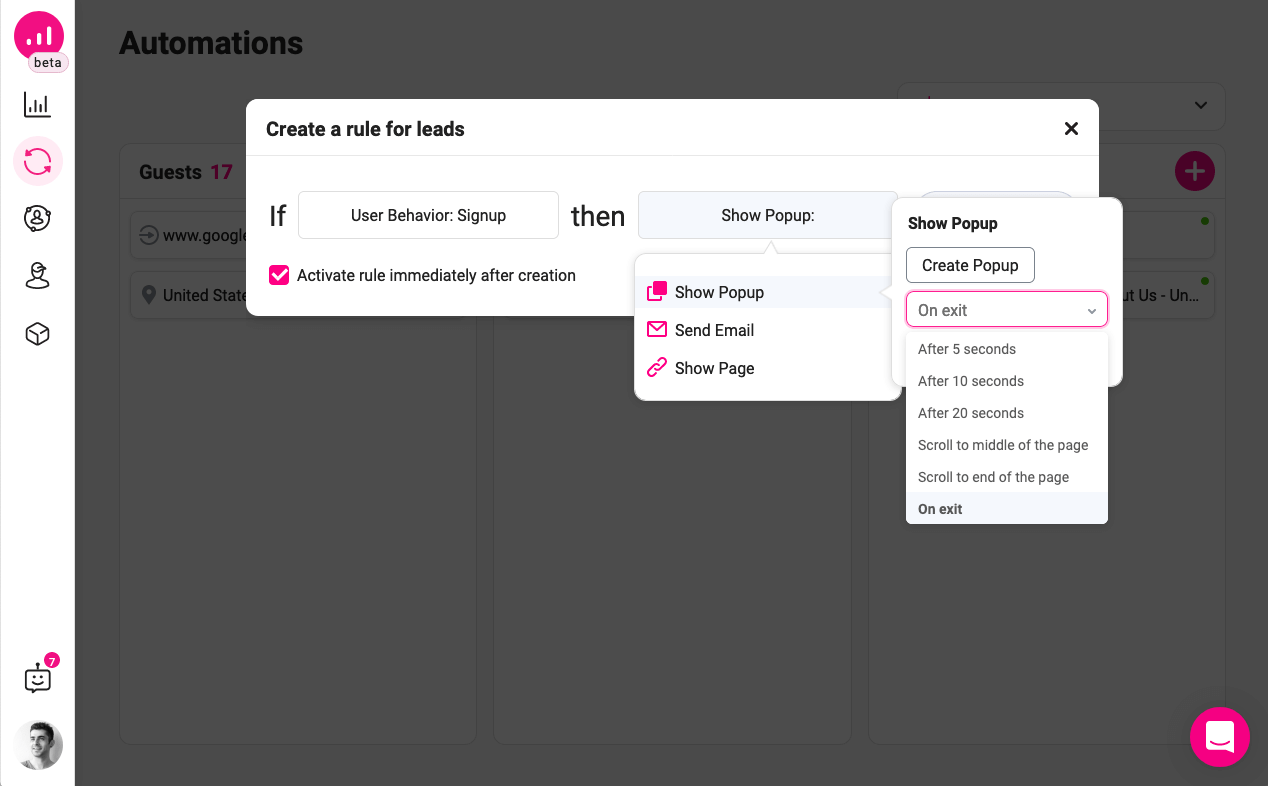 Display a popup to your best customers
While you should aim to appreciate each and every customer, this doesn't mean that you cannot prioritize customers who buy more than others when you set out to personalize your website based on audience activity.
Acknowledging your best customers has a great positive psychological effect on them. However, please note that this should not be a one-off appreciation. Just like what the gamification mechanic has taught us, it has to be a constantly rewarding experience. You can communicate with your best customers through a popup a few minutes after they've entered your website.
With Growmatik, you can easily automate such workflows. You'll need to create a new rule from the Customer column and set the condition to User behavior > Order placed. Then choose Show popup.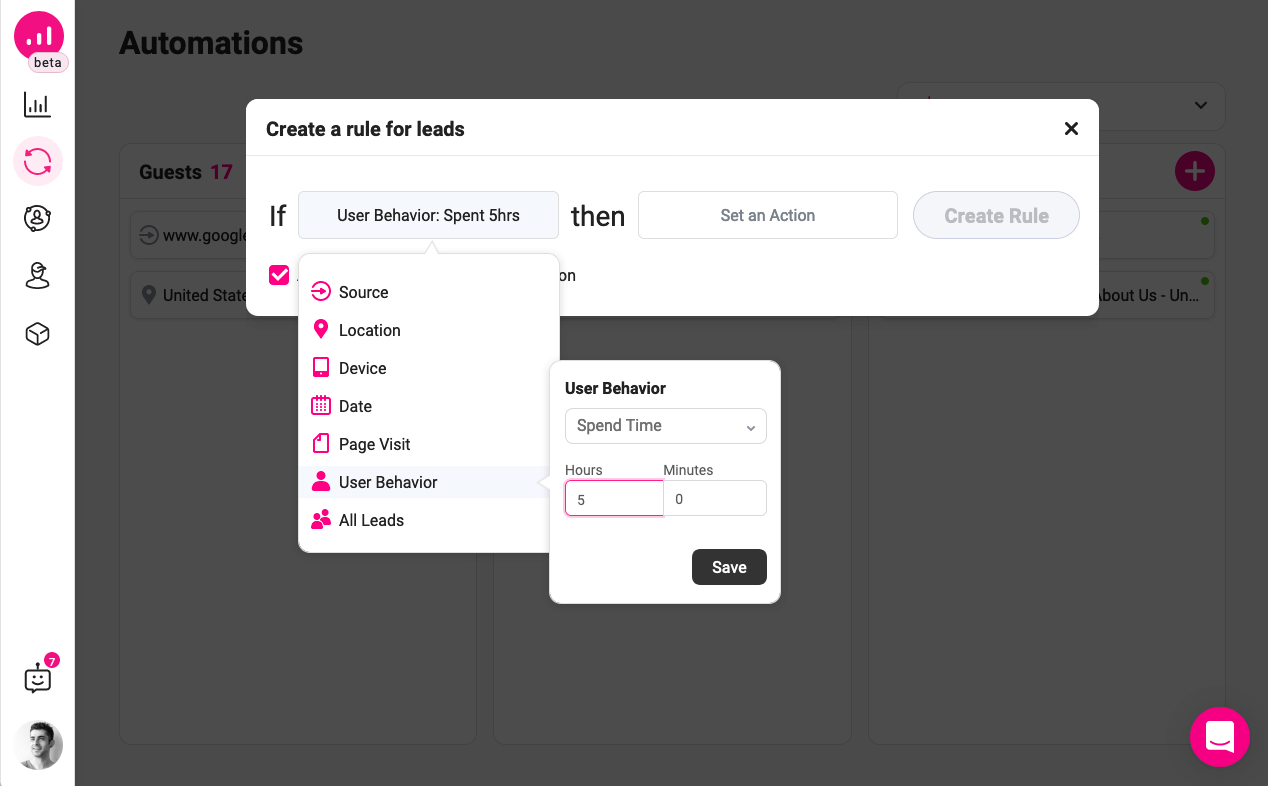 Personalize your website homepage for high-value customers
Suppose that you have bought plenty of items from an e-commerce website during the last few months and now that you're visiting the website again to check out some more items, you might be convinced to purchase them. Upon landing on the page, you see something that truly gets to you. At the top of the website, you're greeted personally with your name and there's a reward for you to collect because you were such a great customer! How likely are you to keep buying from the website again? Probably very likely.
So let's see how to deliver that experience to your customers in Growmatik. High-value customers in Growmatik can be detected based on the number of orders they have placed. All you need to do is to go to the Automate page, create a rule from the customers column, and choose User behavior > Orders placed. Figure out how many orders a customer has to place to become eligible as a high-value customer. Now, set the number and save it. As an action, choose the Personalize page and choose the exact page you want to personalize. This is usually the homepage. This will open up your website homepage with all the tools you need to personalize it.
You can add a welcome message that refers to the customer by their first name and tells them how happy you are doing business with them. Finally, you can also place a coupon underneath as a token of your appreciation. And while you're at it, perhaps include some of the newest products or the ones related to the customer's last purchase to make a better more personalized shopping experience. 
Just click on where you want to display your text message, and click on the plus button to add a new element.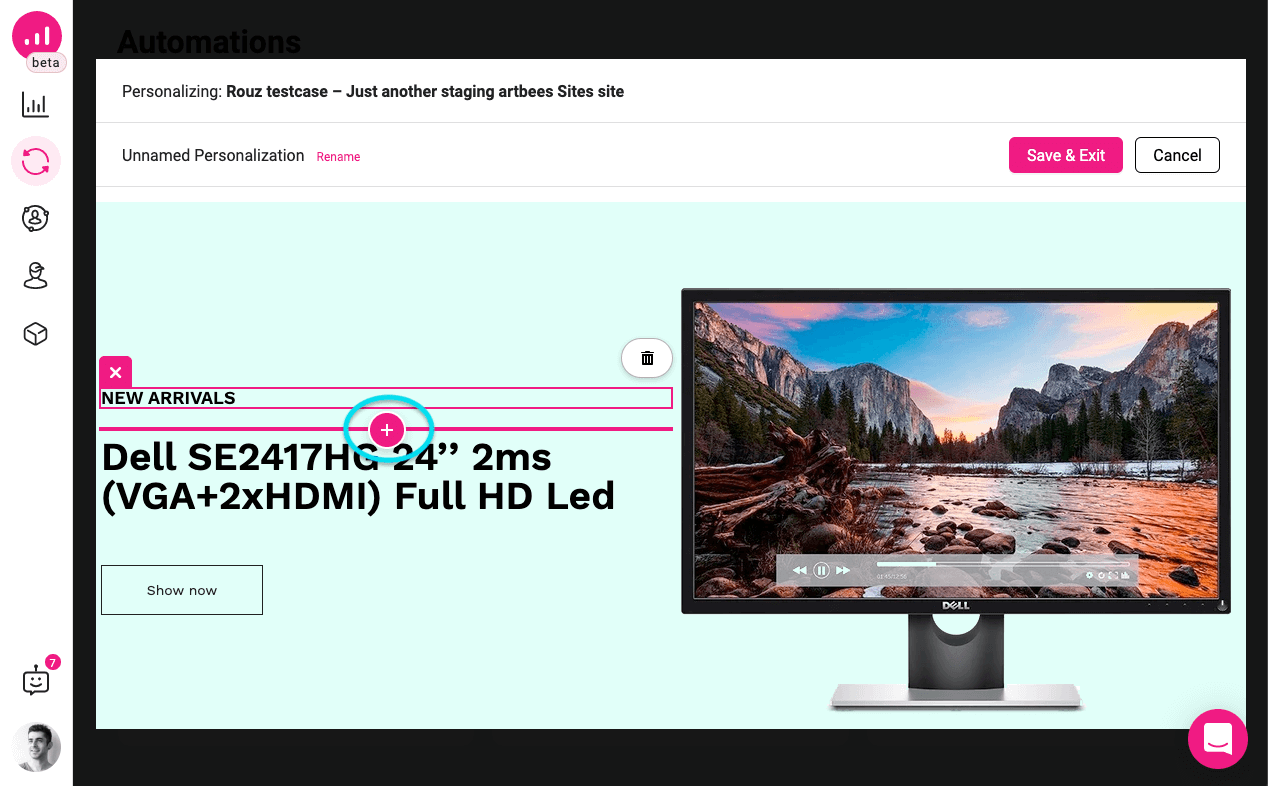 Choose the text element and write your message inside the text block by double-clicking on it. Make sure to add a more personalized tone to your message by using Dynamic tags. You can see a complete list of dynamic tags by putting your cursor anywhere inside the text block and clicking on the Dynamic tags button in the text settings panel.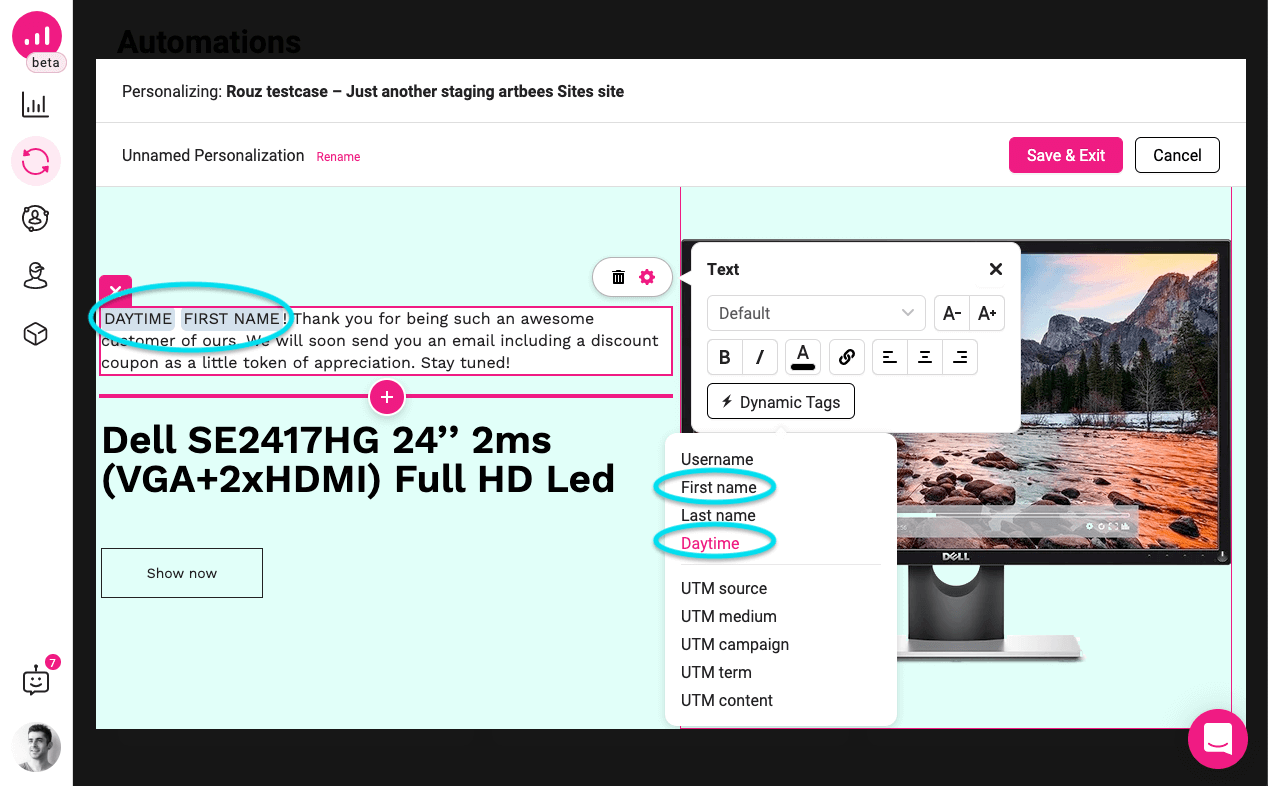 Personalized homepage based on customer's browsing history
One aspect of having a personalized website based on audience activity is by looking at the amount of time customers spend browsing your product categories . In this way, you will be able to discern which product they are looking for or interested in. Yet your homepage's first banner is dedicated to new arrivals. Just take a moment and imagine you went to a retail store visiting the camera shelves. A sales representative approaches you. You expect her to say something like "Is there any specific camera model you are looking for?" However, she starts with "Have you seen our new baby dolls? They're so cute." It's weird, isn't it?
An ideal shopping experience is the one that is relevant. Online stores must be flexible enough to track down the customer's interests and customize themselves to the end. A fully personalized experience. Now let's see how you can pull this off using Growmatik.
Go to the Automate page and create a new rule. You can create this rule on all three columns starting from the Guest column. As a condition, choose Page Visit. Select a page that contains a specific category of products. As an action, choose the Personalize page and select the homepage. Once the personalizer is open, locate your homepage banner and replace its content with more relevant items. For example, select the text and double-click to edit the content. Write something relevant and confirm by clicking on the checkmark icon.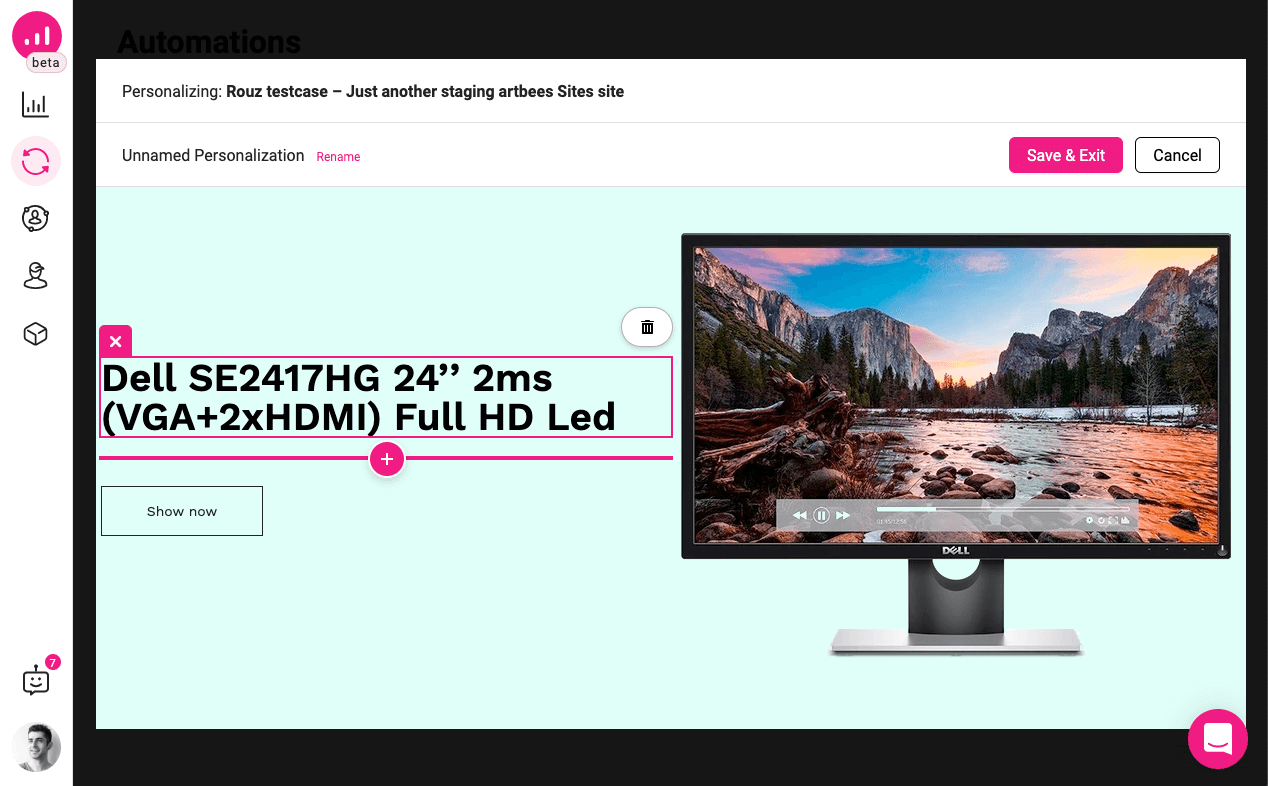 Respectively, you can replace other elements in the banner using this method. For example, if there is any product image, select it, and using the plus button underneath, insert a new image element. Choose the right image file and get rid of the previous image by selecting it and clicking on the trash icon.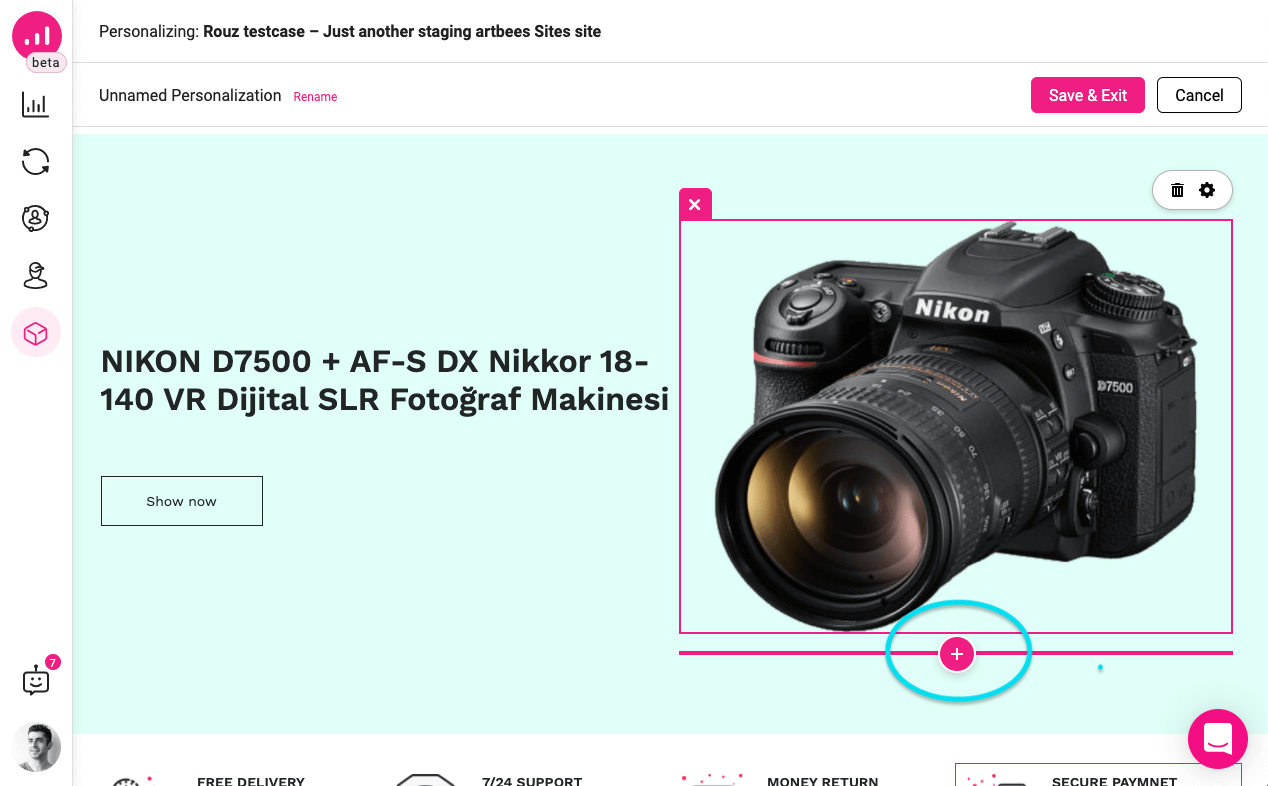 This personalization is especially important when you have multiple product categories. So you need to create a personalized page for each category.
Personalized homepage for inactive users
Another customer segment that is usually forgotten when it comes to personalizing your website based on audience activity is inactive customers. This is a huge opportunity that you cannot afford to ignore. You should do everything in your power to re-engage the inactive customers. One way of doing this is by sending re-engagement emails. Learn how to restore inactive customers in WooCommerce and get some of the best re-engagement methods of email marketing. Another way of targeting these customers is through website personalization. With Growmatik, you can redirect inactive customers to a new homepage that is specially crafted for that purpose. All it takes is just a few steps. Let's break it down.
First, make a copy of your homepage in WordPress. Open the duplicated page and edit its content with inactive visitors in mind. Here are some ideas:
Some greetings and emotional messages such as "We miss you"
What happened since they were gone
Offer exclusive discount coupons
Offer bonus scores encouraging them to come back and collect more (gamification)
Now in Growmatik, go to the Automate page and select User behavior > Away as a condition. For the action, choose Show page and select the page you just created and save the action. From now on, customers who have been away for some time will land on a page provided with more engaging content.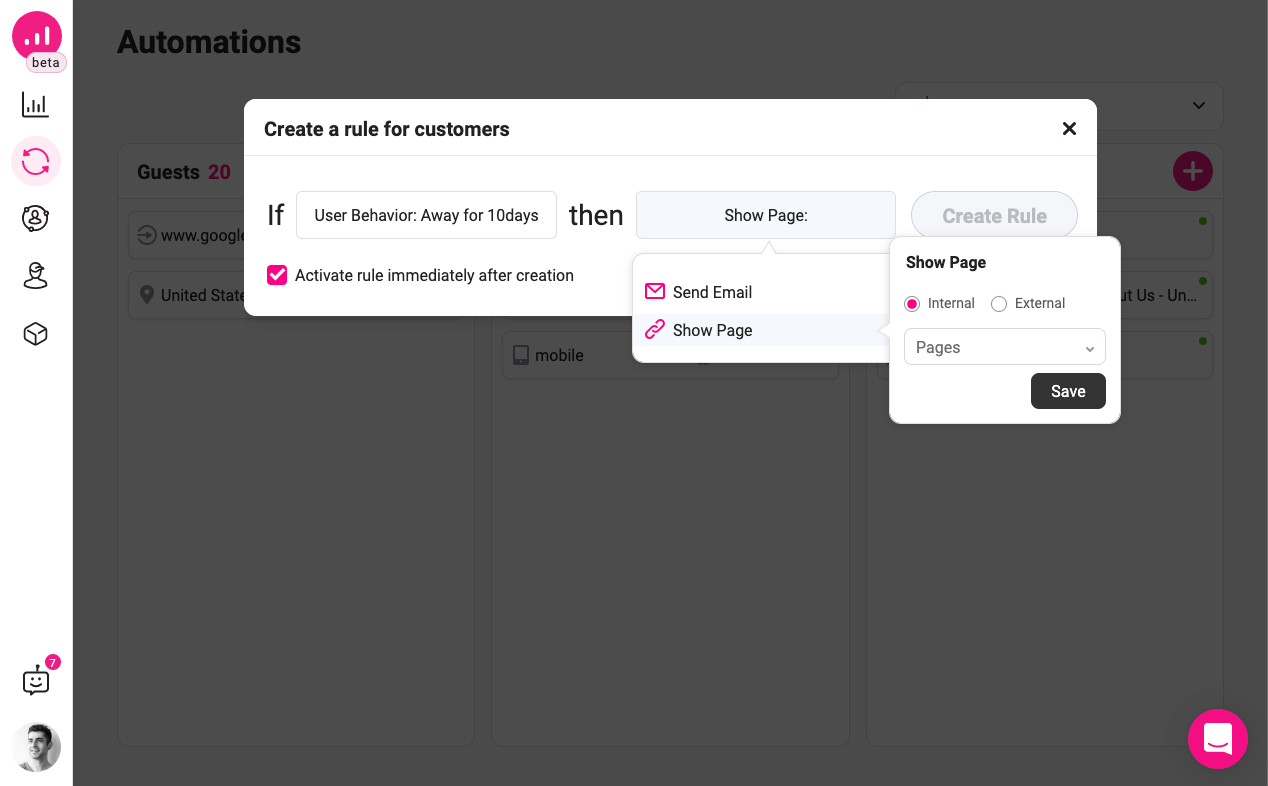 Conclusion
There is much more customer behavior that can trigger a specific marketing campaign. In this article, we only looked at the most basic ones. You can make more customer segments and use similar strategies to design meaningful marketing campaigns.
Growmatik is an all-in-one online tool that is built to do just this. You can make accurate customer segments and set different marketing campaigns to target those segments. Later you can even check the performance of each campaign and improve it over time. With Growmatik, you can send emails, display popups, redirect to pages, and most importantly of all, personalize your websites. Good luck!
Personalize your
WordPress website
based on
audience activity