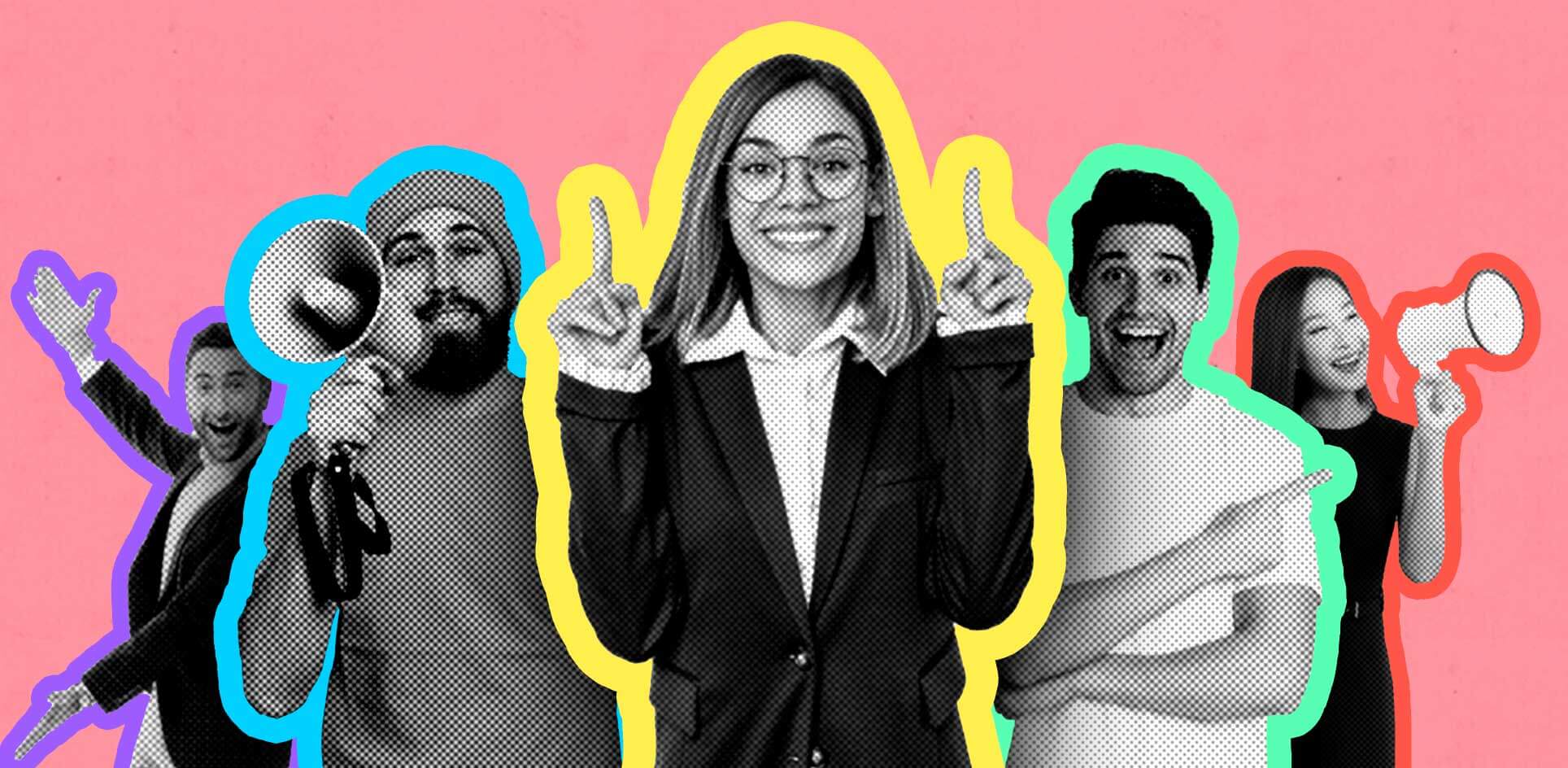 A growth hacker's guide to types of marketing campaigns
Simply Google "marketing campaigns" and you will find dozens of articles explaining a ton of different marketing strategies claiming to be the secret to success. But let's pump the brakes: I know it can be a bit confusing to apply multiple marketing campaigns to your business, especially since you probably have to juggle the many questions that pop up both before and after running a campaign. To help you out, I've prepared a guide to growth hacking in different types of marketing campaigns to help answer any nagging questions you might have. Here are some of the main questions you'll find answers to when reading this guide:
As a growth hacker, what should I know when running marketing campaigns?
What types of marketing campaigns can I run?
How can I properly set up and run a marketing campaign?
What flaws should I watch out for in my marketing campaigns?
What chance do my marketing campaigns have of working?
Can anyone run a marketing campaign without spending money?
… And more!
Let's jump right in!
What is growth hacking?
We all know that success in digital marketing doesn't happen overnight. However, we as human beings tend to be impatient and are always on the lookout for shortcuts. Actually, growth hacking was born as a way to conserve vital resources in eCommerce markets while helping companies grow rapidly.
Growth hacking is a part of lean marketing methodology that offers low cost methods and suitable alternatives to traditional marketing. The main idea is to quickly test your marketing hypotheses to reveal customer trends without spending too many resources. The perspective of growth hacking only works with testable, trackable, and scalable types of marketing campaigns. This method allows companies to market more effectively even when they lack money, time, experience or any other resource.
What is a marketing campaign?
A marketing campaign is a set of activities aiming to promote a business. Marketing campaigns help to bring more leads, customers and repeat customers. Over time, every campaign will also give clues about how to increase conversion rates and suggest next steps.
Before we begin…Marketing is all about learning!
A marketing campaign should always be structured as a threefold cycle: build, measure, learn. Building small, measurable marketing projects is a vital approach to learning and improving your skills. Learning from the evaluation of what you created helps you to get in control of your marketing and helps you discover the cracks in your strategy. There are many authoritative sources out there advising you to base your marketing on learning when practicing automated marketing for WordPress.
What are the main elements of every marketing campaign?
The list below summarizes the critical elements that should exist in all types of marketing campaigns.
1. Goal
The very first step of setting up a marketing campaign should be defining the goal. Jot down your ideas on a piece of paper. This helps you clear your mind and figure out exactly what your goal is. As mentioned earlier, try to learn from the results of your previous campaigns before setting your goals. Doing a competitive analysis will also give you valuable clues on what your goal should be. You can choose which types of marketing campaigns you'll need based on the goal you set.
Public awareness
Building brand awareness is an essential goal, as it means opening up the public's eyes to your product or service so that they know you exist. In fact, this is a great way to utilize people's unconscious bias and get them to automatically associate with your brand.
Consideration
A consideration campaign is great if you want to get your business to a level above awareness to where potential customers consider your brand as a desirable product or service and show real interest. At this stage, they may compare you with your competitors to see if you are worth it.
Conversion
Campaigns designed to get users to perform a particular action or encourage them to buy your product or service are conversion campaigns. Activities like newsletter submission, signing up on your website or purchasing a product will be set as the goal. The key metric you should monitor to measure these campaigns is conversion rate. Find out what is conversion rate and build a better understanding of how personalization can boost it via this article. Also, figure out how WooCommerce conversion tracking can help you fine-tune your marketing campaigns to increase conversions and revenue.
Retention and advocacy
Customer loyalty programs are very common among e-commerce businesses these days. You offer something like discount coupons and rebates, unique rewards and membership ranking to attract more loyal users, boost growth and ensure customer retention. Although these types of campaigns will not bring new customers, they will effectively increase customer lifetime value.
2. Budget
All types of marketing campaigns require a budget and resources. Even if you don't put in money, a campaign will require time and energy. In growth hacking we won't put a huge amount of money into our first campaigns. Instead we build small, analyze, measure and then scale the campaigns. This method helps us avoid wasting money on the wrong campaign.
3. Target audience
Your target audience are those who are most likely to engage with your campaign and show interest in your products or services. Remember that in lean marketing methodology the goal is to target the most efficient group of users, not the widest.
To do so, you can split the audience into smaller groups based on the parameters that matter to your business and see which perform better. This is what we call audience segmentation. Try to educate yourself about customer segments for e-commerce.
Test both audience and content with A/B testing
You can create two variations of your campaign and compare them continuously to identify the winner — A or B? This objective insight gives you actionable data where you can find which audience or marketing content results in higher interaction and conversion. You can perform A/B testing for your targeted segments, content personalization, landing pages, emails, banner ads or any other comparative elements of your campaigns.
If you would like a hand with A/B testing, opt for services like Google Optimize, Zoho PageSense, Optimizely, VWO and others that are specially developed for this purpose.
4. Marketing channel
This involves defining a channel to run a marketing campaign. In line with a growth hacking mindset, the most efficient option is to run your marketing message across multiple channels. Multi-channel marketing solutions work so well because they help you collect information about customer behavior on each channel, allowing you to build specialized content for each channel. How each customer behaves on different webpages, for example, can help you design personalized popups and emails for your campaigns. Taking the multi-channel approach means establishing a unified and consistent marketing strategy, ultimately helping your marketing materials achieve the golden state of personalization at scale.
Your website is your primary marketing channel
The website is the epicenter of most digital businesses and is where many of the actions you expect from your target audience take place. You can use the following parts of your website to run marketing campaigns:
Email marketing and newsletters
Web page content
Blog
Popups
Improve your SEO Ranking
Most people who are searching for a phrase on Google look for organic results instead of Google ads because they think that the ads are not quality results that will meet their needs. Try to invest time in improving your organic ranking with keywords that matter to you. This may be your most vital marketing channel ever!
Broadcast your messages with measurable paid advertising
Paid advertising usually includes in-page banner ads, pay per click (PPC) ads or sponsorships. Your host prepares the advertising space and you pay for the duration of the campaign. Good examples of this advertising channel include Youtube videos or sponsored banners on relevant websites. Google AdWords also offers trackable advertising campaigns that allow you to select a specific target audience.
Invest in your public image
Some businesses may ignore public relations in their marketing plans. However, your image has the potential to change how people think about your products or brand. Sometimes the missing piece of the puzzle to earn the initial trust from an audience is you or your brand's appearance in a conference or a campaign that reflects your corporate social responsibility. You can find examples of quantifiable public relation objectives via Anderson's guidelines.
Use referral, affiliate and loyalty programs as a self-perpetuating marketing channel
Any mechanism that encourages your existing customers to share your product or service with others is a viral loop. Let me provide an example of viral loops to clarify this idea. Recently I was searching for a free high-speed VPN service and was fortunately able to find a satisfying one. The product offered an extra 5GB bandwidth just for sharing it on Twitter. I did so and recommended it to my friends. My friends will likely find the service useful too and will share it again. This is how a viral loop helps to build a self-marketing machine. Try to hack your marketing campaigns by applying such strategies.
5. Content
When brainstorming about your content's messaging, keep in mind that you'll have a very short amount of time to grab your audience's attention. Therefore, your content should be tempting, relevant and clearly address how your business can benefit the target audience.
One of the most important things to consider when preparing your content is personalization. It makes your content look more relevant and increases the chances of customer conversion. There are different types of personalization you can perform with Growmatik. This powerful program lets you add personalized elements, including blog post and product lists, to your webpages, emails and popups. It also allows you to personalize your content with dynamic keywords. Learn how to personalize content with dynamic keywords to show your audience you care about them.
6. Analytics
Marketing analytics is the act of tracking, measuring and analyzing your campaign performance to determine its effectiveness. Understanding the results lets you optimize the current campaign and prevents wasting resources the next time you want to set up a marketing campaign.
Once your campaign is live and running, you should start analyzing the results. You may notice an issue at the beginning of each campaign and be able to fix it before the campaign is over. In the event of a major issue, you may even decide to cancel the campaign to avoid losses, assuming that your analytics gives you convincing proof that it's a good idea. However, in growth hacking we only focus on comparative, actionable and leading metrics to assess the performance of a campaign.
A digital marketing automation can help you handle such situations. Discover more about how you can measure the performance of marketing automation here. The table below indicates some example metrics you can use to monitor your campaigns.
Types of marketing campaigns
Metrics
Email
Average open rate
Click-through rate
Click-to-open rate
Conversion rate
Unsubscribe rate
Popup
Number of visits
Drop-off rate
Conversion rate
Content/SEO
Page view rate
Click-through rate
Keyword rankings
Domain authority score
Bounce rate
Average time on page
Conversion rate
Paid advertising
Cost per impressions
Click-through rate
Conversion rate
Cost per conversion
Social media
Click-through rate
Number of reaches
Engagement rate
Amplification rate
Conversion rate
Cost per conversion
Table 1
Best examples of growth hacking marketing campaigns
I think that it's not professional to prescribe which marketing campaign is best for you as your goal will determine what type of marketing campaign you need. The following examples are provided just to get you into the growth hacking mindset.
1- Run cross-channel personalized marketing throughout the customer journey
Take a look at the Growmatik customer journey in different dimensions and find which funnel works best. This gives you the opportunity to tailor a seamless customized cross-channel marketing campaign. In this example we consider a geolocational journey and suppose that a significant percentage of your website traffic comes from the United States.
Automate a discount coupon popup
To increase engagement and drive sales, target your U.S. customers and create a popup to show them a special discount coupon. In Growmatik's automation page, add a custom rule for your customers. Set Location: United States as the condition and Show Popup as the action.
Send a personalized marketing email to your U.S. customers
Another effective way to boost sales is to send marketing emails offering featured products. Use Growmatik dynamic products to feature your products within the email. To automate this process, first create a segment for U.S. users and select a designed email to send. Then set Segment: US customers as the condition and Send Email: Featured products as the action.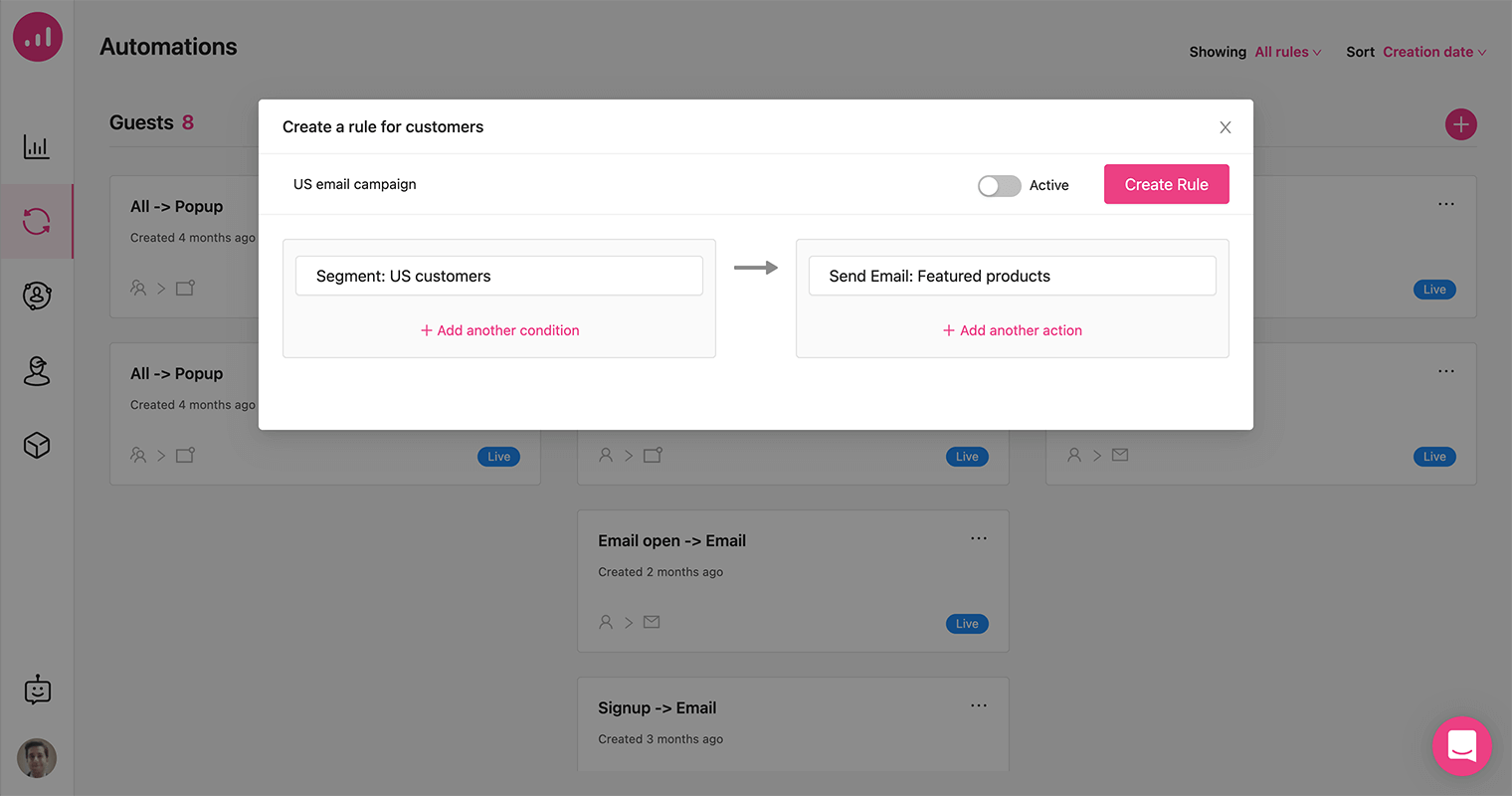 Personalize your pages for customers
This creates a sense of being valued for users and increases the likelihood they will buy your products. Use Growmatik dynamic keywords to include personal details or recognize shopping activity within the copy you use to address customers on your webpage. To automate this process, create a rule by adding Location: United States as the condition and setting Personalize Page as the action.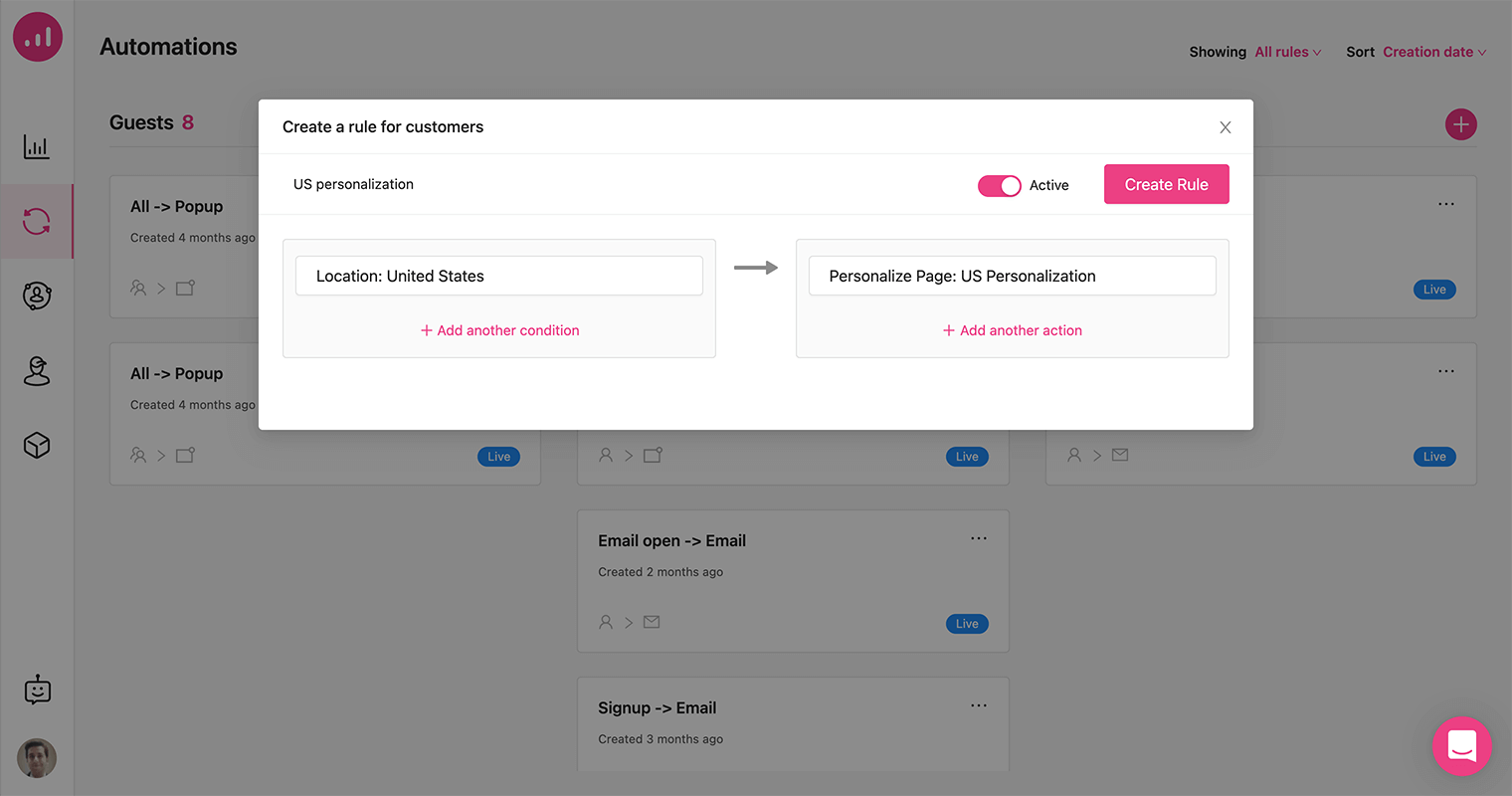 2- Run a seasonal time-limited offer with discounts via emails and popups
Black Friday, Cyber Monday, Thanksgiving, New Years or Easter Sunday are usually appropriate times to boost sales. Growmatik makes it easy to do so by offering ready-made marketing automation recipes for emails and popups to run such campaigns.
Black Friday promotional campaign
Use the Growmatik email builder to personalize your email content by adding dynamic keywords such as customer name. Then, add your discount coupon and set a call to action button to entice your target audience to buy your products. Don't forget to apply FOMO elements to increase your campaign's impact as well.
Also, you can underline your promotional campaign by spreading it via popup on your website. Using Growmatik's visual popup builder, design the look and feel of your popup, append your promotion code and trigger it based on user behavioral conditions.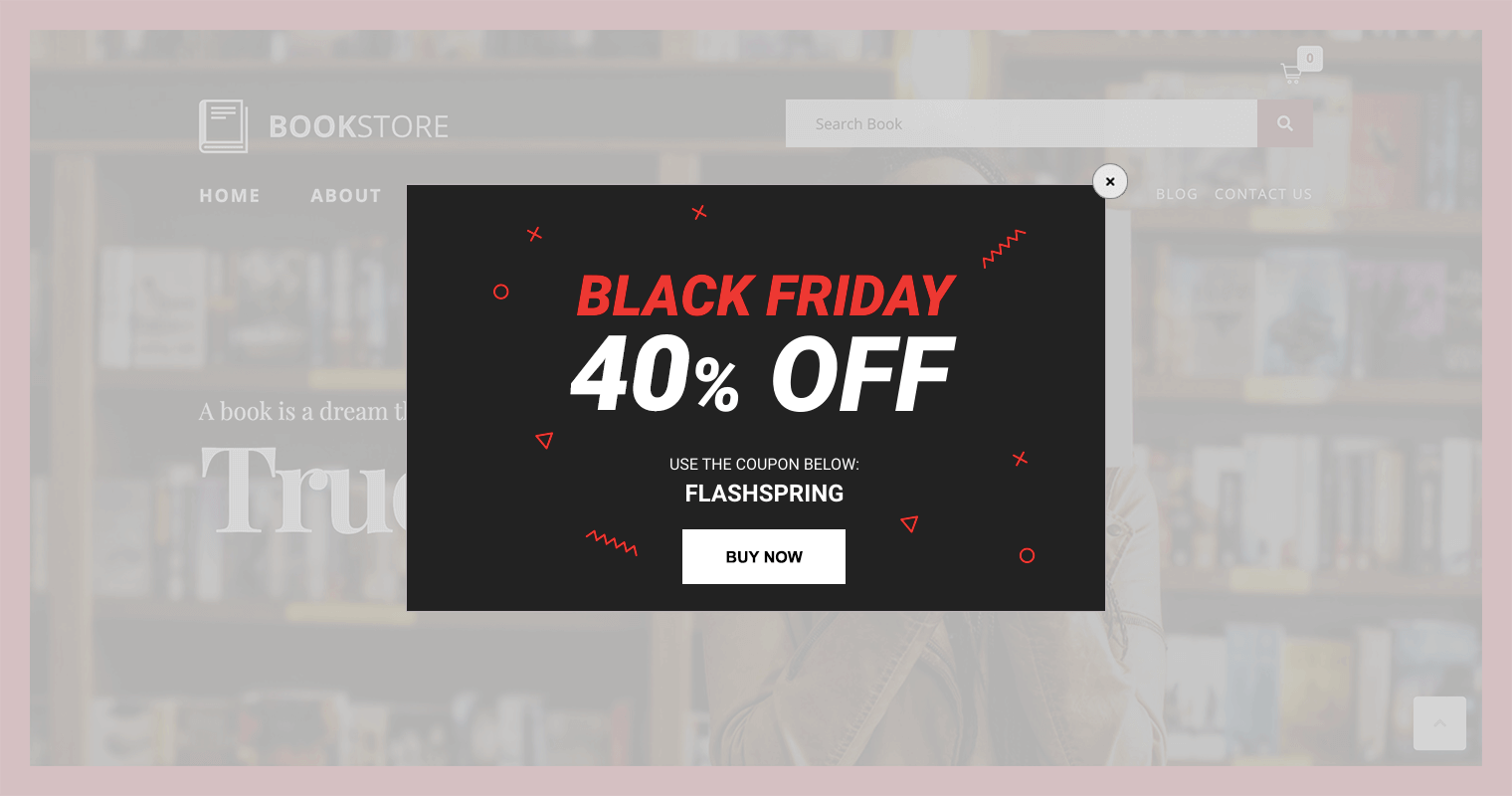 3- Target your competitors with Adwords and personalized landing pages
This is a kind of competitor targeting that involves combining content marketing with a Google AdWords campaign. First, create a landing page on your website showing specifically how you're better than your competitor! Then run AdWord campaigns with your competitor's keyword and link them to that landing page.
Use Growmatik's visual website personalizer to display dynamic keywords such as your link's UTM parameters, visitor city or greetings based on the visitor's timezone.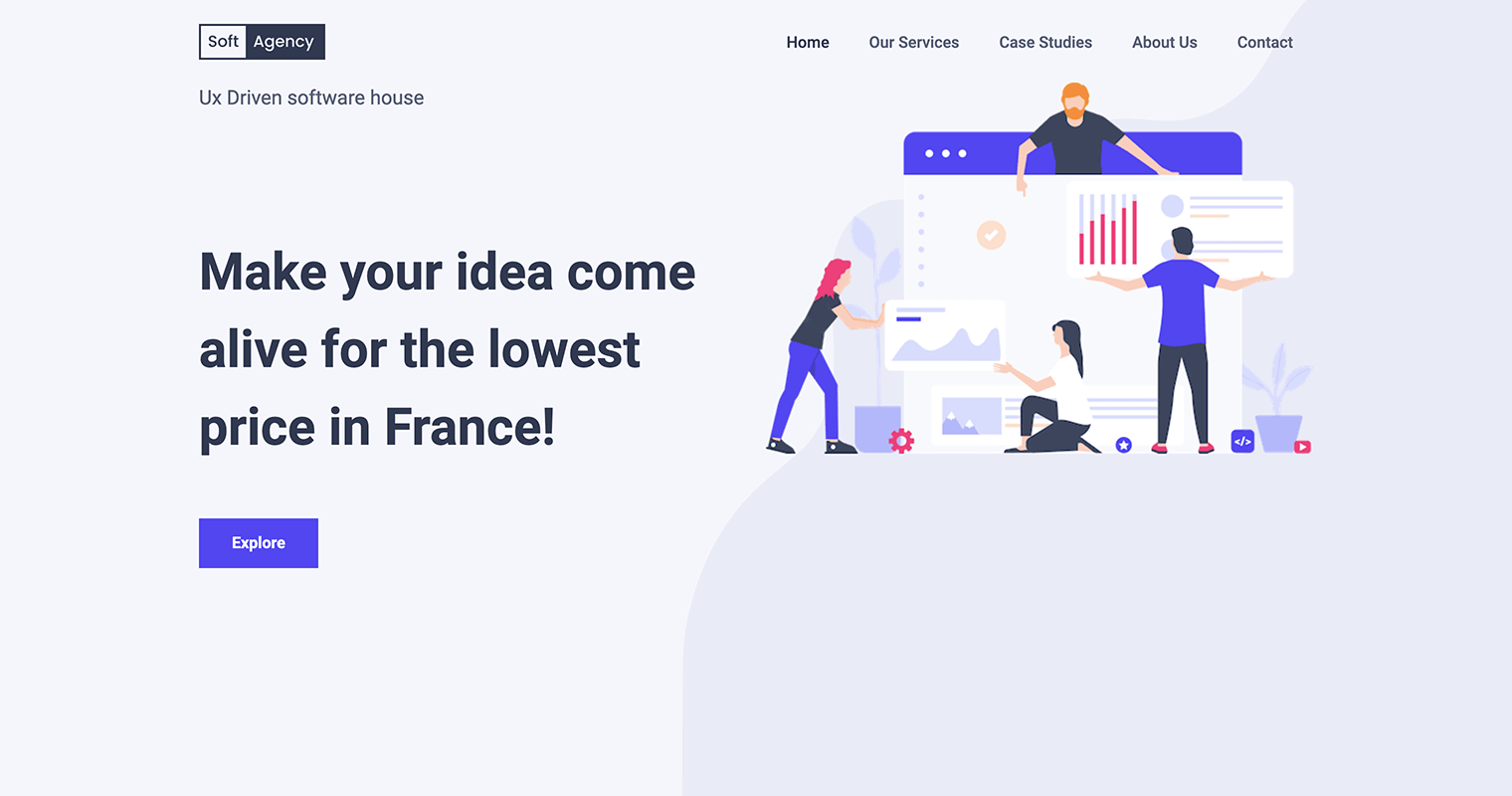 In this example, "France" is a dynamic keyword that changes based on the location of the user visiting the landing page.
4- Run a loyalty program to increase stickiness and virality
A loyalty program is a marketing plan used to persuade your existing customers to continue shopping or using your services. These types of marketing campaigns have been proven to significantly increase customer lifetime value in e-commerce. Giving rewards to encourage loyalty is how the program works. This may involve providing a discount coupon, membership ranking, gamification points or free giveaways. Learn how to execute a loyalty program in WooCommerce in this article.
Here is an example of running a loyalty program via personalized email using Growmatik. An email is designed to reward customers by offering a 20% discount coupon for all customers who have placed 5 orders.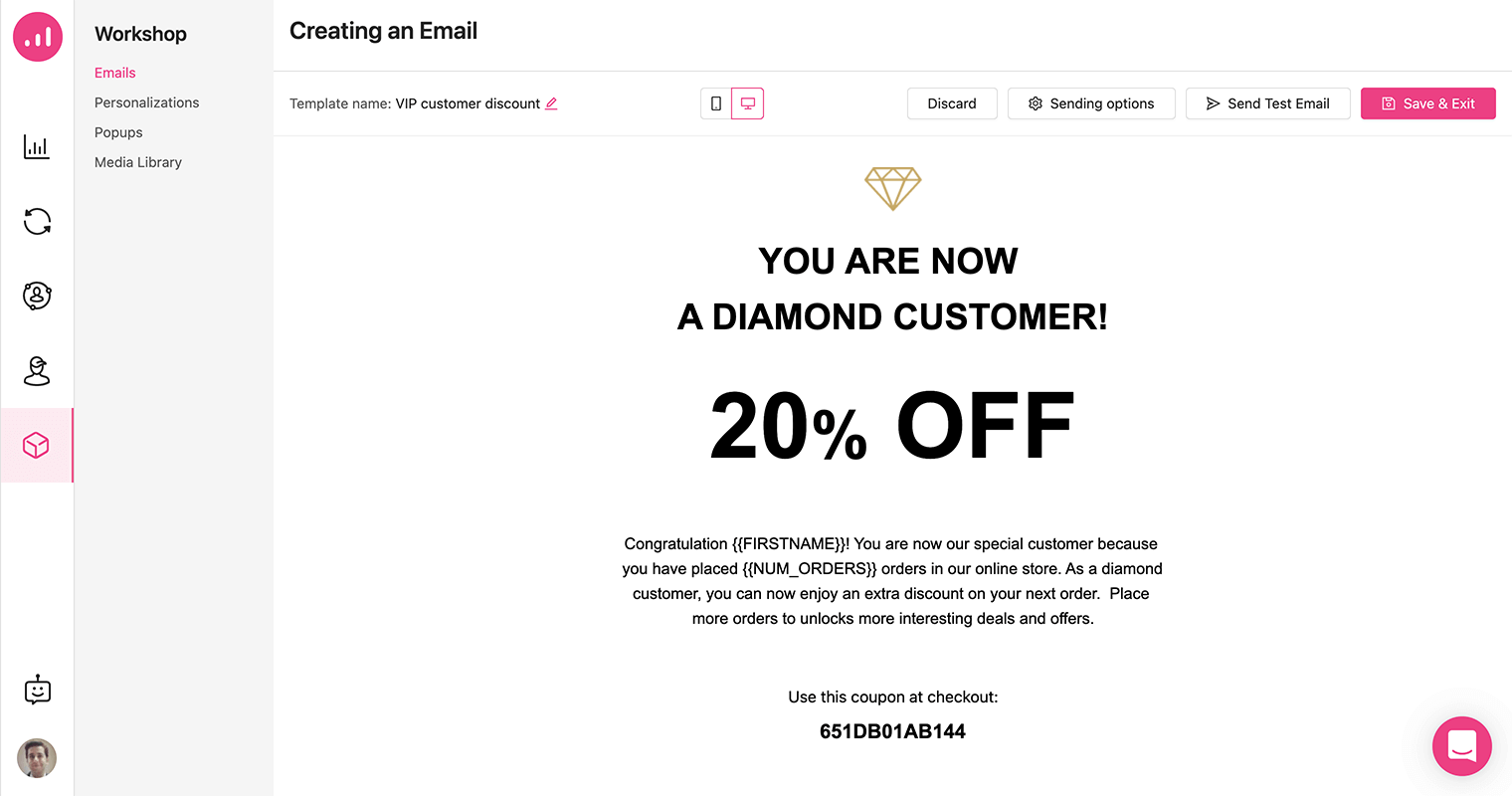 What's next!
As discussed earlier, the foundation of marketing with a growth hacking mindset is measuring and learning and gradually improving over a continuous cycle of iterations and testing hypotheses. Once you've launched any types of marketing campaigns, continually measure how your automations perform through key metrics as the channel requires. With this vital information you can decide to continue, redesign, stop or boost your campaigns as needed. As you build on experience, you will come to understand what's missing, what segments you should target and what campaigns will do the most to engage visitors and boost conversion. Always remember that designing an effective marketing strategy requires constant assessment and reiteration over time.
Boost engagement and
sales with end-to-end
marketing automation