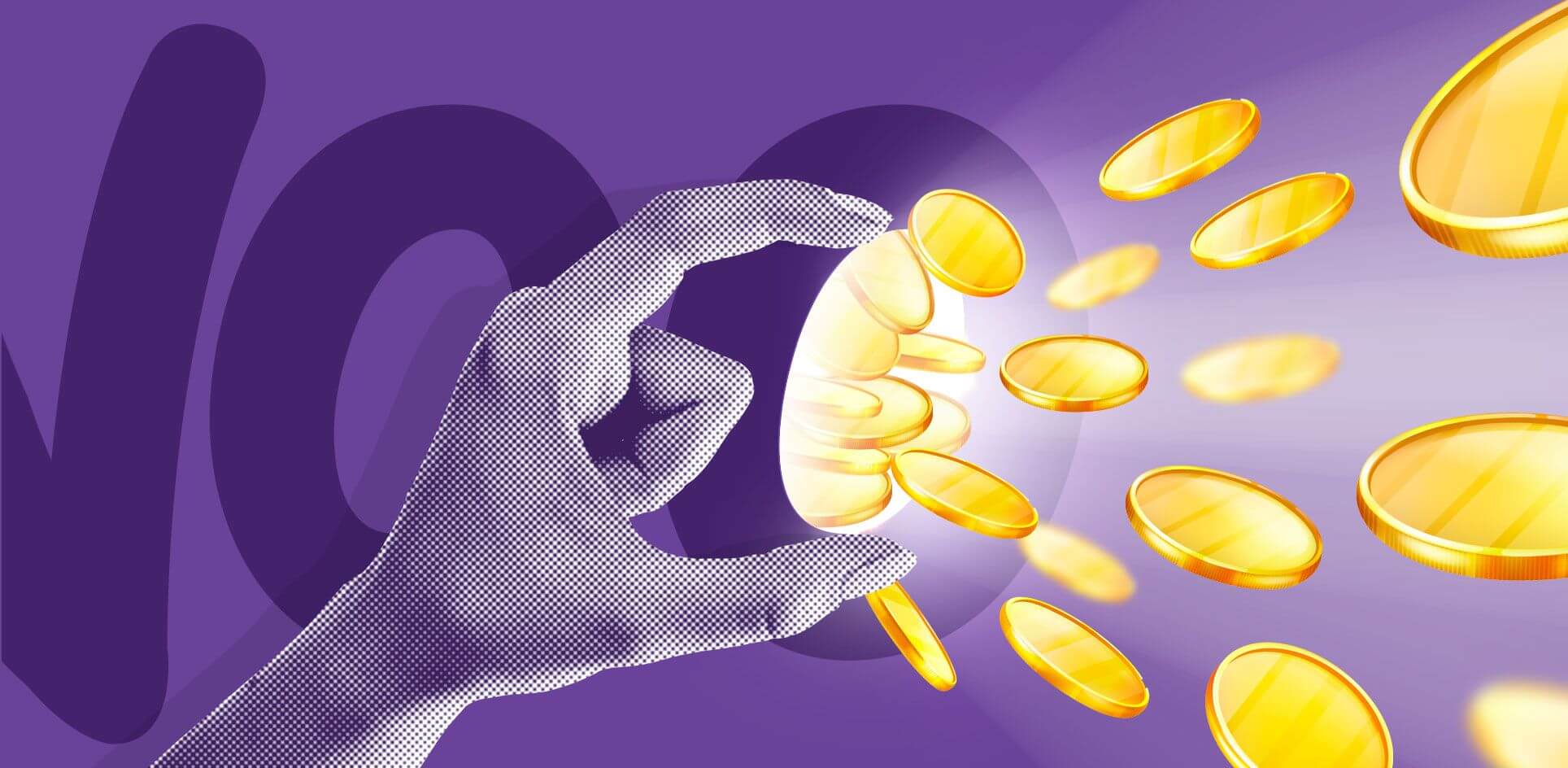 What you need to know about WooCommerce conversion tracking
Online shopping has long since established its place in our day to day life. It's not surprising to say that almost all of us have purchased something online at least once since online shopping has become a possibility! The number of businesses and brands moving their stores online is growing every day. The number has grown considerably during the challenging times of the Covid-19 global pandemic, since almost everyone now prefers to do their shopping from the safety of their homes.
WooCommerce, as the most popular ecommerce plugin for WordPress, controls the ecommerce market. According to stats, 93.7% of all WordPress websites chose WooCommerce to build their ecommerce website and that means more than 3 million online stores. Standing out in such a crowded and competitive community requires you to get to know your customers, their preferences and interests and how they interact with your website. This is the only way to see what's working and what's not on your website, which allows you to improve the quality of your products and website performance. 
As a WooCommerce store owner, your job is to track your customer's actions on your website, aka "conversions", such as newsletter subscriptions, contact form submissions, a specific product sale and more to make better decisions in the future. This way you can use every conversion to bring your business closer to sales and profit. In this article, we will cover what conversion track is and how WooCommerce conversion tracking can help you make better marketing decisions. First, let's talk a little about conversion rate!
What is Conversion Rate?
Conversion rate specifies the percentage of visitors to your website that do exactly what you ask them to do! This might sound a bit dictatorial but let's explain more. As stated above, when you define goals on different stages of your website and visitors reach that goal and take the action you've been waiting for, it means that they are converted. Below we will provide examples of what these actions can be, so don't feel intimidated by all the expressions!
Conversion rate can be calculated using this very simple formula:

At this point, it's enough for you to understand the concept on a basic level, as it will help you get to the main point of this article faster. We explained what conversion rate is previously in a separate blog post, so now let's dig in and find out what WooCommerce conversion tracking is and how it helps marketers.
What is conversion tracking and why is it important?
As explained above, every action that your customer takes on your website can be considered a conversion. It could be a newsletter signup, a query through the contact form, a product purchase and so on. Tracking these conversions helps you understand which web page, product or campaign is performing the best.
That being said, WooCommerce conversion tracking is a must for every ecommerce website, as it helps you keep a close eye on product or marketing performance and make better decisions in the future. Let's first cover how conversion tracking can benefit your business.
Benefits of measuring conversions
Understanding users better and what's working, what's not
By tracking conversions, you get to know what path your customers take across your website before making a purchase or performing whatever action you have defined as valuable. This helps you access valuable data, such as which of your ads are performing better and are driving more conversions, what pages on your website are visited the most, what product is the most popular in your store, which of your social media posts created the most positive interaction from your customers and so much more.
Utilizing these data allows you to design better marketing strategies and fine-tune your campaigns to collect more customers, drive more traffic and achieve your business goals faster.
Improve ROI, lower costs
A high return on investment rate is every business's ultimate goal! Let's consider a particular ad as an example; tracking conversions from an ad you are running is beneficial to understanding how many of your visitors have turned to conversions compared to your investment. Having such data at hand, you'll optimize or even pause a specific ad to lower costs while increasing the ROI.
Audience segmentation
Knowing what parts of your website or what specific content is the most appealing to a particular type of audience can help you categorize that audience into different segments. Once you've done that, you can later prepare and send relevant content specifically to that group of customers, such as in retargeting campaigns. Another example would be using RFM segmentation to find active and inactive customers and target them with relevant personalized campaigns.
Improve SEO
Conversion tracking can help you identify the best performing keywords on your website. Utilizing the right keywords in the right place can increase your website ranking in search engines.
What data will you get when setting up WooCommerce conversion tracking?
KPIs
Key performance indicators (KPIs) are metrics that show you what parts of your website are most successful. Enabling WooCommerce conversion tracking will help you identify and analyze these crucial metrics to boost and optimize your marketing efforts and your store in general. Some of the most important KPIs to track by enabling WooCommerce conversion tracking include:
Conversion rate: The number of visitors who have completed a goal you have defined on your website, such as signing up for the newsletter, downloading an app, watching a video,…
Average order value: The total amount of money spent each time a customer makes a purchase. Tracking customers that purchase a specific product allows you to increase your order value by encouraging them to spend more before completing a purchase with tactics such as upselling,…
Cost per acquisition: The amount you pay to convince a potential customer to make a purchase. By tracking conversions effectively you are able to identify top performing traffic channels that lead to the most customer conversions. For example, you can stop running a low performing paid ad and invest more on a high performing one to manage your budget.
Bounce rate: The number of people who leave your website right after they land on it without doing anything. If visitors are not interacting with your website you should look for the reason. Site visitors may be landing on the wrong page on your website, your product pages are not properمy optimized or your website offers a bad user experience. With the right conversion tracking, understanding the problem's source and minimizing bounce rate is a breeze.
These are of course not the only metrics you should track in order to grow your business. Check out this complete guide to learn what metrics and KPIs you should always track.
Shopping behavior
With conversion tracking you will learn about your customers' shopping behavior, like what types of products are being purchased more, what channels lead potential customers into successful purchases, how many customers abandoned their shopping cart, etc.
Checkout behaviour
This report will show you how efficient your checkout process is. You'll get insights on how successfully customers have moved from one step of your checkout funnel to another, how many abandoned purchases in the process and so on.
Product performance
With this report you get to know how well a product performs from the first interaction to the final purchase. Understanding how many times a single product is being viewed, how many times that product reaches checkout or is abandoned there and so on will help you look into the bigger picture and make better decisions, improve customer shopping experience and ultimately increase sales.
Product list performance
Tracking the conversions of the product lists will give you insights into how different groups of products perform on your website via upselling, cross-selling, related products, etc. and track the revenue each group generates.
Choose the right tool!
When talking about WooCommerce conversion tracking, the first name that comes to mind is probably Google Analytics. There are many analytics plugins available to track conversions in the market, but the majority of them are getting their report from the unrivaled analytics service, Google Analytics.
While Google Analytics provides industry-standard level reports, it also comes with some disadvantages that need to be considered when choosing an analytics tool:
Google Analytics uses only cookies to collect data and has no access to the WordPress and WooCommerce user base, their behavior and useful information.
Google Analytics conversion reports are only based on sessions and give no data over other attributes behind those sessions.
Leads and customers are not distinguishable in Google Analytics. All visits are the same in the eyes of Google as sessions with no knowledge of the type of user who is paying that visit.
So what is the alternative? How can we minimize these disadvantages to get the most accurate and credible conversion reports? While there are many plugins out there based on Google Analytics such as Google Analytics Dashboard Plugin and WPMUDev Beehive Pro, there are also independent plugins that put together their own analytics report through built-in analytics.
Growmatik is one of those independent plugins. Next, we'll introduce this plugin and explain how its built-in analytics can give you actionable insights on your conversions that you can use to drive growth.
Growmatik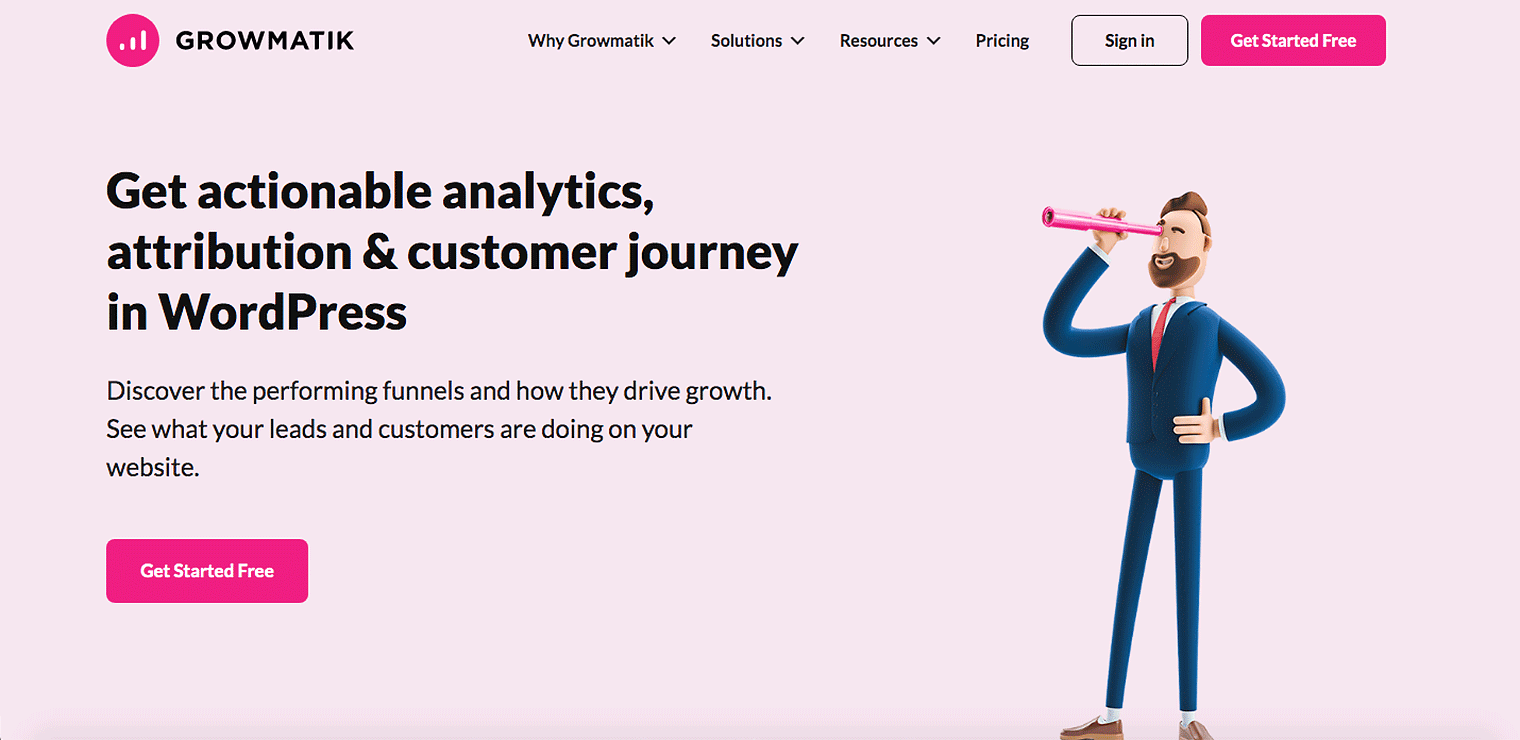 Growmatik is a marketing automation tool that provides automated personalization across multiple channels, from email to webpages, to tailor your customer journey. In addition to cutting-edge automation software, Growmatik boasts its own analytics tracking system to gather key metrics, such as audience reports, bounce rate, top sales and more to help you streamline your marketing.
Growmatik creates reports based not only on data collected from cookies and browser sessions, but also based on WordPress and WooCommerce data, including user info, to provide analytics for different user types. As a result, more accurate and detailed reports on each user's shopping behavior and activity on your website will be generated.
How to track conversion with Growmatik
Tracking conversion is possible within 3 different sections of Growmatik, each with a different approach towards analytics: the General analytics page, customer journey and automation performance report.
General analytics page
Growmatik analytics and built-in tracking and metrics system tracks data on its own and puts together reports to provide precise and comprehensive analytics about your site's traffic and audience. Here you are able to track all the information related to your website's engagement, sales and customers, as well as your email campaigns' engagement and performance. All these reports are time specific, meaning that you can find out whether a metric has increased or decreased within a selected timeframe.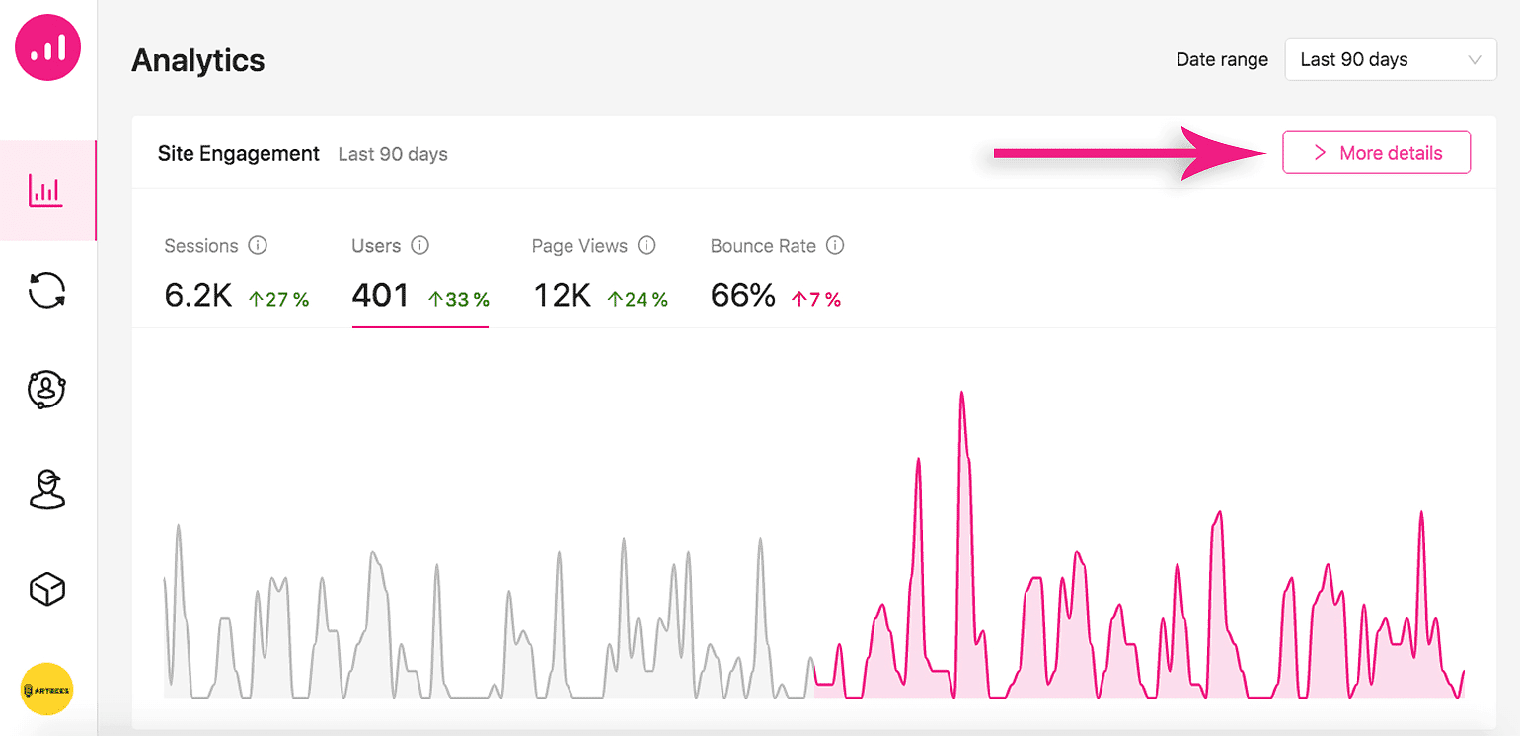 The Site Engagement report tracks the following metrics:
Sessions: number of visits in a specific timeframe
Users: number of unique visits made by registered users
Pageviews: total number of page views of your site
Bounce rate: the percentage of visitors who bounced from your website and left without exploring your webpage any further
By clicking on the "More details" button on the upper right hand of the analytics report tab, you also have access to more detailed metrics reports. How visitors engaged with pages on your website (page views, bounce rate, average time spent,…), top traffic sources, top UTMs (number of sign ups, sales and sessions made through a specific UTM), countries your visitors are located in, and the number of impressions and clicks of any URL on your website that appeared in search results received can all be thoroughly tracked in this section.
The Sales section gives you an overview of your general and specific product sales in a specific time period. It provides the sum of all orders, revenue, conversion rate, average order value, order frequency and repeat customer purchases all in one dashboard. Moreover, it allows you to figure out how a specific product is performing in terms of sales.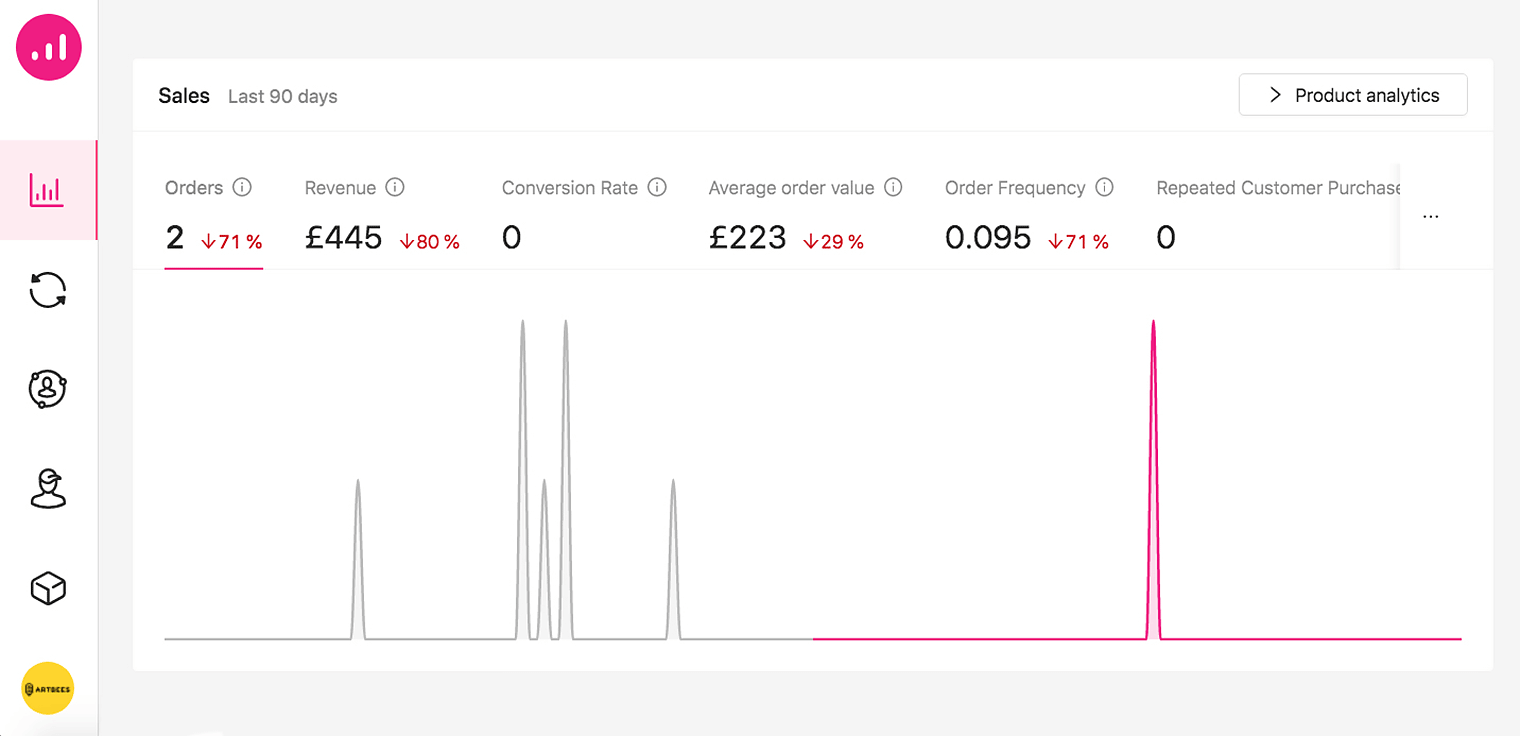 If you need a specific conversion tracking report of your leads and customers, the Customers metric report is just for you! Here you are able to track your new and returning leads and customers separately in a determined time frame.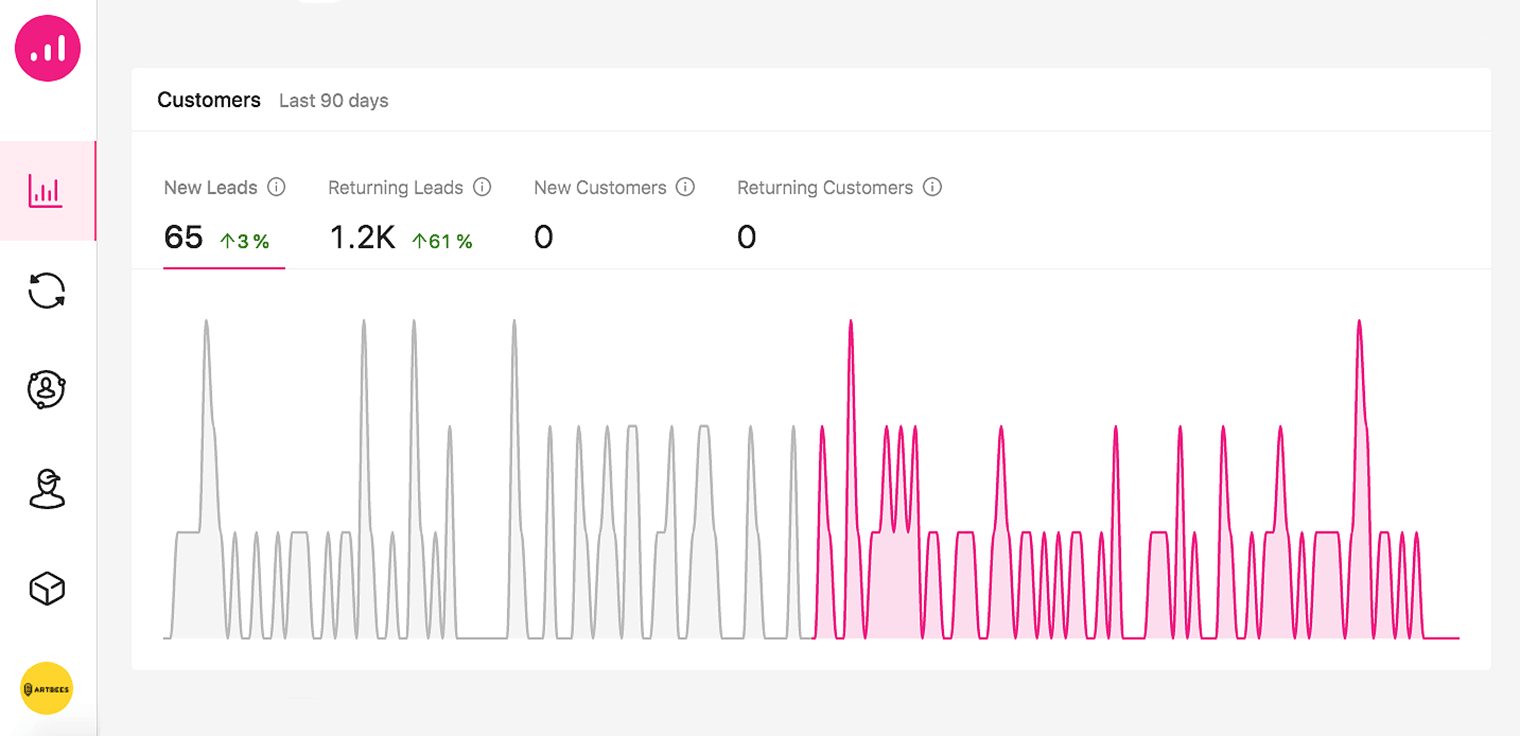 And finally, Growmatik would also let you measure your email campaigns' performance and how your customers are interacting with your emails. Tracking your emails' open rate, click rate, bounce rate and subscribe rate in a specific period of time allows you to identify your emails' strengths or weaknesses and design more efficient email campaigns.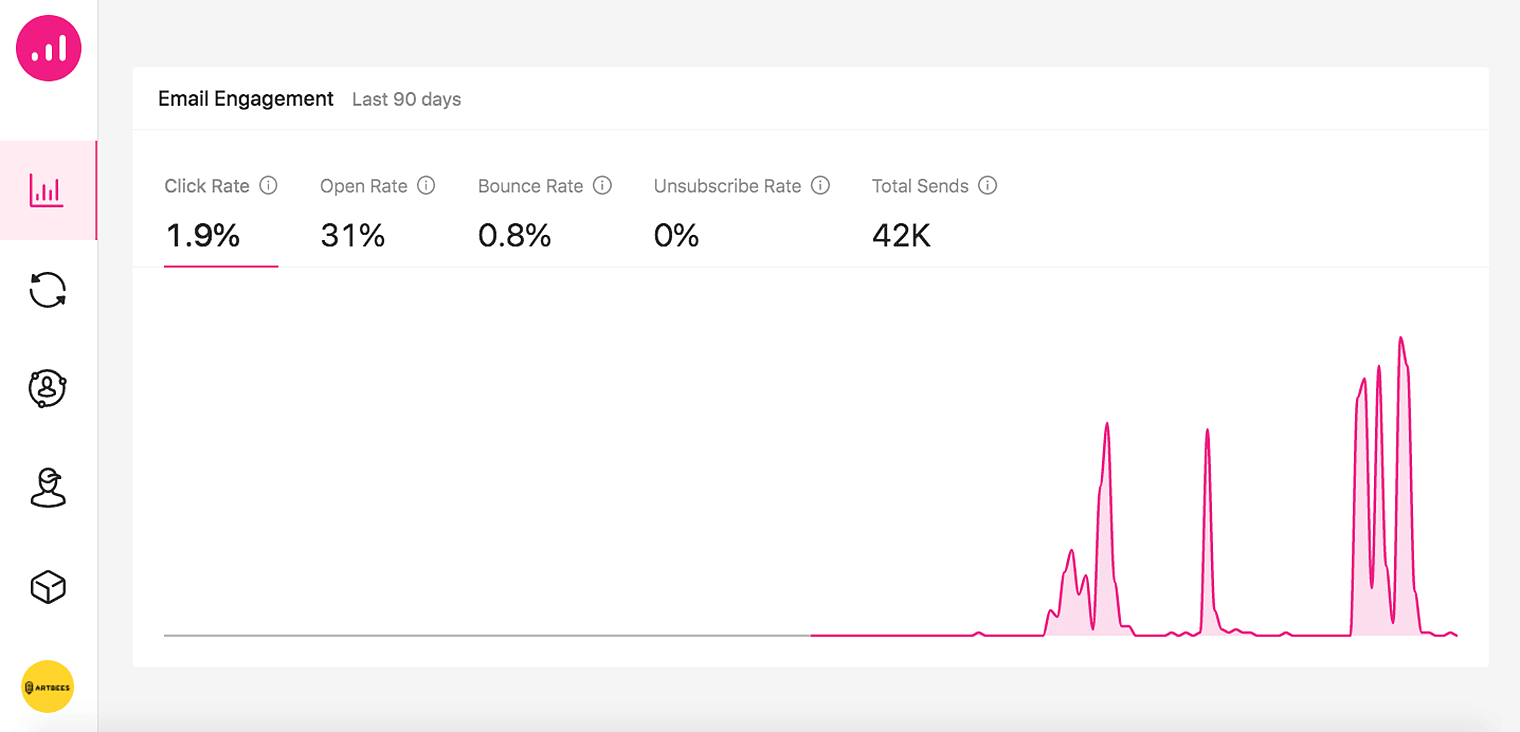 Customer journey
Growmatik customer journey feature gives you an overview of different funnels on your website and lets you determine the top performing funnels such as locations, referral sources, landing pages, subscription channels and purchased products and what decisions need to be made in the next step. Using these features give you access to some valuable information about your website such as which channel drives the most traffic, what types of products are being purchased more, who your most loyal customers are and how they navigate on your website, whether you should invest on ads and so on. All of this information will facilitate better customer segmentation, thus helping you design more efficient marketing campaigns.
Let's take a clothes ecommerce website as an example and explore its customer journey across 5 main dimensions over a 3 months period of time.

The above data reveals the top performing channels in each of the 5 dimensions. The most traffic to this clothing website is coming from the United Kingdom, the United States, Italy, India and Germany. Most of the traffic coming from these countries were referred by Amazon, visitors mostly landed on the homepage before completing any action, the majority of them subscribed to the newsletter through a popup and, lastly, most of the visitors finished their journey by buying jeans.
You can select a funnel and track the rest of the journey specifically to and from that funnel. For this example, let's look at location.

According to this data, 4% (4148 sessions) of this website's traffic comes from India, 2% was referred by Google, 2% landed on the homepage specifically designed for Indian visitors, most of the registered users have subscribed to the newsletter via popup and 10% of them purchased sandals at the end of their journey.
What we understand from these numbers is that the Urdu landing page designed specifically for Indian visitors is performing excellently and that we might optimize the page to perform even better. Most of the traffic is referred by Google, so it's probably time to invest more in Google Ads! Indian users are buying sandals more often, so an exceptional offer or a discount coupon for sandals sent to all Indian customers via email sounds like a great idea!
As you can see, using Growmatik's customer journey feature allows you to directly check what journey your customers take through your website's vital funnels, track conversions in each funnel, figure out the problems and bolster its strengths by creating effective campaigns, and overall helping customers move forward and finish their journey with the best possible experience.
Automation performance reports
Growmatik automations report lets you understand how each automation you created for your different marketing activities perform, track and manage conversions and helps you decide on the next step accordingly. With Growmatik you can automate your marketing actions such as sending emails, personalizing content and showing popups, and measure the effectiveness of each automation type by tracking specific metrics.
Every automation can be measured with different metrics specific to that automation. For the web page personalization automations you can track metrics such as generated sessions, average time spent, bounce rate, generated revenue and more to see how engaging your campaigns are and whether they drive conversions or not. This way you'll know if it's time to revise your content personalization strategy in a way that it results in more conversions.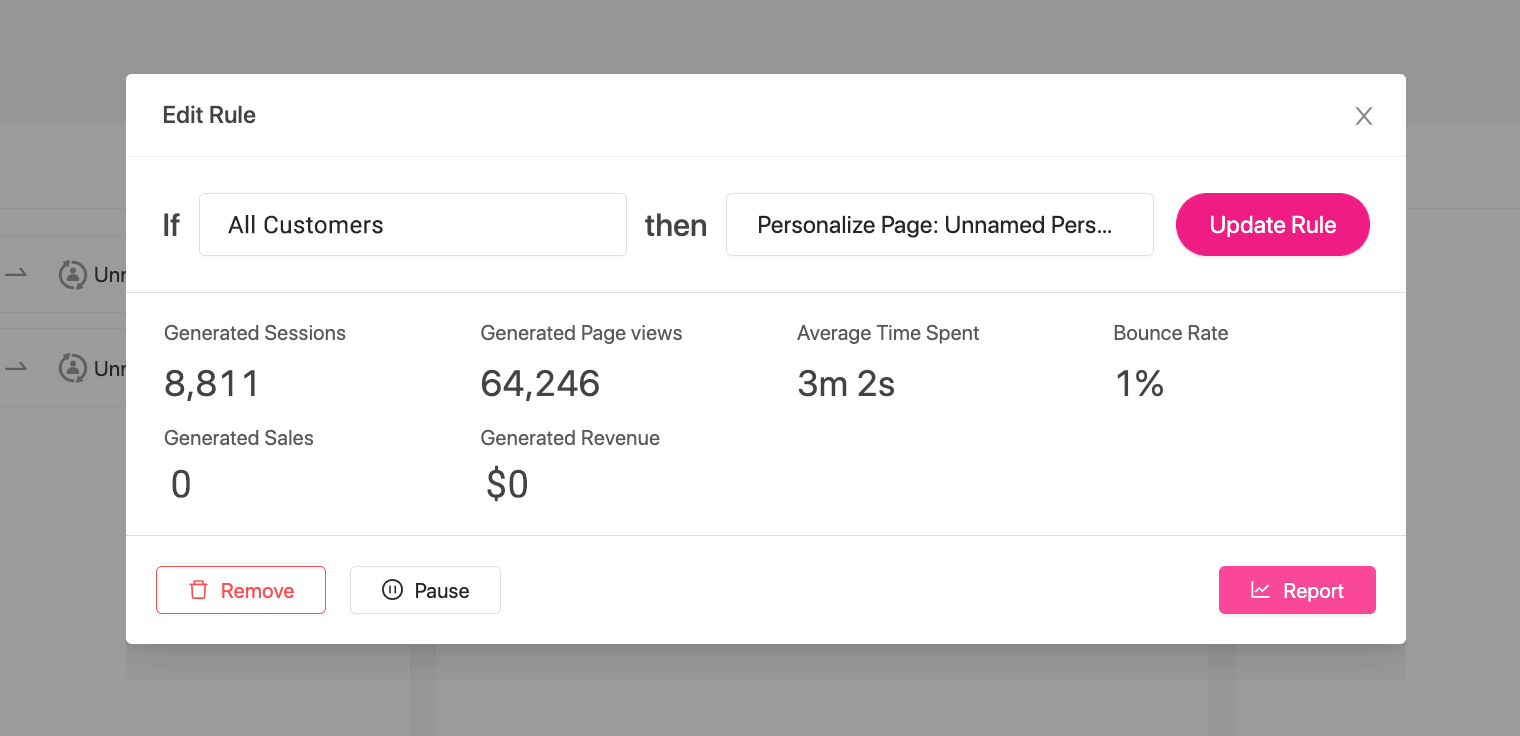 To be able to track your WooCommerce email automation campaigns as effectively as possible, you should track metrics such as emails sent, open rate, bounce rate, CTR rates, generated customers, generated revenue and so on.
With Growmatik you would not only be able to track the engagement related data such as opening and click rate, but also you'd understand what happens after the recipient clicks on the email and whether it turns into a conversion or not. Such metrics can be tracked through the Report button below the create email automation rule.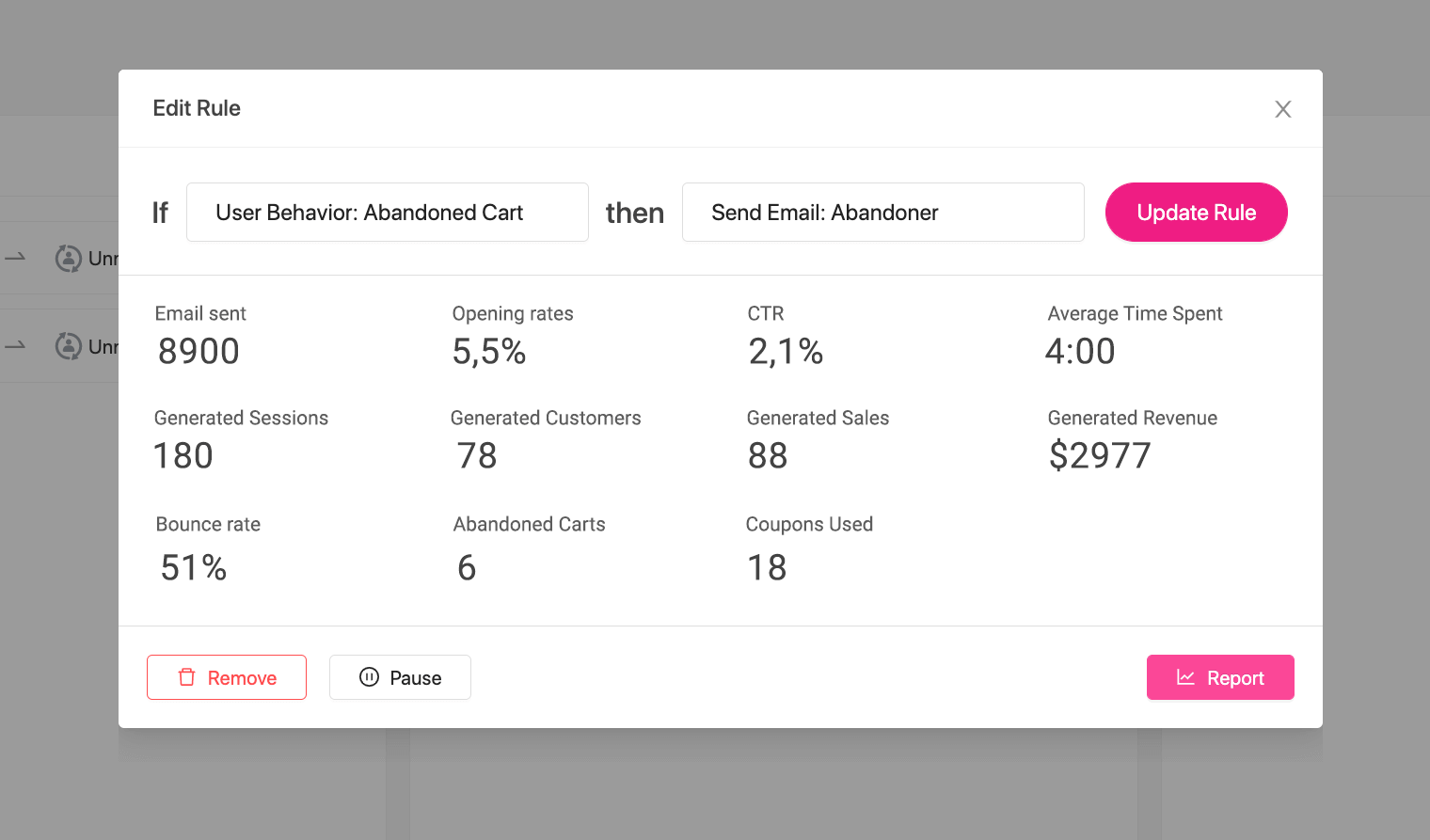 Popups are an inseparable part of marketing campaigns nowadays and provide the best way to track conversion in different stages of the customer journey. Normally, popups are being tracked via the number sign ups and clicks, but with Growmatik a more efficient approach is being taken by tracking popup conversions and metrics such as popup display number, popup CTA click number, generated leads or customer, generated revenue and coupons used.
The Report button on the create popup automation rule will show you all of these metrics.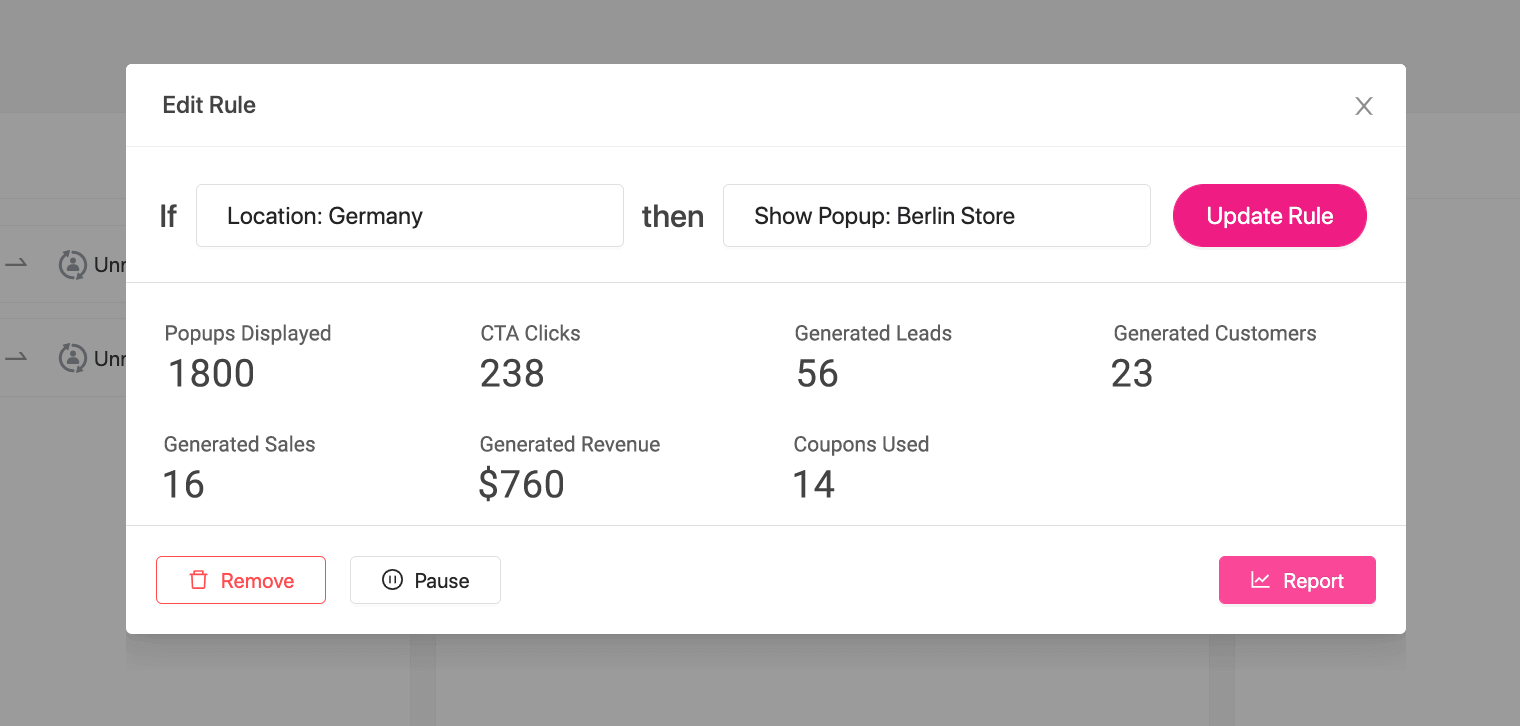 Should you need more information on how Growmatik outperforms other tools and plugins by giving you a comprehensive report of your WooCommerce website conversions, you can visit the Growmatik Analytics introduction page.
Wrapping up
By now you should be all convinced that if you are not tracking your website conversions you're missing out big time! WooCommerce conversion tracking is a vital aspect of any marketing strategies as it lets you track your campaigns performance, your site visitors' behaviour, understand what's working and what isn't and fine-tune your campaign to increase conversions and revenue. We talked about the benefits of conversion tracking, what valuable data it gives us and how to track conversions with Growmatik without needing to use any extra tools or plugins.
We hope this article provides you with the key to creating successful campaigns and enables you to stand out in this very competitive industry!
Get actionable analytics
and increase WooCommerce
conversion rate