Looking for a Klaviyo alternative?
Upgrade to a more personalized, affordable and capable marketing platform.
 Discover Growmatik!
A more powerful marketing tool covering emails, webpages and more
Engage your customers with a seamless personalized experience. Growmatik allows you to send highly-tailored emails, targeted marketing popups and hyper-personalized web pages using a single platform.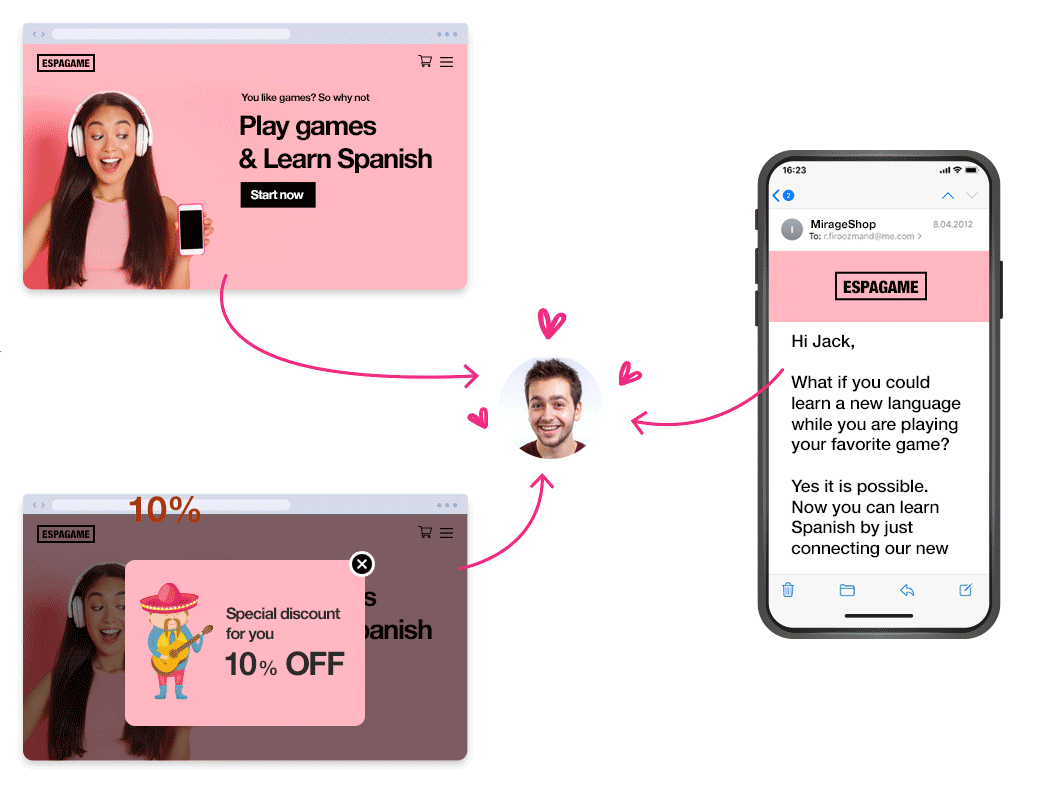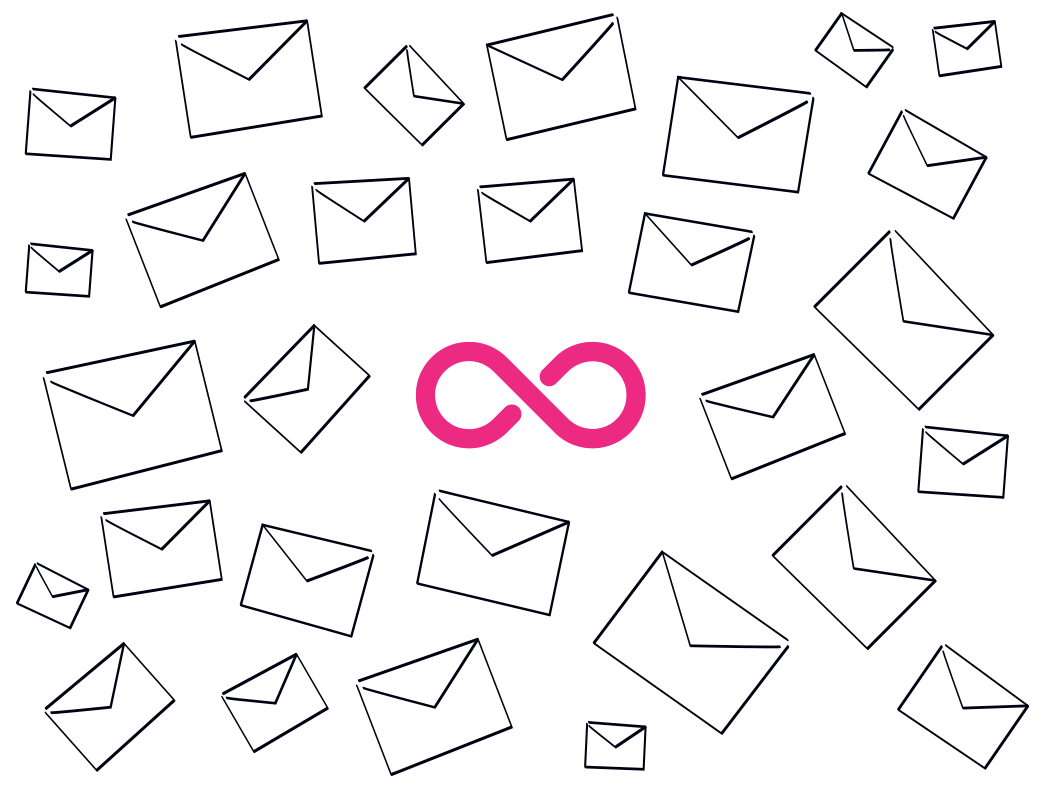 Send unlimited emails regardless of your contact list
Using Growmatik, you can send as many emails as you want to your marketing audience without upgrading your plan.
Enjoy more power for a lower cost
What makes Growmatik a true Klaviyo alternative is both price and capabilities. In addition to offering advanced segmentation, dynamic keywords, personalization and a wide range of targeting criteria, it costs much less!. For more information, please refer to the pricing table.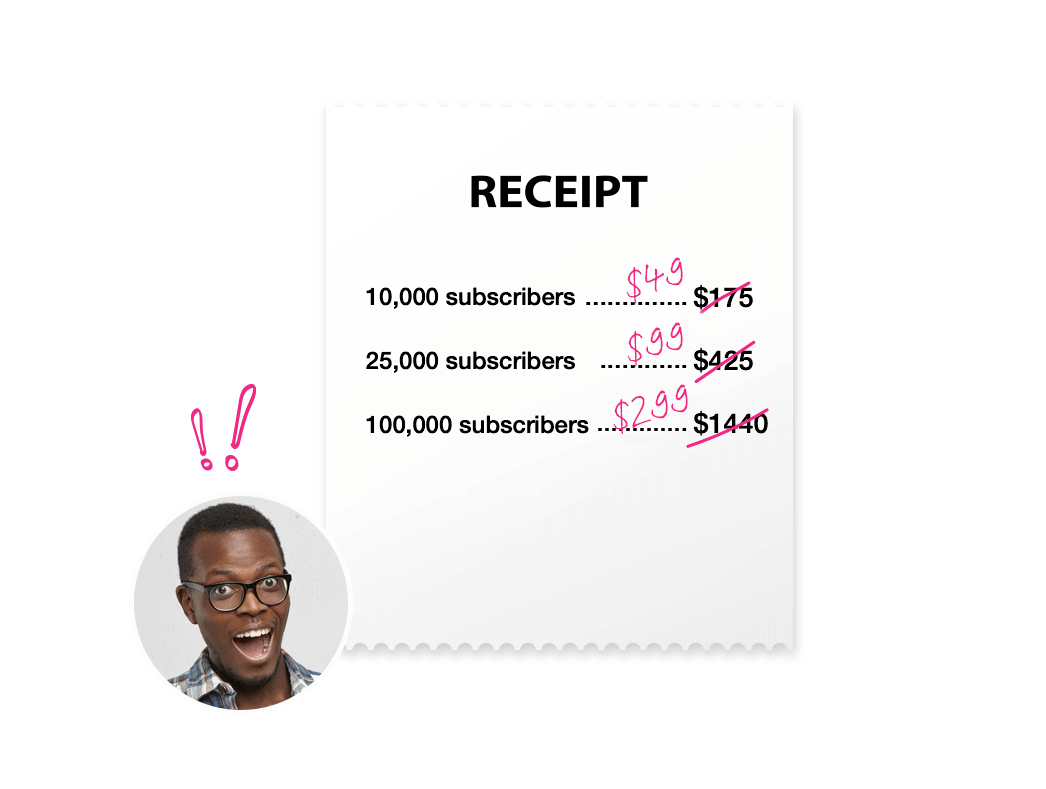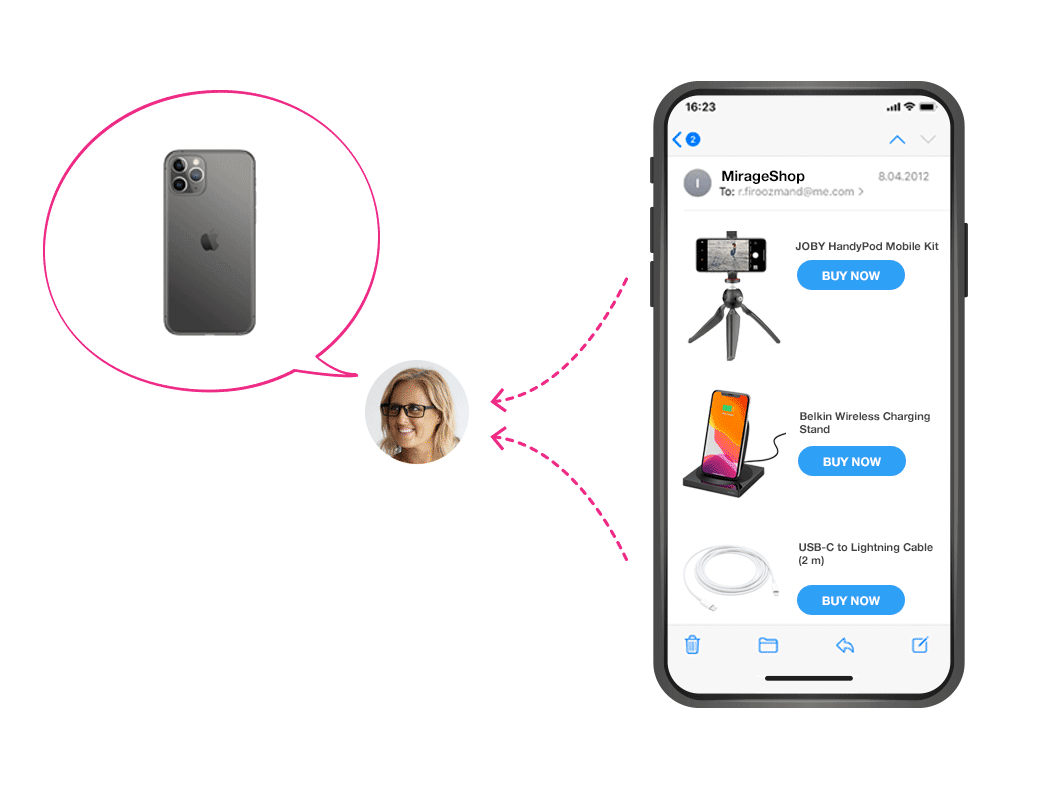 Target your audiences via advanced shopping behavior
One of the most effective target methods is shopping activity. With Growmatik, you can target your customers not only based on the placed order and start checkout triggers, but also based on filters such as purchased items and categories, purchase date, top purchases, number and value of orders, abandoned carts, RFM scores, orders with coupons and more.
Enjoy a variety of popup options
Growmatik offers the next level of smart popups, allowing you to choose from a variety of pre-designed templates to show popups for signups, announcements, event countdowns, testimonials, special offers, cart abandonment, product promotion, welcome messages, low stack alerts and much more based on advanced logical conditions.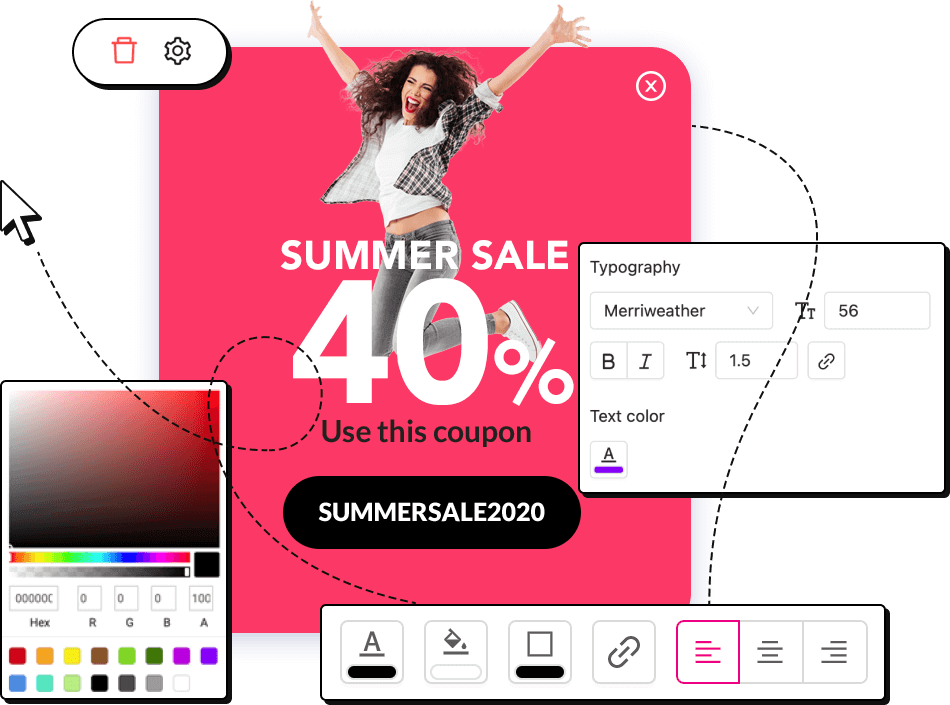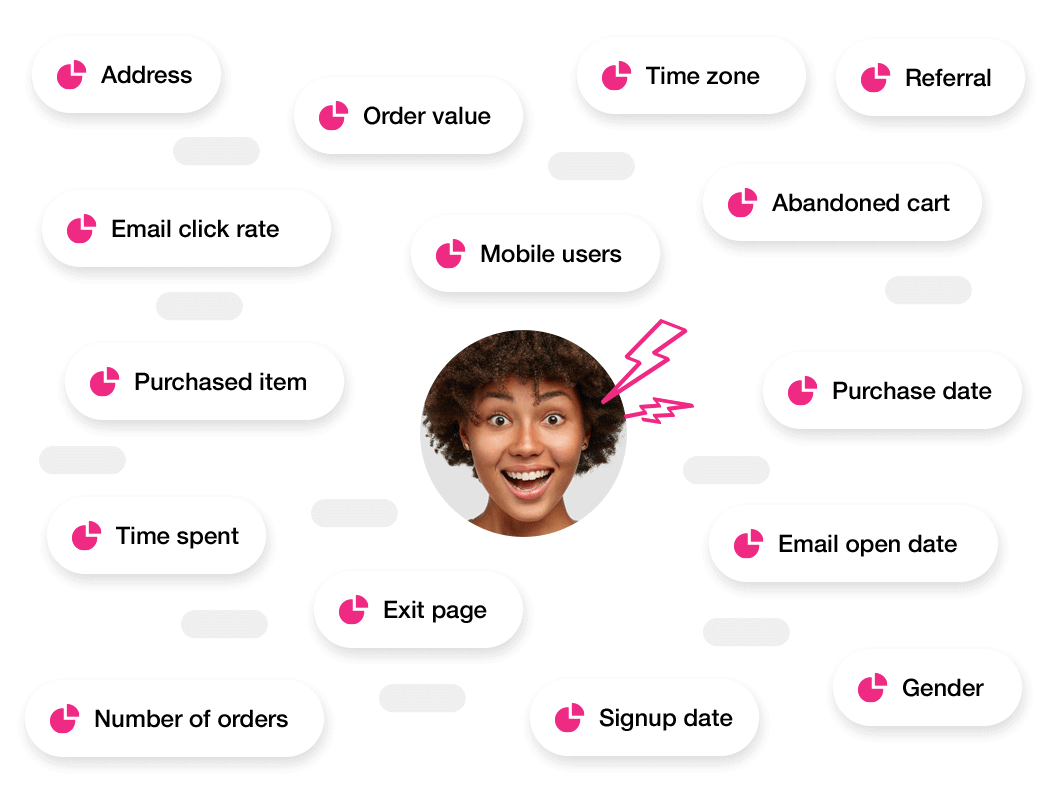 Take segmentation to the next level
Go beyond the basics and create sophisticated segments based on more than 1000 different attributes, such as personal information, referral source, in-site activity, subscription channel, email activity and shopping trends.
Boost customer loyalty and retention with RFM segmentation
Target customers who are most likely to engage with your store over the long term based on recency, frequency and monetary values.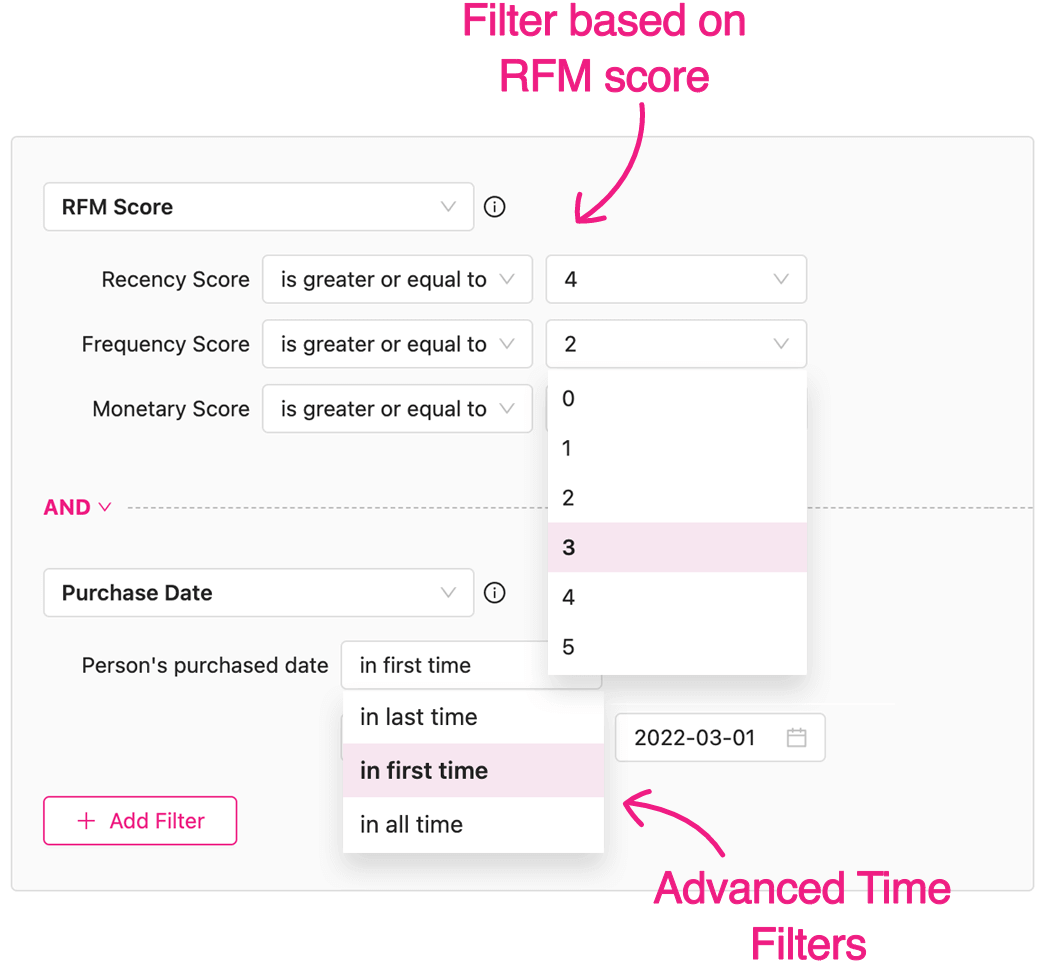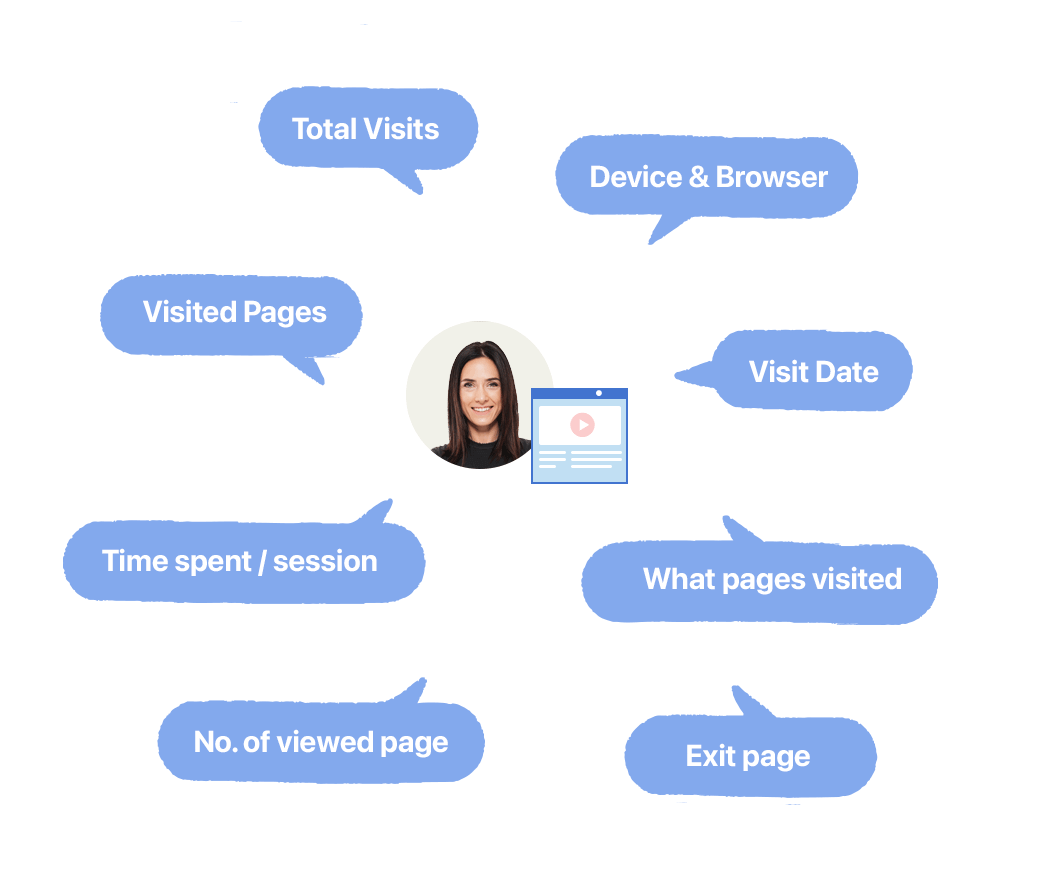 Target your audience via their website activity, code-free
Unlike Klaviyo, Growmatik uses +15 in-site activity attributes to easily target visitors who perform an action on your site. This process is totally code free and you don't need to be an expert. These attributes include visited pages, UTM terms, referral source, average time spent per session, number of page views, used browser, used device, total visits and more.
Add personalized blog lists to your emails rather than generic lists
Growmatik provides an individual blog element for your emails, popups and webpage that can be personalized according to recent, related and popular posts or by category and ID.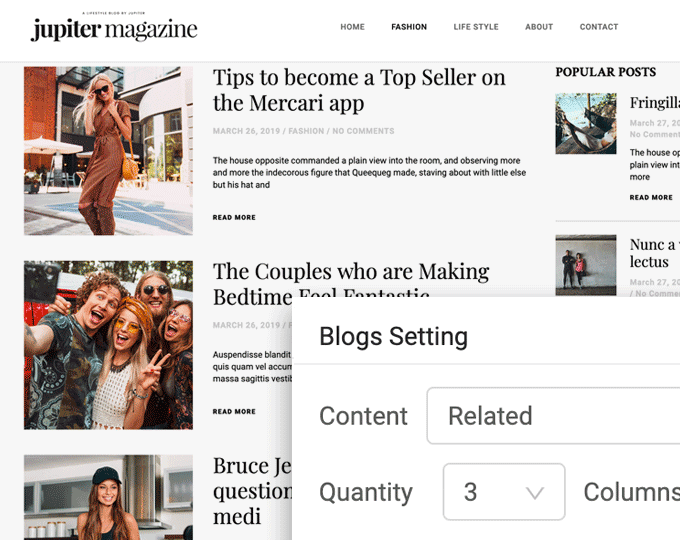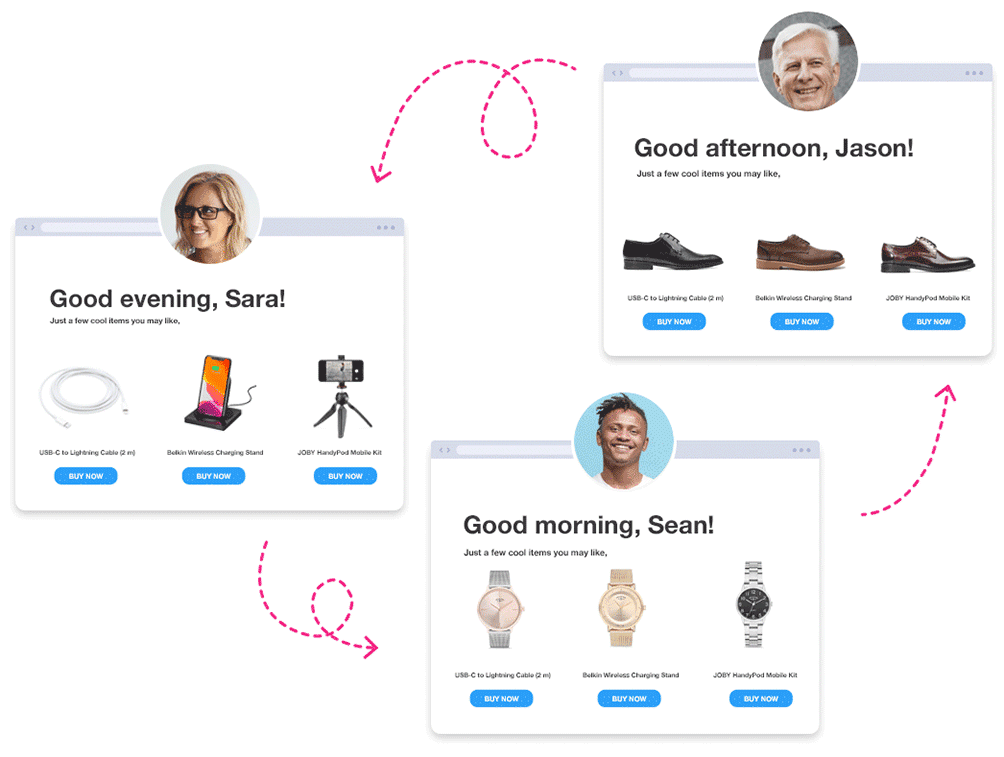 The easy way to include personalized product lists in your emails
With a simple drag-and-drop process, you can automatically include hyper-personalized product suggestions from your store in your emails. Growmatik lets you customize the styling of product lists in your emails and filter them based on past orders, related products, cross-sells, upsells, products in cart, categories, specific IDs or even discounted products.
Bring emails to life with advanced dynamic keywords
Get more than just basic dynamic keywords! In Growmatik, emails can include up to 30 different types of dynamic keywords including personal details, geolocation, shopping details, email activity and more. Personalizing text has never been more advanced!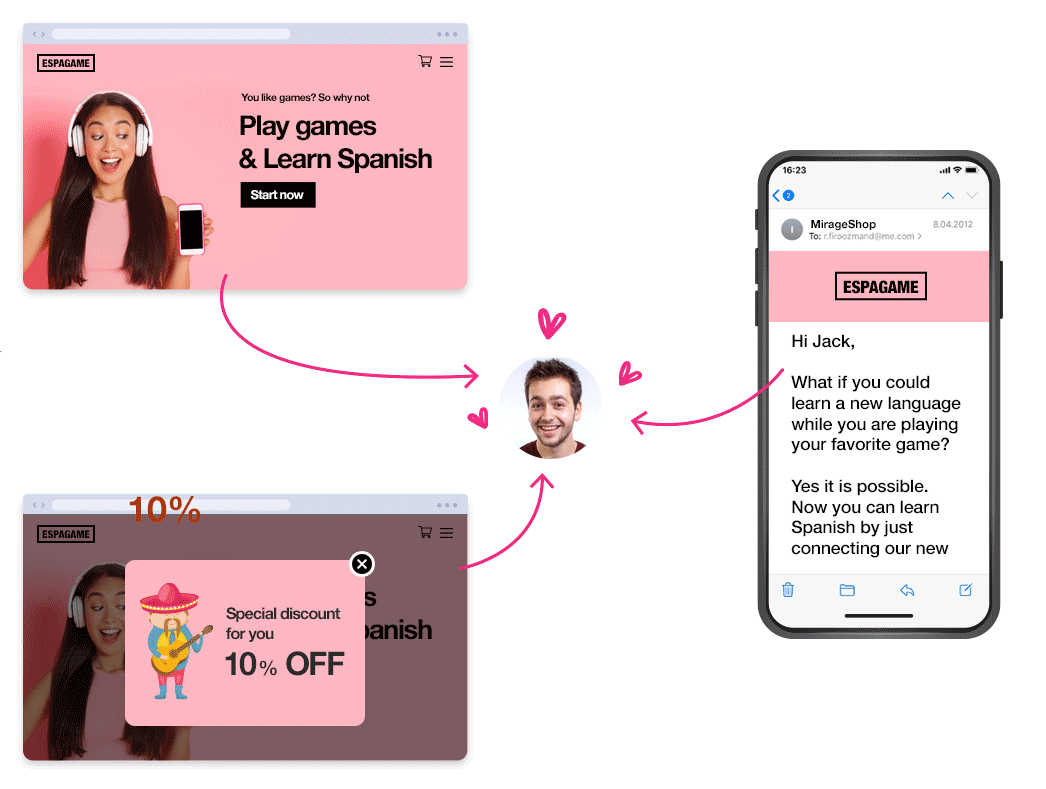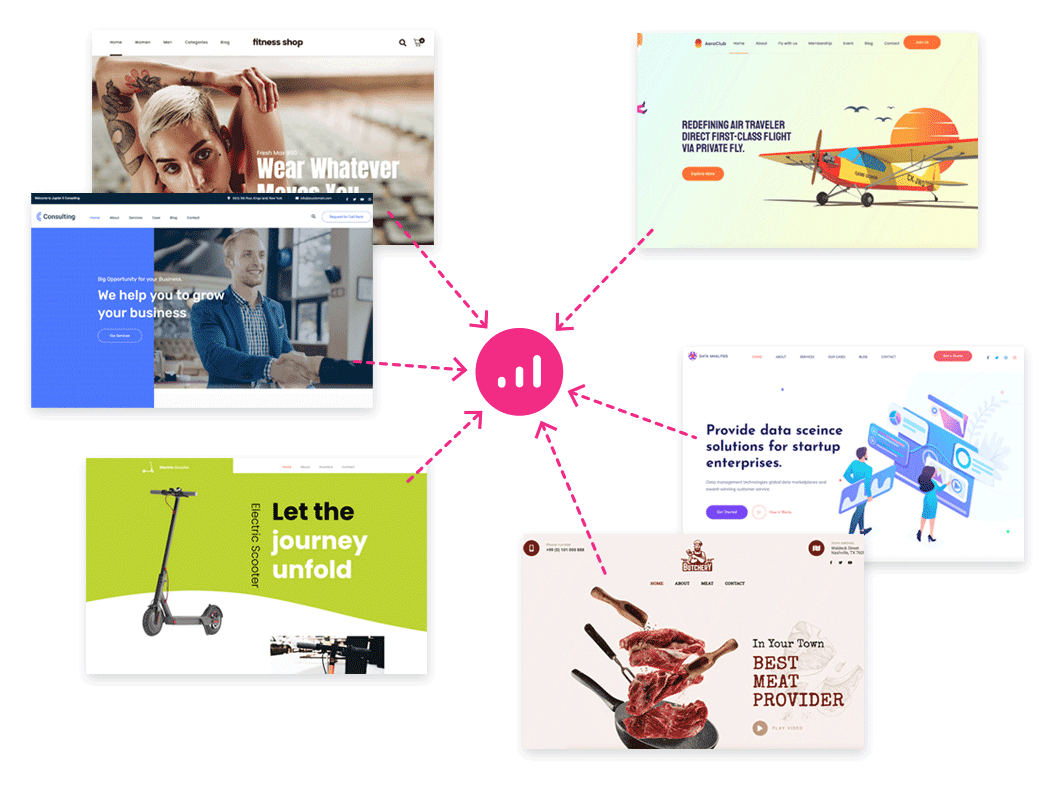 Connect multiple stores to one account
You don't have to buy separate accounts to connect your WooCommerce and Shopify stores. With Growmatik you can connect as many sites as you like to a single account and manage them all from the same dashboard.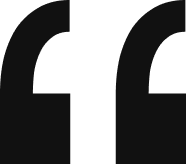 We moved all our marketing emails for the 200,000-member Jupiter X community from Mailchimp to Growmatik.
And it was a breeze!

Niloufar Firouzmand
Marketing Manager at Jupiter X
You can connect unlimited stores and send unlimited emails with every Growmatik plan, regardless of the number of contacts. Growmatik also offers a 14-day free trial of each plan.
$12/month
With unlimited email sends

$60/month
With 25,000 monthly email sends

10,000 marketing audience*

$49/month
With unlimited email sends

$175/month
With 105,000 monthly email sends

25,000 marketing audience*

$99/month
With unlimited email sends

$425/month
With 260,000 monthly email sends

100,000 marketing audience*

$299/month
With unlimited email sends

$1440/month
With 1,050,000 monthly email sends
*Marketing audience: The number of individuals who participate in marketing automations, counted monthly.
The goal of Growmatik is to automate your entire marketing stack efficiently and effectively through simple, unified functionality and affordable pricing. It covers all channels, businesses and tools.
Built-in email delivery service

Dynamic product list insertion

Abandoned cart items display

Personalized blog list insertion
Content personalizer tool

Code-free content personalization

Dynamic product list insertion

Abandoned cart items display

Personalized blog list insertion

Included Server resources

✔ (until deactivation of account)
| | | |
| --- | --- | --- |
| | | |
| | | |
| Targeting – Personal details | | |
| Targeting – Email & subscription activity | | |
| Targeting – Site activity | | |
| Targeting – Shopping activity | | |
| Targeting – Conditional logics | ✔ (Triggers events and audience) | |
| | | |
| Segmentation – Personal details | | |
| Segmentation – Referred source | | |
| Segmentation – Site activity | | |
| Segmentation – Email & subscription activity | | |
| Segmentation – Shopping activity | | |
| Advanced filtering for segmentation | | |
| Advanced premade segments | | |
Built-in Analytics & Attribution
Automation performance reports

Code-free conversion tracking

Code-free conversion tracking

Average order value report

Repeated customer purchase report

Product performance (revenue and quantity sold)

Returning leads and customers report

Measure conversions for every referral source
| | | |
| --- | --- | --- |
| | | |
| | | |
| | | |
| Contact custom attributes | | |
| | | |
Cart abandonment automation

Automation for guests (non-registered users)

Personalization for referral source

✘ (Supports only one store within a single Klaviyo account)

All features available in all premium tiers

Complimentary account setup
This software comparison was last updated on Aug 1, 2022. If you have any suggested changes or notes, please email them to us.
Join 2000+ businesses who send more automated, more personalized & more converting emails
Site visits tracked and personalized
This is an easy full stack for me. Of other tools I have looked at, this is a GREAT alternative to ActiveCampaign for most people. Endless possibilities.
The limits offered are second to none, as well as the features and integrations with Woocommerce and Shopify. Great product with backed by a great team.
The perfect tool for marketing automation of an e-commerce site. You can use the tool as a replacement to MailChimp. Very easy to set up a personalized experience.
Been using Growmatik for 3 days now and I'm still completely impressed with the features. It could replace my popup form builder and email series. Highly recommended!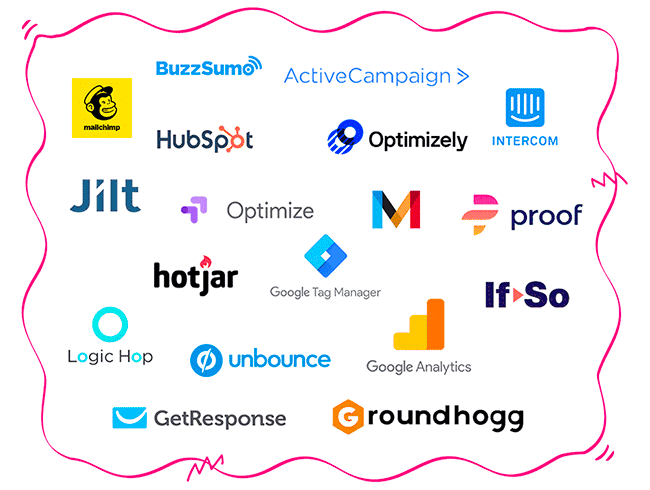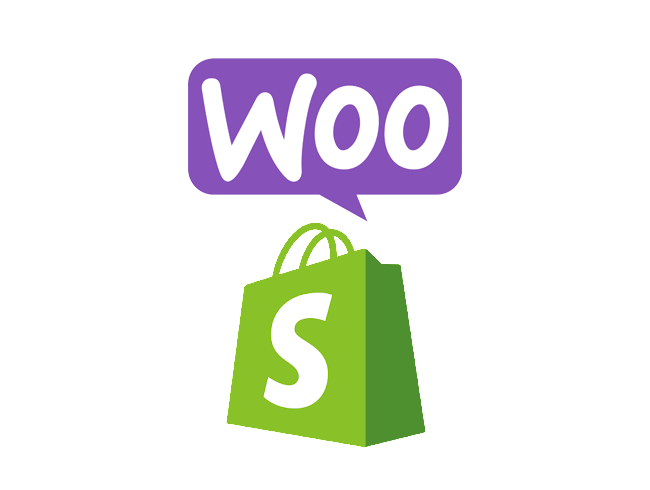 Highly optimized for WooCommerce and Shopify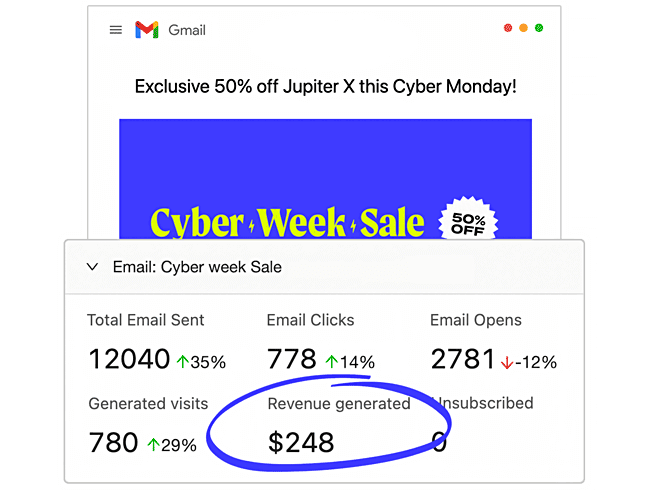 Powerful Analytics: Track, Attribute & Optimize