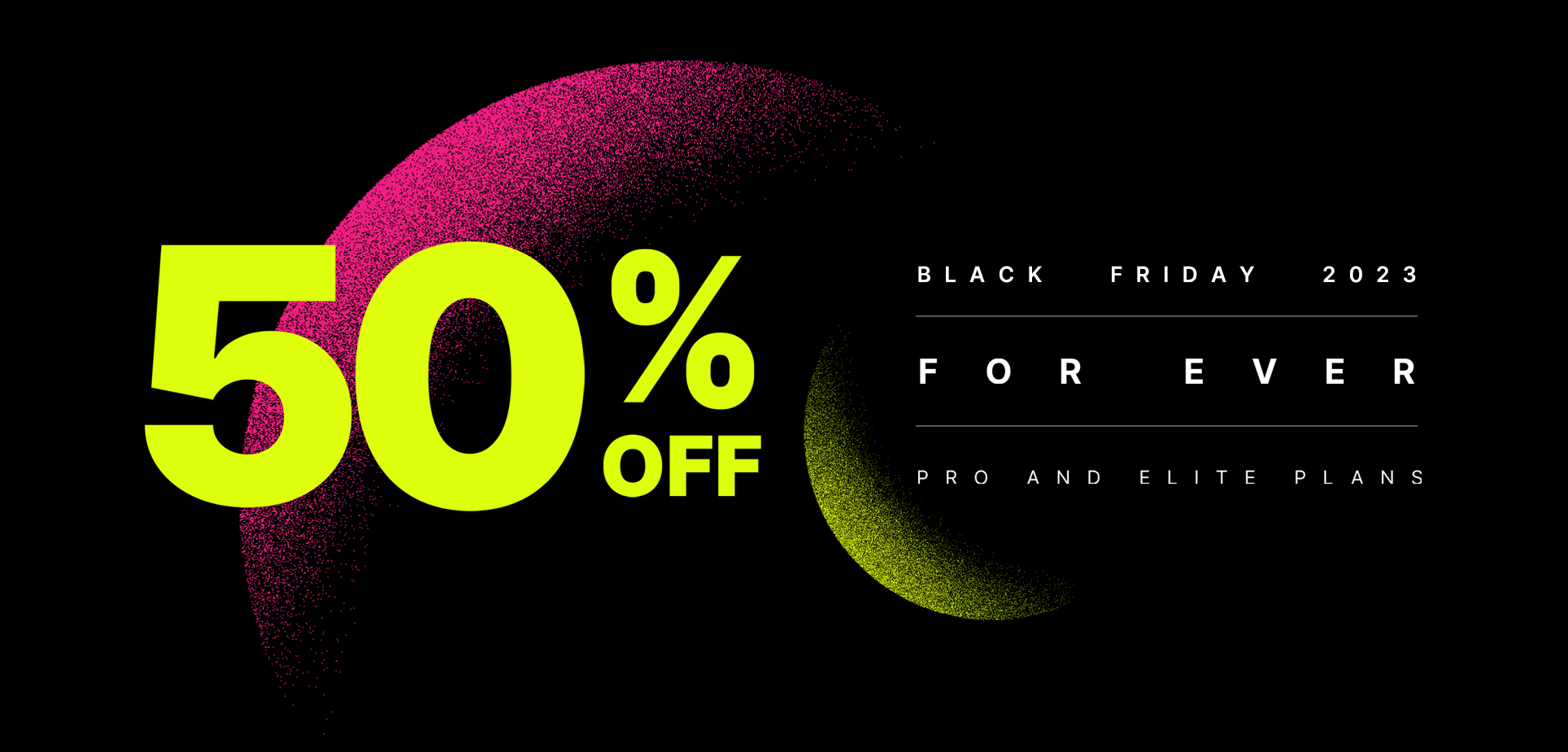 Introducing Growmatik's new pricing with a 50% Discount this Black Friday!
Update: The BlackFriday offer (50% OFF on Pro and Elite plans) is now extended for a limited time.
We're thrilled to announce the exciting launch of our new pricing structure for Growmatik, just in time for Black Friday! This is not just about introducing a new pricing model; it's about giving back to our valued users and making it easier for new ones to embark on their journey with us.
For existing users, this means an exclusive opportunity to transition to our new pricing plans at a discounted rate. And for those considering Growmatik for the first time, this Black Friday is the perfect moment to dive in and seize the immense value that our platform offers.
With our advanced marketing automation and personalization tools, the future of business growth has never been brighter. Don't miss out on this unique opportunity to experience the power of Growmatik, now at a temporarily lower price.
What do you get this Black Friday?
Get ready to revolutionize your marketing and growth as we unveil an indefinite 50% discount on the Pro and Elite plans in our new pricing.
What are the Black Friday 2023 sale dates?
Our highly huge discount campaign for Growmatik is set to kick off on November 7th. But remember, time is of the essence, as this offer will only be available for a limited period. From November 7th until November 25th, you can unlock the full potential of Growmatik at an unprecedented discount.
How to get this discount?
Subscribe to a plan within November 7th to November 25th. It is important to subscribe to a paid plan within these dates. Please note there is a 2-week trial period for new subscriptions so if you are short on time and want to use the discount, you can skip it by clicking on 'Upgrade' inside the billing settings.
If you are an existing user of Growmatik who has subscribed to a plan before November 7, you can continue using Growmatik with the old prices. We will continue to offer the service at the old prices, but this is not going to be indefinite, and at some point, we may ask you to move to our new pricing model. However, you can use this opportunity to upgrade your plan at a discounted price. Simply contact our support for a custom implementation of the discount for you.
Who is not eligible for this discount?
This promo is not applicable to subscriptions that have already applied for a discount coupon. Only subscriptions without a currently-applied discount are eligible for the discount.
This is your chance to upgrade, elevate, and transform your business at half the cost.
Why did we introduce the new pricing?
In the past year, we've embarked on an exciting journey, enriching Growmatik with numerous new features and innovations, with many more on the horizon for 2024. As Growmatik continues to evolve into a robust omnichannel marketing automation platform, we've had to adapt our pricing model. The driving force behind this change is the increasing costs associated with development and maintenance. Our commitment to pushing the boundaries of marketing automation, especially through the introduction of AI features like the AI writing assistant, necessitates extensive AI engineering and substantial data processing.
To deliver on this vision, we must invest in cutting-edge technology and infrastructure. These advancements are vital to usher in a new era of growth automation and marketing capabilities. To support these endeavors while ensuring that it remains feasible and sustainable for our users, we've made adjustments to our pricing structure. We firmly believe that our new pricing is not only competitive but also provides tremendous value in comparison to other marketing automation solutions in the market. Our goal is to continue empowering your business with powerful tools while keeping our services accessible to all.
Need help or have questions? Write to us.
If you have any questions about the new pricing in Growmatik or the Black Friday deal, do write to us. We will be happy to help.
Growth on autopilot
through personalized
marketing